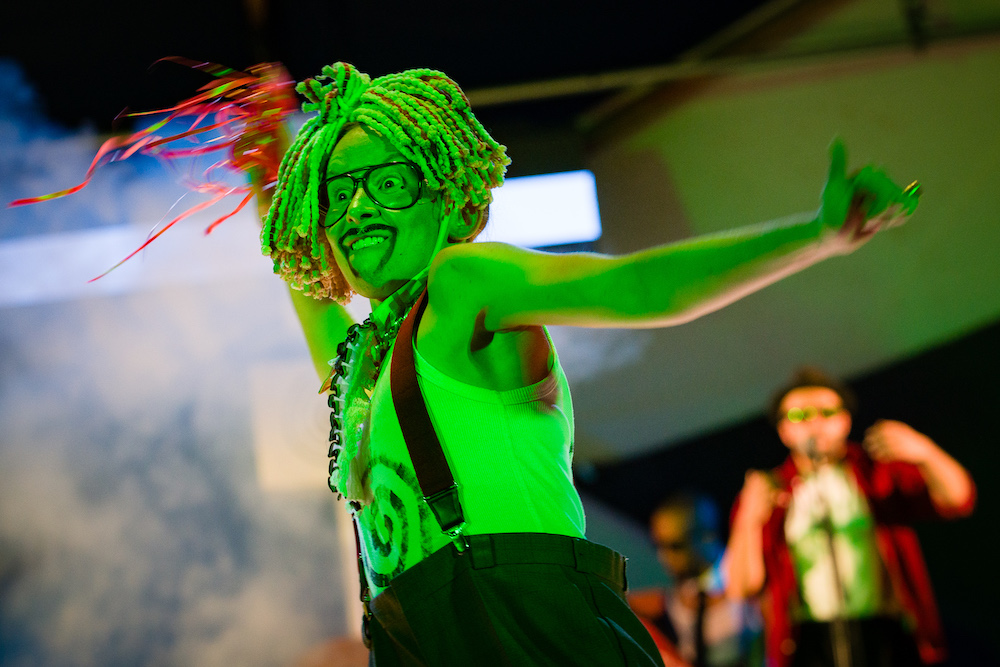 Kneehigh are a touring theatre company from Cornwall and this performance is based on Alfred Jarry's play Ubu Roi (Ubu King), which premiered in Paris in 1896 and apparently caused a riot!
We did not know what to expect from this production, apart from that there was some expectation to join in – scary! But as the narrator, says, the audience have come along to a performance of a "singalong" satire, so what did we expect?
The story of Ubu's rise to power is difficult to follow at first and caused me and my companion some confusion but before long you are sucked into the bizarre, surreal, hilarious world that is being presented to you and you stop worrying about any of it making sense and just go with the flow.
The set was quite sparse except for a huge toilet amongst the band on a raised platform. Mr Ubu and his odd wife Mrs Ubu ascended from the giant loo and it was often used to flush away undesirable characters.
The house band and singers were excellent – the song choices were well thought though as the age range of the audience was very wide, but they have managed to find songs most ages know.
The narrator (Niall Ashdown) does a great job of keeping the story on track and Mr Ubu himself (played by Katy Owen) is a magnificent, deranged, ticking mess – and I loved him! It was almost problematic that despite the awful things Mr Ubu does, the audience can't help but quite like him. But perhaps not problematic, because this can be the nature of ridiculous dictators – there is a disclaimer in the programme which states:
"Any similarities between the characters portrayed in the show and the current government and/or other political administrations around the world are purely intentional."
It did bring to my mind a certain blustering buffoonish British MP with silly hair who seems to get away with many preposterous things because he has a funny bonce and a bumbling manner (naming no names!).
Some of the audience members were tasked to be a zoo, holding aloft inflatable animals. When the narrator asks them to voice some of the animals, everyone was beside themselves with laughter. It just all felt very joyous and unexpected.
I loved the anarchy, the strange twists and turns and I think getting the audience involved in the performance is brilliant. There were a group of teenagers from a school or college who absolutely lapped up everything happening on stage, joined in uproariously with all of the singalong songs and fully entered into the spirit of the play.
There was a lot of pure joy from all of the actors and the entire audience by the end and most of the spectators were in the performance area just wanting to be a part of the chaos.
If you're expecting a serious, ponderous play then this is not the one for you. If you want to laugh, shout, sing, join in and be entertained go along and cheer and jeer at Mr and Mrs Ubu, who really are weapons of mass disruption.
Kneehigh's Ubu! runs at Leeds Playhouse until Saturday (8 February 2020). Tickets £14-£32 from (0113) 213 7700 or from the website: leedsplayhouse.org.uk/events/kneehighs-ubu
This post was written by Hazel Millichamp
Photo: Steve Tanner
We encourage anyone living or working in South Leeds to use this website to tell their news. You can either use the Create an article for South Leeds Life page, or email us at: info@southleedslife.com