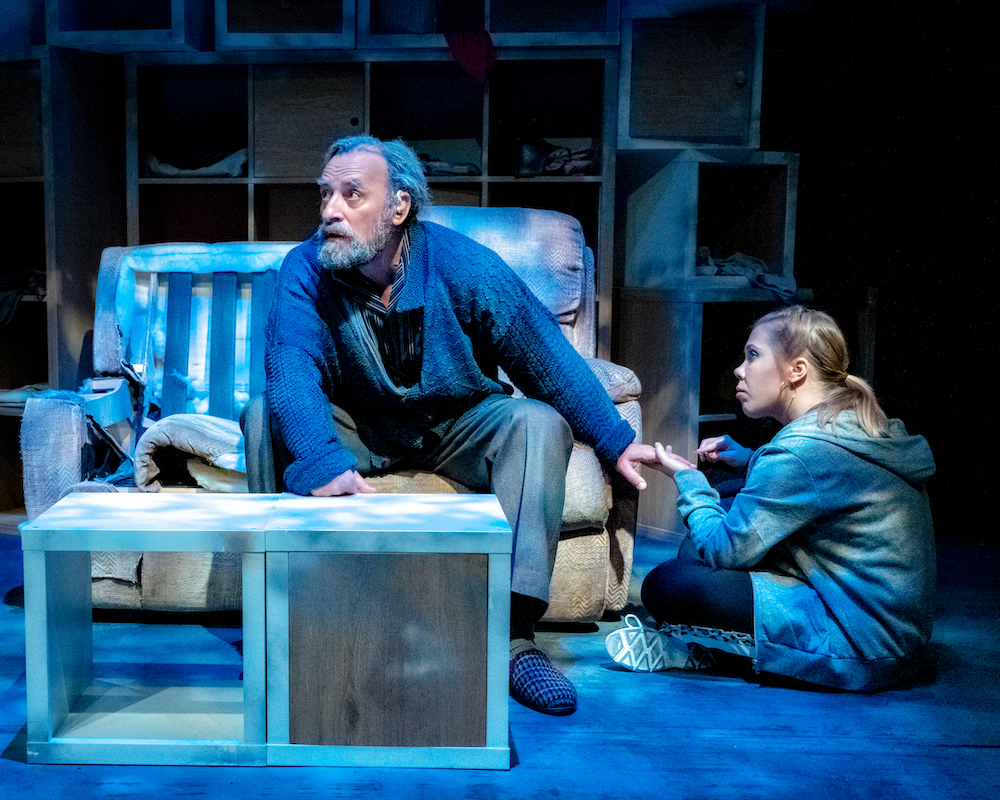 Jadek (Polish for grandfather) a play by Francesca Joy, comes to Slung Low at The Holbeck on Sunday (17 November 2019) 5-6pm. The performance will be Pay As You Feel. Don't miss out, this play will stay with you for some time.
I went to see a recent performance in York. Jadek opens with Tasha lying on the floor, curled up, in her 94 year old Grandad's house. The audience had to tip toe around her as they found their seats. Opening the play with Tasha in such a vulnerable position paved the way for where the play would be heading.
Grandad is blind and feels his way around the set to find his favourite seat. He dislikes "ventilation" and tells his 28 year old granddaughter off for coming home late. She is living with him after having lived in over 30 homes. The interactions between the old man and Tasha are wonderfully written and performed; the relatives drive each other mad, but also rely on each other in so many ways, practically and emotionally.
As the play continues, the bond between the two of them blossoms. Grandad reveals to Tasha his horrific experiences as a young boy during WW2 and the audience becomes aware that Tasha has experienced traumatic experiences of her own.
I found these sections deeply disturbing, but beautifully and artistically portrayed by Francesca Joy. Without words she expresses her pain, anguish and shame. Her body contorting as the audience becomes aware where it is her own trauma stems from.
Tasha is desperate to have her children's book sold, but feels she is being asked to wash over the realism of her story by London publishers. Grandad struggles with his infirmities and both family members struggle with their pasts. Grandad and Tasha are grinding against their identities – Tasha wants to get away from how she previously funded her life and Grandad needs to stop being a soldier, afraid and on the defensive.
Despite such deeply emotional issues being portrayed throughout the play, there is much comic relief provided by the interplay between Tasha and her grandfather – this is increased as Alexa is introduced into the home.
Polish audience members are invited to share one of Grandad's jokes at the very beginning of the performance, which for the rest of the audience is not revealed until the end of play – see if you can spot it.
This was such a raw and realistic portrayal of two people from different generations struggling in their own ways and finding ways to help each other through. The fact that the play is based on a true story adds to the poignancy. Tasha and Grandad make their way through, they are able to leave their pasts behind and move forward together. There was some wonderful audience interaction towards the end of this performance that left me feeling touched and so happy for Grandad and for Tasha.
Francesca Joy (Tasha) opened the Imagine If theatre company in 2014 and aims to create and show work that is "thought provoking and unashamedly honest." Judging by Jadek, Francesca and her company have certainly achieved this.
This post was written by Hazel Millichamp
Photo: Piotr Baumann as Jadek and Francesca Joy as Tasha. Photo Credit Ant Robling Photography
We encourage anyone living or working in South Leeds to use this website to tell their news. You can either use the Create an article for South Leeds Life page, or email us at: info@southleedslife.com