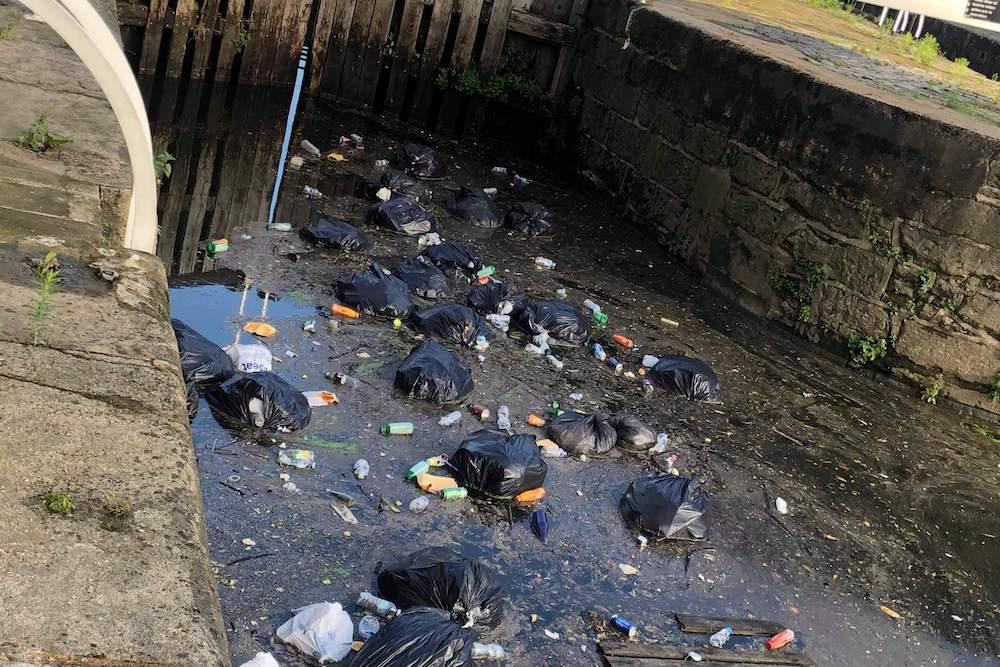 Residents of the H2010 neighbourhood on the Hunslet riverfront this month sprung into action to tackle a major flytipping incident in the River Aire.
They and other locals were disgusted to spot dozens of bin liners (they have counted at least 50) full of waste floating in the river from the Friday 21 August onwards; the Royal Armouries at Leeds Dock have confirmed that they have CCTV footage showing a team of people dumping the bags out of a van into the river, very early that Friday morning.
Locals managed to drag out a small number of bags near the bank – and also contacted the Canal and River Trust (CRT) for help. They attended, but were unable to get a boat, so could do little more themselves – and other river users including boat owners have so far declined to help. At the time of going to press, most of the refuse remains in the river.
Matt Cornish, a spokeperson for CRT, told South Leeds Life:
"Flytipping is a callous and criminal act, and we always try to respond to it as quickly as possible. But this is hugely expensive work (last year costing us over £1 million, money that should have been spent on improving the waterways for all); and – as a charity – we have limited resources. In this instance, we did not have a boat available, and heavy rain subsequently washed much of the rubbish downstream. However, we appreciate any help we get from local people, and rely heavily on volunteers: get in touch to get involved."
Residents were not impressed. One – Sandra Ingemansen – commented:
"It's so sad that people would pollute the river like this! I also can't believe CRT is still assessing whether this fly-tipping incident is a crime or not, and that they don't have a boat! A week later, there are so many bags drifting around the entire area and free-floating rubbish from bags that have split open is continuing to float downstream; it's completely infuriating."
Residents are currently appealing for help amongst local boat owners and river users (like canoeists) to help tackle the immediate mess – and are meeting with CRT and other partners in the coming weeks. They are also considering a fundraising campaign for CRT to buy a boat for local use.
For more information about CRT, including how you can get involved in volunteering, go to: canalrivertrust.org.uk