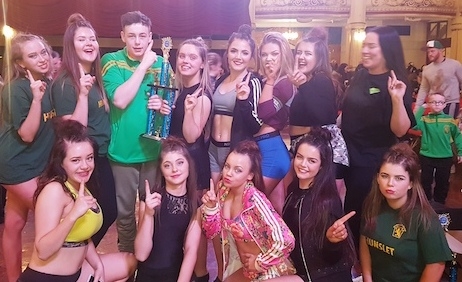 On Saturday 4 March 2017, 72 dancers from Hunslet Club Arts travelled over the Pennines to the Winter Gardens in Blackpool to participate in the JAMfest Northern Jam dance competition.
Entering team into all Cheer-pom categories, most Hip-Hop categories as well as the contemporary section at the US organised event South Leeds finest were up against teams from Glasgow, Liverpool and Manchester and other major cities and the competition was tough!
Coach Cherry Crosby commented:

"90% of our dancers had never been to a competition before and I am so proud of each and every one of them who took part – to achieve a first place, four third places, two fourth places and a sixth place is a phenomenal result at this competitive level"

Fellow Coach Kayley Davidson added:

"What a set of results! Everyone gave it their all and fought hard for their places. They have come a long way in the last 6 months and proved they are more than capable of representing the Club in national competitions"
Hunslet Club Arts programme delivers weekly sessions in cheer-dance, hip-hop, contemporary, ballet and tap dance, performing arts, singing and gymnastics sessions.
Here is the full programme:
Monday
4.00–4.45pm Tiny Cheer-dance (Age 3-5)
4.45–5.30pm Mini Cheerdance (Age 4.45
5.30–6.30pm Senior Cheerdance (Age 12-16)
Tuesday
4.00–4.45pm Mini HipHop (Age 6-8)
4.45–5.30pm Youth HipHop (Age 9-11)
5.30–6.30pm Contemporary dance (Age 9-11)
6.30-7.30pm Senior Cheerdance (Age 12-16)
Wednesday
4.00–4.45pm Ballet for Tots (18mth-5 yrs)
4.30–5.15pm Singing (all ages)
5.15–6.00pm Performing Arts Junior
6.00–7.00pm Performing Arts Senior
4.00–4.45pm Gymnastics Beginners
4.45–5.30pm Gymnastics Intermediates
5.30–6.30pm Gymnastics Advanced
Thursday
4.00–4.45pm Ballet for Tots (18mth – 5 yrs)
4.45–5.30pm Preparatory & Primary Ballet
5.30–6.15pm Grade 1 & 2 Ballet
6.15–7.00pm Grade 3-5 Ballet
7.00–7.45pm Pointe Ballet
4.00–4.45pm Mini HipHop (Age 6-8)
4.45–5.30pm Youth HipHop (Age 9-11)
5.30–6.30pm Boys HipHop
6.30–7.30pm Senior HipHop
Friday
4.15–5.00pm Youth Cheerdance (Age 9-11)
5.00–6.00pm Senior Cheerdance (Age 12-16)
6.00–7.00pm Contemporary Dance (Age 12+)
Saturday
9.00–9.45am Preparatory & Primary Tap
9.45–10.30am Grade 1 & 2 Tap
10.30–11.15am Grade 3+ Tap
9.00–9.45am Gymnastics for Tots
9.45–10.30am Gymnastics Beginners
10.30–11.15am Gymnastics Intermediates
11.15–12.00pm Gymnastics Advanced
12.00–12.45pm Gymnastics Progressive (Under 10's)
12.45–1.30pm Gymnastics Progressive (Age 10+)
All activities take place at The Hunslet Club, Hillidge Road, LS10 1BP