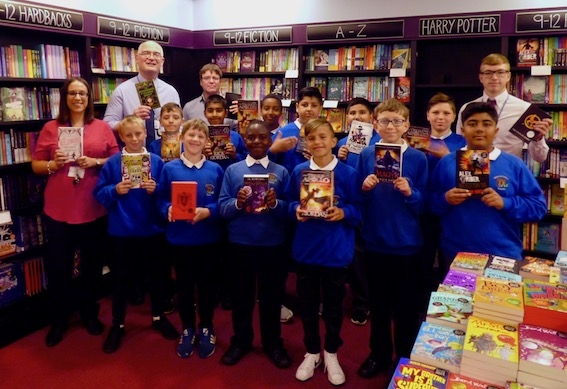 Twelve boys from Hugh Gaitskell Primary School in Beeston who have have improved their reading skills this year have been rewarded with a trip to Waterstone's bookshop.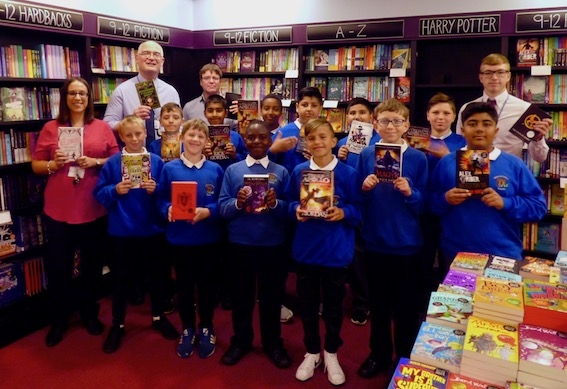 Some boys find reading a difficult habit to adopt, so the school worked with the group using a range of techniques including carefully selected texts to use as a stimulus for writing. Texts that follow the boys own interests such as non-fiction texts about Usain Bolt and Super cars, stories that involve adventure and heroic characters, stories that have children as characters so that children can relate to these (The Jungle Book, The Secret Garden, Dragonkeeper).
They also rehearsed writing through drama, role play and collaborative work (in pairs and groups). Boys were allowed the freedom to choose different writing topics, styles, content and what they would like to read. Importantly they developed the boys' pride in writing and the importance of reading.
The boys then wrote a letter each to their Headteacher about their love of reading. She was so impressed that she decided to buy them each a book of their choice at Waterstones. The group visited the Leeds store with Assistant Headteacher Mrs Kirsty Roter, where they were given a tour of the shop by the manager, before choosing their books.
Headteacher, Mrs K McNulty, said:
"I am delighted by the success of our boys' reading group this year. They have excelled in developing and embedding an effective reading culture.

"Some boys may be reluctant but our boys are self-motivated to pick up a book especially with the current focus on technology. However, our pupils are now avid readers and were thrilled to visit Waterstones to choose their new book reward.

"Continuing on our journey towards excellence, we are currently developing plans for an outstanding new library for the next academic year."