Get Set Leeds Local is a Sport England funded project, facilitated by Active Leeds (part of Leeds City Council) exploring collectively with residents and local partners how we can enable more people from Beeston and Holbeck, and Hunslet and Riverside to move more or be active in some way.
We're always keen to hear resident ideas on what would enable you to be more active? We know small changes can have big impact on both physical and mental wellbeing (for all ages).
We've been talking Inner South residents who have been doing a variety of things which we've enjoyed being part of the journey to make happen. This month we feature youth led dance sessions, fun in the rain and learning how to ride a bike. All are great ways to be active.
Get Set Leeds Local has a Community Chest Pot (up to £300) which can support community good ideas, which supports places to move more in some way. Any group or resident can apply. If its just an idea, bring it to us and we can see how we can work together to make it happen.
Earlier this year we were connected to Tian, a young person from the Inner South who instantly inspired us. Tian recognised that when transitioning from school to sixth form, opportunities for young people to be active rapidly reduced. Tian formed her own self-taught dance group, which have recently performed at the Leeds Yorkshire Dance Festival.
We've proudly featured Tian in our latest Get Set Leeds Local social short video, which we hope will inspire others to get together with friends and enjoy an activity together. If you've not seen it on social media, then do pop along to our You Tube channel and take a look.
Performer Paige said:
"It was a great day of talented dancers from all backgrounds and ages. As some of the oldest there, we hope we inspired some of the younger generations that attended. We had a chance to participate in hip hop workshops and watch some of the fantastic interpretation of 'dreaming' dance."
"It's the best part of my week" – a review from one of the young people attending the weekly ParkPlay sessions, which continue every Saturday at Brickfield Park (delivered locally by Hunslet Rugby Foundation), creating family friendly sessions for all ages in Beeston Hill.
Sessions continue whatever the weather, children and families have been committed, even turning up in the rain for some splashing fun. Anyone of any age is welcome to attend any week to these free multi activity park sessions. Pop along any Saturday at 10.30am (Lady Pit Lane) – www.park-play.com/parks/brickfield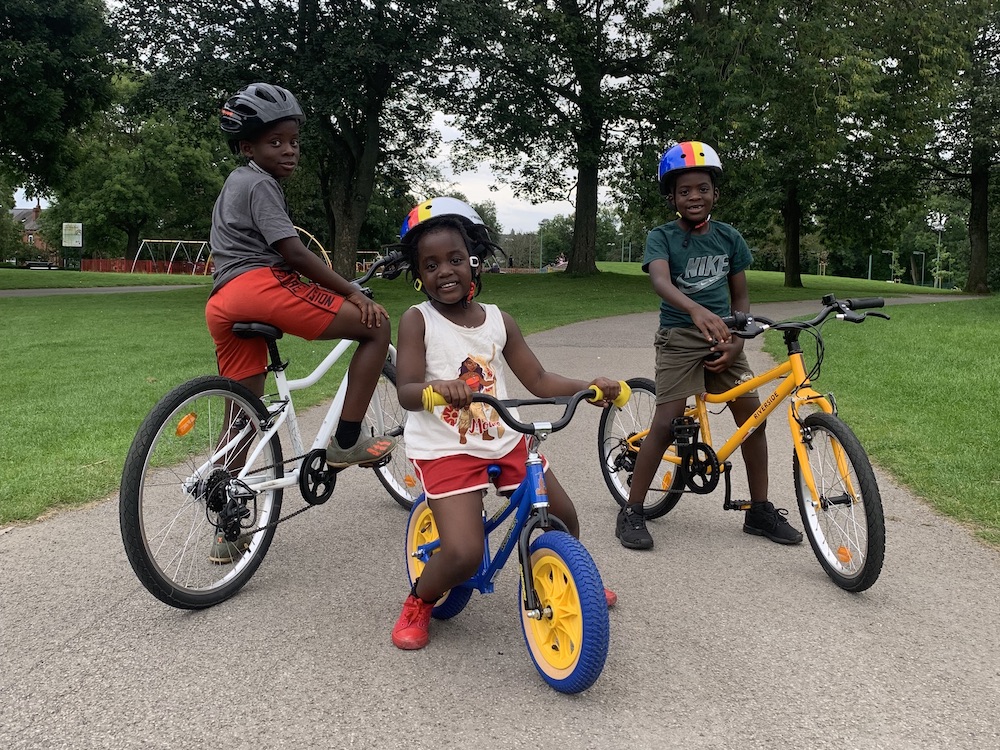 After the success of the summer drop in 'come and try' sessions for children's cycling at Cross Flatts Parks, weekly sessions have continued every Wednesday evening 3.30pm-5pm facilitated by our British Cycling Activator Andy.
Over 50 children have attended since sessions began, with familiar faces returning for weekly cycle fun. It's been great watching the very young (and some a bit older) learn how to ride a bike, and develop their bike skills confidences.
Sessions will continue for as long as possible until dark nights stop them, and then restart in the new year as soon as light allows. If you've an interest in getting involved supporting the kids bike sessions alongside Andy then get in touch. We can support with upskilling, and would love to see these children's bikes sessions continue to develop.
There are a range of cycling activities which will continue over winter at Cross Flatts Park, including the adult learn to ride sessions and cycle for health. If there are other activities that you'd like to see developed just let us know.
If you want to get in touch with ideas, questions or for more information then you can do so via getsetleedslocal@leeds.gov.uk or via social media (Facebook, Twitter and Instagram).
This post was written by Karen Peck

We encourage anyone living or working in South Leeds to use this website to tell their news. You can either use the Create an article for South Leeds Life page, or email us at: info@southleedslife.com
While you're here, can we ask a favour?
South Leeds Life is published by a not-for-profit social enterprise. We keep our costs as low as possible but we've been hit by increases in the print costs for our monthly newspaper – up 83% in the last 12 months.
Could you help support local community news by making a one off donation, or even better taking out a supporters subscription?
Donate here, or sign up for a subscription at bit.ly/SLLsubscribe