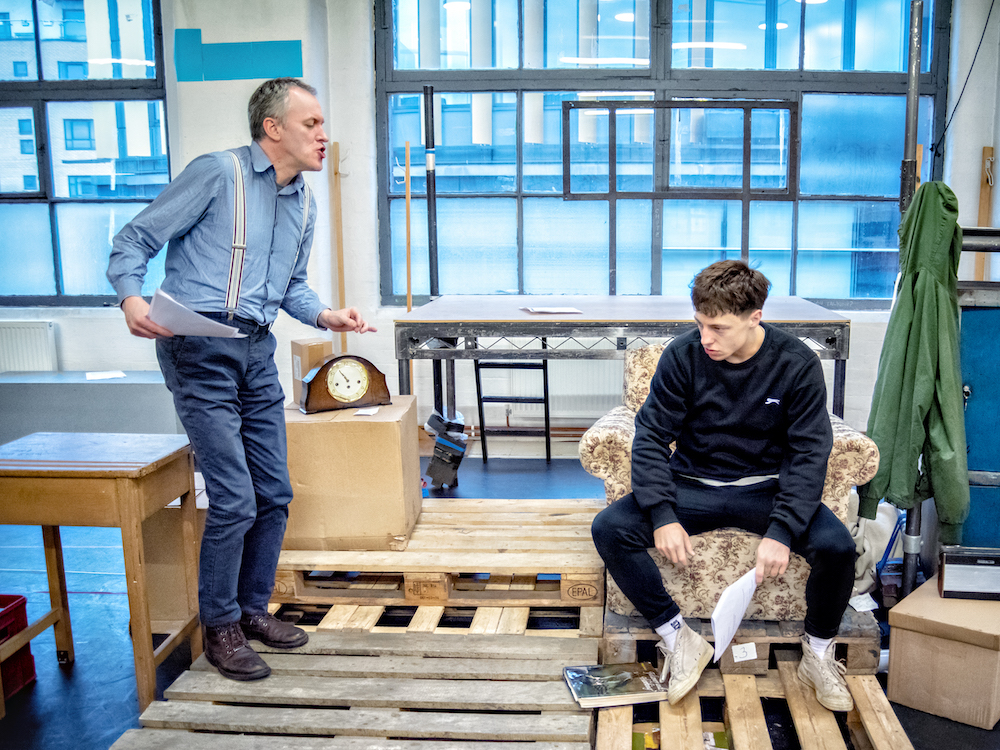 As part of South Leeds Life's ongoing partnership with Leeds Playhouse we are able to offer a free* pair of tickets to a range of shows coming up over the next few months.
*Of course there's no such thing as a free lunch, so although the tickets are free we do ask for something in return. We rely on our readers to review the plays they see. You can write the review yourself and send it us for publication, or if you're not confident to write it yourself, you can chat to one of our reporters who will write up your thoughts into a review.
All these shows will be performed in the pop-up theatre at the back of the Playhouse building whilst refurbishment goes on to the main auditorium.
Never been to Leeds Playhouse? Watch the video:
To apply for free tickets to any of the previewed below shows, please email info@southleedslife.com telling us why you would like to see the show and review it.
Tickets are only available on the date shown which is the show's Press Night.
Kes – Monday 28 January, 7pm
Billy Casper is just another one of those kids off the estate; living with his mother and bully of a brother, Jud. He's all alone, then he finds 'Kes'. Stick legs. Big head. Pile of scruff.
Kestrels are the hardest birds to train, but not for Billy. He feeds her, cares for her and trains her. Together they are ready to fly. And everything goes quiet, as all his troubles and worries fade into the horizon. Billy has all he needs and all he wants, until he makes a fatal decision that changes the course of things forever. Following a sell-out 2016 run, this adaptation of Barry Hines' much loved 1960s story explores the never-changing, true nature of friendship.
random – Wednesday 6 February, 8:45pm
"Come home." What I thought was from my man is from my mum. "Come home. Now."
An ordinary day in the ordinary life of an ordinary family. The clock blinks 7.37am, a rushed breakfast, and then off to join the hustle and bustle of the world outside. And then one random act changes everything. A bewildered family find themselves caught up in catastrophe and grief in this vivid, detailed and brilliantly observed play by debbie tucker green. An award-winning playwright, screenwriter and director, she is one of theatre's most unique and acclaimed voices, and this play for one actor is a remarkable tour de force.
Dinner 18:55 – Friday 22 February, 7:30pm
In our increasingly busy lives we no longer make time to spend together.
This season we embark on an adventure where two generations make time to share a meal and a conversation. Join us for this intergenerational performance, as we nourish the palate and the soul and discover what we can learn from each other at dinner time. Dinner 18:55 is a new project from our Creative Engagement department. We use theatre to open possibilities for people of all ages and backgrounds.
Hamlet – Tuesday 5 March, 7pm
A young woman returns from university to attend the funeral of her father and finds her world turned upside down.
Consumed by grief and a promise to avenge her father's brutal murder, Hamlet embarks on a treacherous journey through an imperfect world, confronting love, loyalty, betrayal, madness and mortality. Following her extraordinary portrayal of Juliet in our recent, highly acclaimed production of Romeo & Juliet, Tessa Parr undertakes the title role to create a contemporary Hamlet for the here and now. Reunited with Director Amy Leach and Designer Hayley Grindle, this promises to be a vibrant, visceral production of one of the greatest plays in the English language.
Around the World in 80 days – Thursday 11 April, 7pm
The mysterious and fabulously wealthy Phileas Fogg wagers his life's fortune that he can circumnavigate the globe in just 80 days.
Accompanied by his valet Passepartout, and with Scotland Yard's finest Fix of the Yard hot on his heels, can our hero make it back in time or will his plans be thwarted? This fast-paced and funny adaptation of the ultimate globetrotter's tale transports audiences into the far-flung realms of the imagination. It's an irresistible round-the-world romp, packed with mayhem and inventive storytelling, guaranteed to raise a smile. This madcap Easter treat for all the family will play in our Pop-Up theatre before touring to community venues across Leeds.
Be My Baby – Wednesday 15 May, 7:30pm
It's 1964 and The Ronettes and The Dixie Cups are riding high in the charts.
19 year old Mary is seven months pregnant when her mother delivers her into the charge of St Saviours, a church run maternity home for young, unmarried women who have made 'one mistake.' As they bond over records and romance, Mary, Dolores, Queenie and Norma begin to understand what it means to give their children to the Welfare Service and Mary realises she must fight to take her baby home. Featuring pop music of the period Be My Baby is an incredibly moving story told with warmth and humour and is one of the most widely performed modern, British plays.
Main photo: Jack Lord and Lucas Button in rehearsals for Kes. Photo by Anthony Robling.