Crews from eight fire stations converged on Cottingley this morning to deal with a fire in a flat on the 20th floor of the tower block.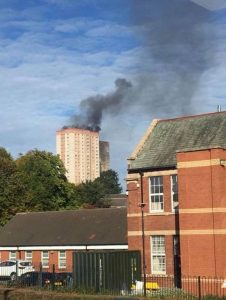 Fire fighters used breathing apparatus to rescue four casualties from the smoke logged floor. They were taken to safety and passed into the care of ambulance paramedics. Fire engines attended from Hunslet, Leeds, Stanningley, Rothwell, Killingbeck.
The fire was extinguished in the flat where it started and firefighters assessed the safety of the flat above and made sure that the fire did not spread. There have been no reports of injuries as a result of the fire, and the building did not require a full evacuation.
Area Manager Chris Kirby said:
"This incident has been quickly dealt with by firefighters who rushed to the scene following an emergency call into our Control Room at 10.37am.

"There was no-one inside the flat where the fire started, or the flat above, however the high-rise building was occupied by other residents. Residents were safe to stay inside their flats whilst crews dealt with the fire, however, some people chose to leave the building and fire crews assisted a handful of people to get outside."
The incident concluded at around at around 12.20pm and by this time crews were damping down. The incident was later reduced to two fire engines.
Area Manager Chris Kirby added:
"The building did react in the way we would expect and the fire did not spread beyond the flat of origin, however that flat has been severely damaged by fire. The fire has caused some damage to the window on a flat above as a result of radiant heat.

"I must praise the firefighters who dealt with this incident quickly and our partner agencies for their support in helping us deal with the fire and its aftermath in a very controlled way."
Fire Investigators are now on the scene looking into the cause of the fire however the responding crew have now left.
In a statement on Facebook, Christine Robinson, the manager of Cottingley Community Centre said:
"Happy to report the last resident is now in his flat at the Towers. I have to absolutely commend The Cafe, South Leeds Live at Home, Mike in the greengrocers aswell as my volunteers who made sure people were safe, had refreshments and lunch. Thanks to the quick thinking of janette a man was treated for shock and taken to a n e.

"Speaking with those that used the centre they were understandably afraid and concerned that they didn't hear an alarm or that the sprinklers did not work. Councillor Gohar Almass came and initially to check residents were OK but also took away concerns.

"I've said this before and I'll say again whatever anyone thinks of Cottingley we pull together in a crisis, the compassion shown even by residents just popping in to see if they could help was appreciated by those left out of thier flats. We show time and time again what a neighbourly community is."