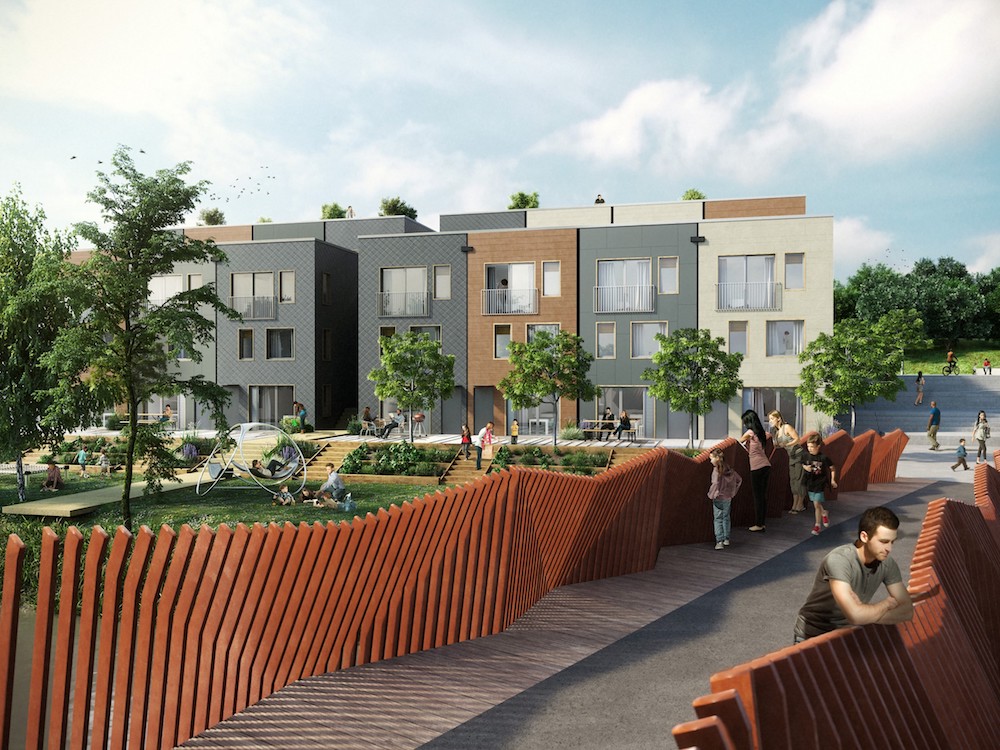 Leading sustainable housing developer Citu is celebrating key milestones as it counts down to its first residents moving into the pioneering Climate Innovation District, on Leeds's South Bank (parts of north Hunslet and Holbeck close to the River Aire).
The Leeds-based developer has announced it is only days away from the first residents moving into their new homes on the £125m Climate Innovation District in Hunslet.
The announcement follows years of planning and months of construction on site using Citu's unique timber-framed housing system that offers the very latest in sustainable living. As previously reported on South Leeds Life, the frames are manufactured just a few hundred metres away at Citu's bespoke factory – Citu Works. This ensures maximum efficiency and the lowest carbon footprint possible, making the Climate Innovation District one of the most sustainable and energy efficient developments in the UK today.
As well as the excitement of the first residents moving on site, the Citu team has been celebrating reaching other major 2018 milestones including:
56 reservations at the Climate Innovation District.
Recruitment of 24 new apprentices to work alongside the Citu squad of 75 highly qualified professionals across all Citu sites.
Winning another three property awards to add to the 70+ already secured, including Innovation of the Year and Personality of the Year for its MD Chris Thompson at the Yorkshire Property Awards.
Chris said: "We're currently fitting out the first 18 homes in the District and more than 56 people have reserved a Citu Home. The first completions will be in January and then we'll be building more homes to meet the intense interest the District has been generating. These are the first family homes to be built in Leeds city centre for over 90 years so it's a significant milestone for both Citu and the city."

He added: "The regeneration of South Bank overall – home to both the Climate Innovation District and Citu Works – is gaining further momentum with a number of house builders acquiring sites and planning consent to build over 3,000 new homes. This is great for the area; what was once seen as an industrial location is fast becoming a place that people want to call home where they can be part of new thriving communities for the long-term."
Looking ahead to 2019, Citu will also see the launch of its first apartment block in the district. Demand for "The Honeycomb", which will include 36 apartments, is already exceeding expectations with more than 700 people registering to live there.
As further phases of the District are completed, a total of 520 homes will be built overall, offering a fully sustainable lifestyle with solar panels, green roofs and surfaces to increase amenity, biodiversity and reduce flood risk and overheating in summer. A specialist Mechanical Ventilation with Heat Recovery system (MVHR)  recycles heat, making the homes need 10x less heat than an average UK home. There is also cycle storage provision with cycling paths incorporated into the wider development and electric vehicle charging points in every parking space. The Citu Home has industry-leading standards of insulation and air-tightness, as well as rainwater sequestration, as part of a sustainable integrated urban drainage system.
When the District's bridge across the River Aire is officially opened to the public this year, the city centre's bus and train stations will be just minutes' walk away. All this adds to the new, exciting homes in a District that is specifically designed for people to enjoy within a thriving community.
Chris concludes: "I honestly believe that the Climate Innovation District is unique in its sustainability, design, construction and location. 2019 is going to be a very exciting year for both Citu and our residents."
The District's first show home will also be ready for viewing from February, with interest from potential homebuyers expected to be extremely high.
This post is based on a press release issued on behalf of Citu