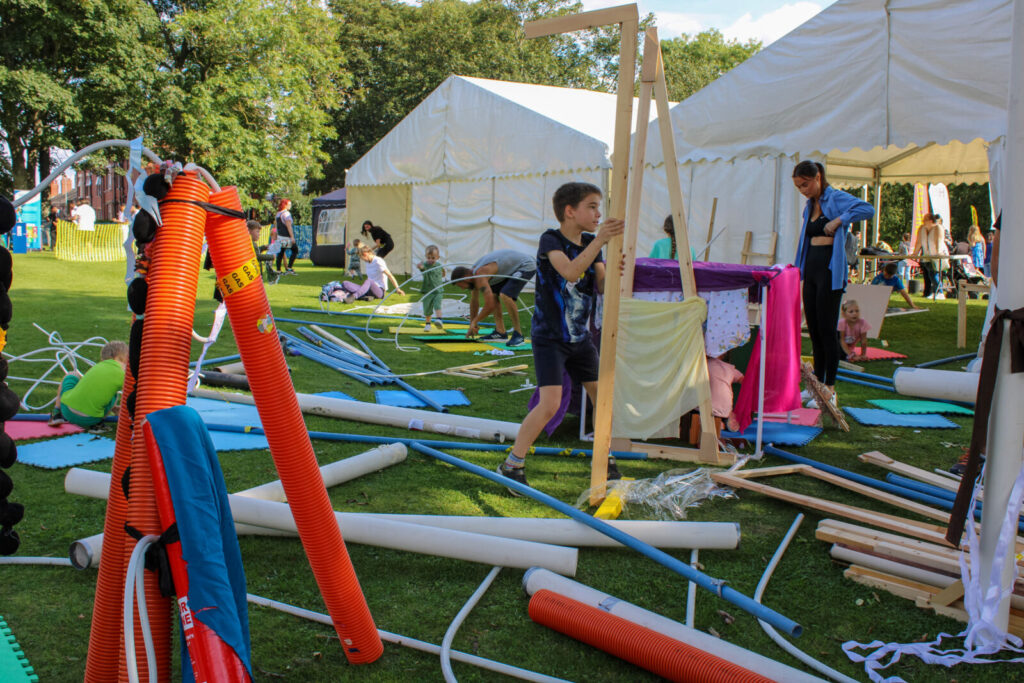 With the summer holidays in full swing we've gathered together details of activities going on around South Leeds to keep your children occupied and perhaps provide them with some new experiences.
Some activities may be already fully booked, so check with the provider before turning up. We feel sure we've missed some events so if you know of other events you would like to publicise, polease tell us in the comments section below.
LS-TEN Skatepark
LS-TEN skatepark on Kitson Road in Hunslet have their Get Active Extreme Camp running throughout August. The day runs from 9am-4pm and features loads of skating and riding, coaching plus arts and crafts, games and lunch and costs £30 per day. Book at: ls-ten.org/get-active-camps
Park Roll takes place every Saturday (not just the holidays) in the multi use games area in Cross Flatts Park. The free skate sessions run 10-11am.
LS-TEN are also running free community sessions at Holbeck Moor skate park from 12-2pm on the following dates: Thursday 4 August, Friday 12 August, Friday 19 August, Thursday 25 August and Friday 2 September. No need to book, just rock up for a ride!
Leeds Urban Bike Park
Leeds Urban Bike Park (Ring Road, Middleton) is running free BMX and MTB sessions to young people from LS10 every Tuesday to Friday in August. The sessions are for young people aged 10-14 years and include breakfast, lunch and snacks. Sign up at the LUBP bike shop.
Health For All
Health For All have organised the Free Healthy Holidaze Hangout with a range of free activities. All sessions run from 11am-1pm and lunch is provided. You must book by calling Alison on 07956 078078 or HfA reception on (0113) 276 2386.
Community mosaic workshops in Cross Flatts Park, Beeston on Thursday 4, 11 and 18 August
Fun activities and games on Tuesdays – 2 and 23 August at Middleton Family Centre, Sissons Road; 9 and 16 August at Beeston Village Community Centre, off Town Street
On Friday 5 August there's a Family Nature Trail, meet at Middleton Park Visitor Centre
On Friday 12 August there's a Dad's wellbeing walk, meet at Middleton Park Visitor Centre
Skelton Grange Environment Centre
Skelton Grange Environment Centre are holding free family activity days on Wednesday 24 and Thursday 25 August for families in receipt of free school meals. As well as nature, crafts, shelter building and games, they will be firing up the pizza oven and getting out the smoothie bike. Book here for 24th  or here for the 25th.
Breeze In The Park
Breeze In The Park are holding three events in South Leeds with sessions running from 12-2:30pm and 3-5:30pm. Book your 50p ticket at www.breezeleeds.org/breeze-in-the-park
Friday 5 August – Cross Flatts Park, Beeston
Wednesday 24 August – Middleton Park
Wednesday 31 August – Parkside Fields, Belle Isle
Youth Services
LCC Youth Services have a range of subsidised trips and activities – more details here
They are also holding four free activity days, 12-3pm:
Tuesday 2 August: Blenkinsop Field, Middleton
Tuesday 9 August: Hunslet Moor
Tuesday 16 August: Parkside Field, Belle Isle
Thursday 18 August: Cardinal Square, Beeston
The Hunslet Club
The Hunslet Club, Hillidge Road are running their usual Activity Camp Monday to Friday, 9am-3pm through to 26 August. Book on (0113) 271 6489. Their free Youth Clubs will also continue running throughout the summer five days a week. Junior Youth Club is for children aged 8-12 years; Senior Youth Club for young people in Year 8+.
The Tetley
The Tetley art gallery are running free Den Building sessions with artist Emily Binks in Beeston's Cross Flatts Park every Tuesday and Wednesday in August. The sessions, aimed at children 5-11 years, take place near the Watsonian Pavilion 11am-3pm, no booking required.  The Tetley's free child-friendly Tiny Tetley Studio is open Wednesday-Sunday, 10-5pm. The Tetley is in the old brewery headquarters building on Hunslet Road near Leeds Bridge.
Friends of Middleton Park
The Friends of Middleton Park host their regular free play sessions every Tuesday and Wednesday throughout August. The sessions run near the Visitor Centre either 12pm-3pm or 1-3pm Find full details at fomp.co.uk/html/events.htm
Hunslet Nelson Cricket Club
Hunslet Nelson's Love Cricket camp runs between Monday 15 and Wednesday 17 August at their Gipsy Lane, Beeston ground. Each day costs £9 per child. 9:30am registration for a 10am start, finishing daily at 3pm. Refreshments and food available each day. Book here: kiddiplan.com/direct-class-checkout/C28525
Middleton Railway
It's Kids For A Quid on trains at Middleton Railway every Wednesday in August. The railway runs services from 10:30am-3:30pm on Wednesdays in addition to their weekend services. The museum at Moor Road, Hunslet is free to visit.
Leeds Discovery Centre
Leeds Discovery Centre, near the Royal Armouries in Hunslet is where Leeds Museums store the items that not currently on display. They are hosting free family discovery summer sessions and find out about the different parts of the collection with a curator, plus crafts and a tour. Every Wednesday in August 10am-12pm.
Thwaite Watermill
Thwaite Watermill in Stourton host the Great Thwaite Flutterby on Saturdays and Sundays until 2 September, 12-4pm. Pick-up a butterfly trail from reception and hit the nature trail and mill buildings to hunt them all down. Collect their names to find the missing butterfly.
Cross Flatts Cycling Festival
Cross Flatts Cycling Festival takes place on Wednesday 17 August, 1–4pm in Beeston's Cross Flatts Park. This free community event will have opportunities for children of all ages to try out their skills, along with led rides, information stalls, bike fixing and a chance to bring your bike to be registered with the police.
ParkPlay
ParkPlay runs throughout the year, every Saturday morning from 10:30am, in Brickfield Park, Lady Pit Lane, Beeston. It's all about helping people meet, move and play with others in their local community, with fun games for all ages, just come along and join in.
Leeds Libraries
Leeds Libraries run lots of free activities including Story & Rhyme for under 5s and their grown ups and Family Film Clubs. And don't forget the Summer Reading Challenge, it's not too late to sign up. Find out more about your local library at:
Plus the Storybus visits St Matthew's Community Centre in Holbeck on Thursdays, 10–11:30am and will be outside The Tetley in Hunslet on Thursday 4 August, 10am-2pm
Photo: Den Building with The Tetley in Cross Flatts Park at Beeston Festival. Credit: Cloe Keefe