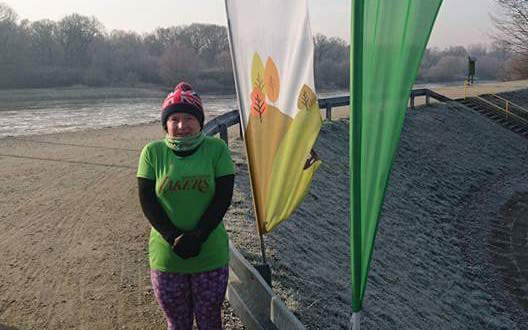 Most Saturday mornings, I can be found in Cross Flatts Park taking part in parkrun – the weekly free, timed 5k run. However, one freezing Saturday in February, I stood shivering on the start line of parkrun in Wroclaw, Poland.
I love running and I love travelling so, what better way to combine both? A city break close to a parkrun and I have never done a parkrun outside West Yorkshire. It was quite nerve wracking to be running so far from home and in a non English speaking country. In preparation, I sent an email to the run director and received a lovely, reassuring reply.
On the day, we decided that a taxi would be the best way to get there and after a slightly worrying trip through housing and industrial estates we arrived at a car park. There was no obvious park in sight and if it hadn't been for other people milling aroung in running gear we may have turned around.
Shortly after our arrival I found a lady with a megaphone who I correctly assumed was Katarzyna, the run director. She quickly ran through the route in English and then we gathered at the start for the team photo.
The "ready, steady, go" instruction was obvious and I set off with 55 other runners along the path at the side of the river Oder. The whole length of the path was gravel, this was a new running surface for me but I found that running along the worn area was easiest.
I managed to keep up with the main group for about 1K and the faster runners passed me at around the 2K mark. As with other parkruns I was greeted as they passed me, with what I assume were words of encouragement.
This is the flattest parkrun that I have done so it is not a surprise that I beat my Cross Flatts parkrun best time. I finished 44 seconds faster than my previous best.
After the run people were milling around and made the effort to greet me in English and there were lots of questions about where we were from and why we had chosen Wroclaw for a holiday.
It was a good run and I felt very welcome. I would definitely recommend both the city and the parkrun and will be returning when the weather is warmer.
This post was written by Amanda Binns using our Create an article for South Leeds Life page.