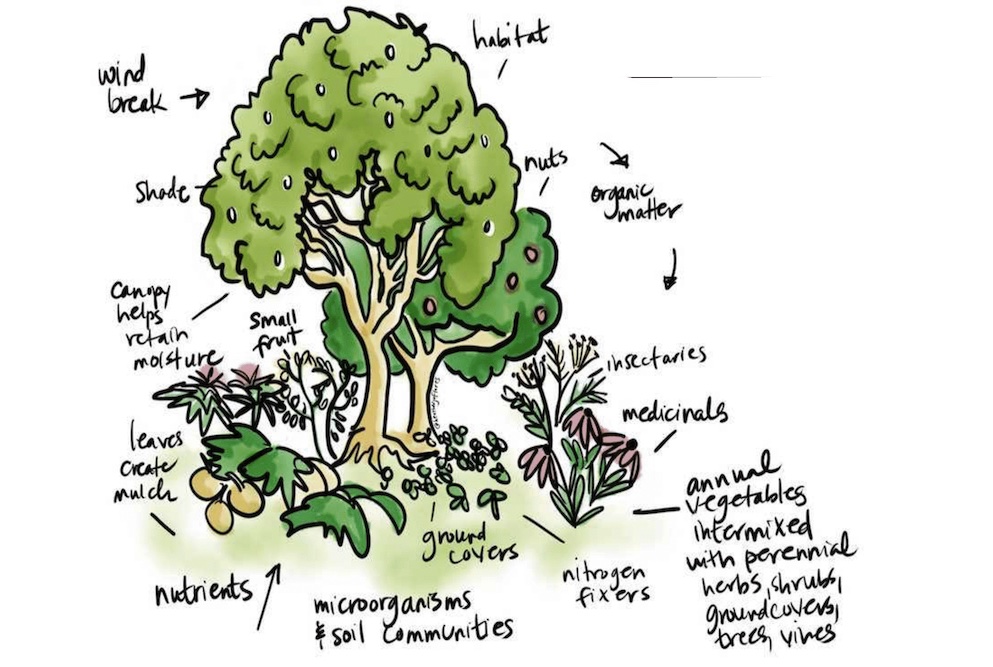 Residents in Hunslet will see a large Leeds City Council owned planter, which has become unloved and derelict, turning into a pilot area for an urban "forest garden" – helping improve the feel and look of the area, provide local people with access to locally grown food, and help tackle the lack of biodiversity in the area.
Hunslet Tenants and Residents Association (TARA) approached the Inner South Housing Advisory Panel (HAP), who provide grants for community improvements to Housing Leeds estates, and Hunslet & Riverside Councillors (Cllr Mohammed Iqbal, Cllr Elizabeth Nash and Cllr Paul Wray) for funding to run the pilot with the help of Hyde Park Source. Both approved this and Hyde Park Source will now work with Hunslet TARA, Councillors and the community to bring the project to life.
The planter, which is located on Rocheford Close, will be transformed with the addition of mainly edible plants and short-height fruit trees. Over time, these will fill out the planter with multiple lays of vegetation – only requiring a small amount of volunteering to maintain.
Stewart Walton, Hunslet TARA Chair said:
"Our estate has a lot of grass around it and many of these large unused planters. The community has asked for the variety of wildlife and nature in the area to be improved and this project will provide just that – allowing for those residents with green thumbs to get involved in a project on their doorstep. Thank you to the HAP and the local Councillors for their funding."
Cllr Mohammed Iqbal added:
"We know lacking access to a variety of wildlife and green vegetation has an impact on peoples' mental health and general wellbeing – the evidence for this is well established. Putting nature back into our estates not only helps make them look better and more welcoming – it is an important tool to help improve the mental health and wellbeing of local people. This project will also support our ambition to 'wild' more of the ward to tackle the biodiversity crisis."
Pete Tatham from Hyde Park Source also added:
"We are really excited to make this idea a reality. We think this concept could work well for similar patches of unused space across the city and it is fantastic to have the support of the local TARA and Councillors so we can make this happen in Hunslet."
The project is due to start within months, subject to the weather. If successful, the local Councillors have indicated they will then look at how to roll the concept out across all the estates in the ward.
This post is based on a press release issued by Hunslet & Riverside Councillors