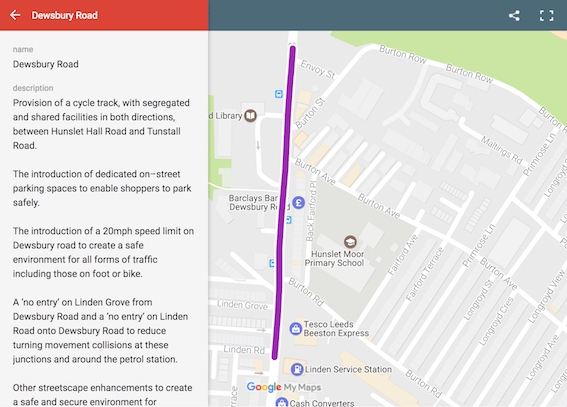 Work will start shortly on a new road safety scheme on Dewsbury Road. You may remember reading about the proposals in this article last year.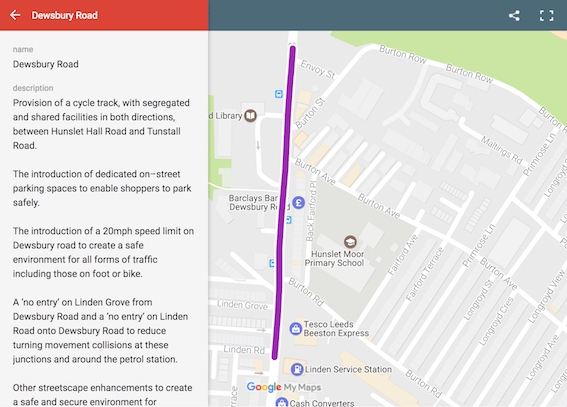 As locals and residents of south Leeds are well aware, Dewsbury Road is a key traffic artery in the south west of the city but as well as traffic simply passing through the area, at the bottom of Beeston and Cross Flatts, it becomes a busy high street. Here the road is bordered by housing and local businesses and facilities.
Because of its purpose as a high street, and because about half of the people injured on the road were pedestrians or cyclists, work in will begin shortly to make some improvements to the road. The changes are designed to improve road safety for all journeys whether it is making a local trip or a vehicle passing through the area. There is a particular focus on improved facilities for pedestrians and cyclists
You can read more details about the scheme and view a map which gives exact details of what will be changing here. There's also a quick awareness test that you can take to see just how easy it can be to miss something that's right in front of your eyes.
The work will be undertaken in two phases, with the first phase (from Hunslet Hall road to Burton Road) due to start on Monday 27 February 2017. The works are programmed to take approximately 20 weeks, although this will obviously depend on weather conditions and other external factors. Although disruption will be kept to a minimum, some delays may be experienced. This can be frustrating for everyone, but the completed works are expected to lead to improved safety and accessibility for everyone.
The second phase of the scheme will be from Burton Road to Garnet Road and the council will shortly begin working on the detailed designs for this with consultations for local residents and businesses taking place in due course.
Remember, road safety is everyone's responsibility and there are simply everyday things that we can all do to help keep our roads as safe as possible.
Be considerate
Slow down
Give the road your full attention
LOOK, LOOK, LOOK, LOOK AGAIN
This post was written by Becky James using our Create an article for South Leeds Life page.