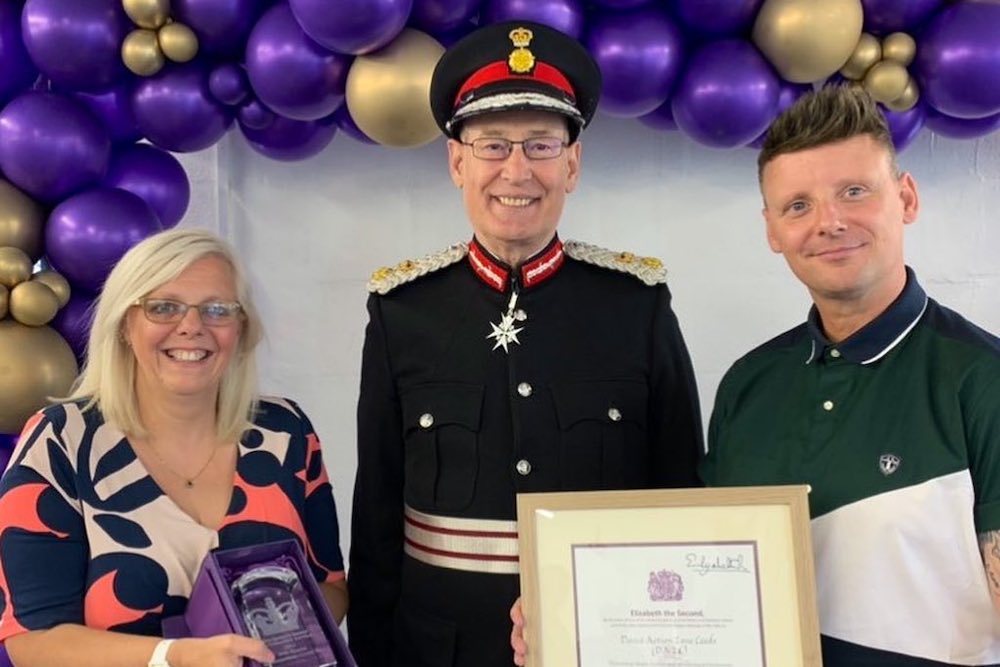 DAZL (Dance Action Zone Leeds) has been running for about 20 years and been in their new office and dance studio in Middleton Community Centre for about 4 months.
They run many dance groups, from what I have been told and seen for young girls and boys across Leeds. DAZL also work with many organisations across Leeds including Sports Groups, Youth Clubs, Parents and Tots, Community , Well being Groups, Elderly Groups, Children Activates, Fitness and Volunteering.
Ian Rodley with volunteers who runs the organisation was Nominated for the Queen's Award for Voluntary Service by West Yorkshire Police a few months ago.
The Award was presented by the Lord Lieutenant of West Yorkshire, the Queen's representative in the county on Wednesday 4 August 2021. The Leader of Leeds City Council, Cllr James Lewis, was in attendance.
While we where waiting for the Lord Lieutenant to arrive I had time to speak to some Board Members and Volunteers. Susan (Chair) for 21 Years, wow. Kevin Snape was there. I spoke to another lovely lady, Melissa Peacock who has been with the DAZL group for many years.
The Lord Lieutenant arrived and was entertained by three young dancers: two boys and a girl. They were brilliant especially the girl who was really good.
The Lord Lieutenant gave a speech thanking all the volunteers, board Members and Ian for all the time spent teaching all the children the dance routines. He said many people get nominated in Yorkshire, but not everyone gets through to getting an Award.
After the speeches I had an opportunity to take photographs and enjoy the lovely buffet.
Ian Rodley (Director) says:
"I am so honoured to have DAZL and all the wonderful volunteers who enable DAZL to reach into communities and support so many families. This is so special to all in DAZL on this what is our 21st birthday"