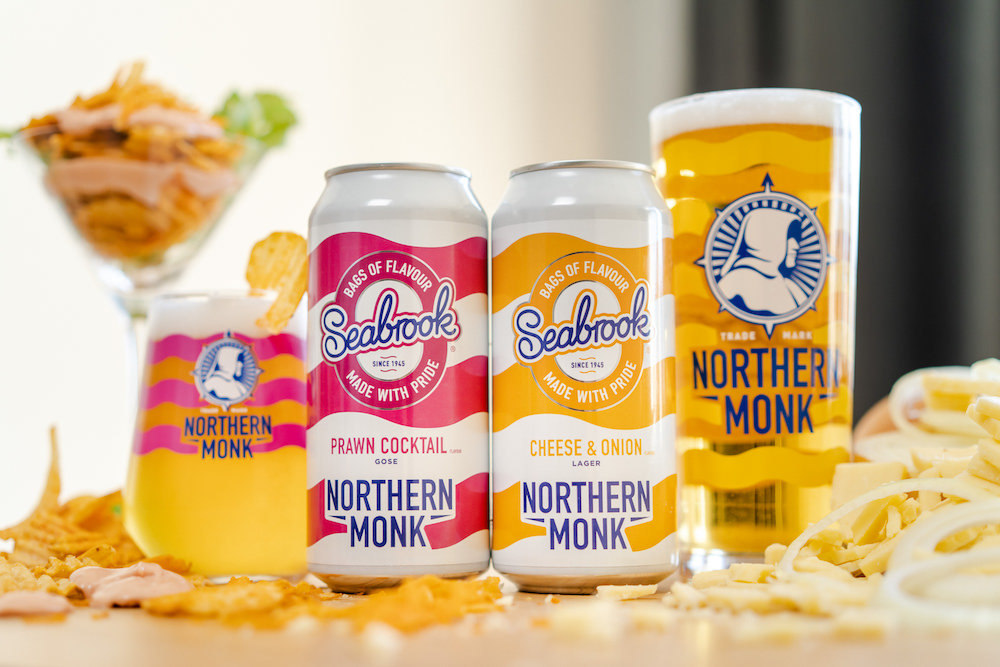 Northern Monk and Seabrook Crisps collaborate to brew the world's first crisp-flavoured beers
Holbeck-based Northern Monk brewery and Seabrook, who are based in Bradford, have joined forces to brew the world's first, crisp-flavoured beers. Taking their inspiration from Seabrook's Cheese & Onion and Prawn Cocktail flavours, these beers blend beer and crisps in a way that's never been done before, to symbolise the coming together of people in beer gardens next week.
Northern Monk and Seabrook, a Calbee UK brand, have been working behind the scenes to create a unique recipe that blends a base beer, with actual Seabrook crisp flavouring, to bring the nation's favourite 'pint and a packet of crisps' together into two (very erm, special?) packages.
Nothing compares to sitting in a sunny beer garden, pint in hand, with a couple of bags of crisps split open on the wooden pub table in front of you to share with your friends. These two beers are a celebration of the uniting of people this spring, by uniting two of the nation's favourite things, distilling this pub experience into a single can. Northern Monk's mission is to create the 'best beer experiences in the world', and these are certainly two of the most unique beer experiences in the world…
On 1 April, Northern Monk posted a mock-up can on their social media channels that replicated the iconic Seabrook packaging as an 'April Fool's joke'. What the public didn't know, was that this post was a double bluff, and the beers had actually been brewed at Northern Monk's Leeds-based brewery, using tubs of the actual Cheese & Onion and Prawn Cocktail flavouring that Seabrook use to make their crisps of the same name.
The Cheese & Onion Lager is a 5.4% refreshing lager, lifted by a distinct aroma, and notes of cheese and onion, leaving you with the aftertaste of just having finished your favourite packet of crisps. The crispest lager ever brewed, quite literally. The Prawn Cocktail Gose is a 5% sour beer that brings with it the tang of prawn cocktail, finishing with a distinct saltiness that's true to the traditional gose style.
These beers mark the third annual flagship Northern brand collaboration that Northern Monk have brewed, making a Bloody Mary Porter with Henderson's Relish in 2019, and a two-course roast dinner in beer form with Aunt Bessie's in 2020, using the brand's Yorkshire puddings and roast potatoes in the beer itself.
Speaking about the collaboration, Founder of Northern Monk, Russell Bisset, says:
"There's nothing quite like an afternoon in the beer garden, so we decided to capture the flavours of this experience in one beer. Working with Seabrook, we've combined the nation's two great loves, beer and crisps. We're keen to push the boundaries of what beer can be, exploring new flavours and creating new experiences. After one of the most challenging periods in recent history, we decided to take this quest into uncharted territory, creating an experience that would make people laugh – or grimace actually – as lockdown lifts. These beers are for those with a curious mind, an adventurous pallet, and a thirst for something new after a year of hardship. See you at the bar for a pint of Cheese & Onion. Maybe just the one round though …"
Jon Wood, Commercial Director at Calbee UK, says:
"We are delighted to have worked on this project with Northern Monk, creating Seabrook crisp flavour beers, it's the perfect partnership."
The Northern Monk X Seabrook Cheese & Onion and Prawn Cocktail beers are launching on Northern Monk's online shop today, Sunday 11 April 2021.
Both beers will retail at £3.50 per can on Northern Monk's online shop, and they'll also be available to purchase in sets with a matching packet of crisps and limited-edition Northern Monk X Seabrook glass for £9, or everything listed previously, plus a Northern Monk X Seabrook t-shirt, for £26.
Availability is limited, the beer and merchandise can be purchased via www.northernmonkshop.com.
This post is based on a press release issued by Northern Monk