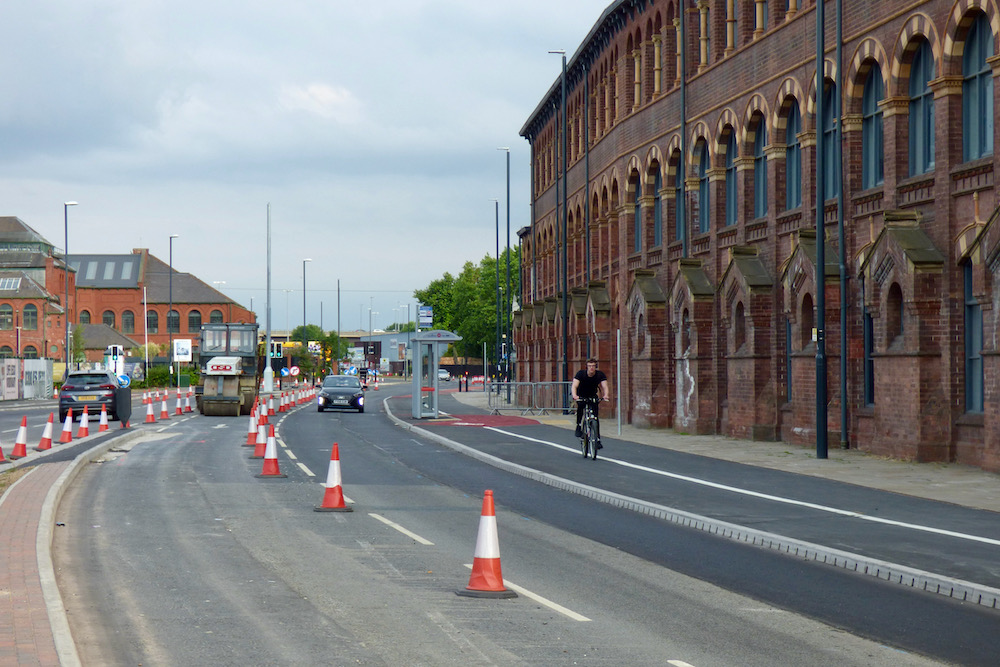 Leeds City Council has today issued an update on road improvement and infrastructure works taking place across the city.
With the new school year starting and people across Leeds returning to their workplaces in greater numbers following the easing of Covid-19 restrictions, road use and the numbers of journeys taken in Leeds are expected to increase in the coming weeks and months as the holiday season comes to an end.
Each year, council teams oversee and co-ordinate a large number of temporary road closures and street works to facilitate works by utilities companies, private building developers, contractors acting on its behalf and its own in-house contracting team. Despite the challenges caused by Covid-19, approximately 900 road closures and 30,000 street works have been overseen by the council in the last 12 months.
There has been a very significant investment in a range transport projects in Leeds in recent years, with £190m spent last year and a similar amount expected to be spent this year, through works related with the West Yorkshire Transport Fund.
A key element of this work carried out by Leeds City Council and partners has been an unprecedented level of improvements in the road network and its infrastructure as part of the £270million Connecting Leeds programme.
The aim of Connecting Leeds is to transform transport and travel in Leeds, with the programme being developed following extensive public consultation held in Summer 2016 on how to invest the significant investment available. The feedback from more than 8,000 responses was very clear and called for improved public transport, a more reliable and efficient transport network, greater flexibility for active travel such as cycling and walking, reduced vehicle access in public spaces and lower traffic emissions to improve air quality.
The other clear piece of feedback was to deliver the improvements as quickly as possible, which matched a condition set by the government to its element of the funding which required works to be on site by Spring 2022.
Since work began in 2018, major schemes on The Headrow, Park Row, Infirmary Street and Cookridge Street and A61North have all been carried out and completed, together with expanding the Elland Road park and ride and creating the new Stourton park and ride which opens this week with free travel available on the new service this week.
Other projects currently underway across the city include The Corn Exchange/Meadow Lane, A647 and A61 South corridor improvements, and the East Leeds Orbital Route, along with Regent Street Bridge which needed rebuilding having reached the end of its current usable life.
With the delivery pressures being constant on a programme of unprecedented scale and works, the council responded to the quieter roads caused by the Covid-19 lockdowns to accelerate key elements within the project to reduce their impact, particularly in the city centre immediately outside business premises. This has continued through the school summer holidays, with works carried out in a planned and co-ordinated way including overnight and weekend work where possible.
Works by other parties such as utilities companies and private building developers also have an impact on the road network, and after a lull during the pandemic levels have increased markedly in recent months. The council does everything it can to co-ordinate works with these stakeholders but some of these are outside the council's control and some are emergency works which have to be progressed immediately.
As part of the council's commitment to deliver improvement works as soon as possible for everyone in the city to benefit from, future works in the months and years ahead include Sovereign Bridge, Armley Gyratory, Boar Lane, Bishopgate Street and City Square.
Leeds City Council executive member for infrastructure and climate Councillor Helen Hayden said:
"I'd like to thank everyone who has been, and remains, impacted by the roadworks around the city for their patience. I understand the frustration that some people have felt in being caught up in the resulting traffic. Everything that can reasonably be done is being done to keep the city moving and to minimise the impact of the works, but we have a clear deadline both from the government and our commitment to the city. The message from the public in the transport conversation was to get on and make the improvements as quickly as possible, rather than longer delays.

"Anyone who visits the city centre in particular will see the changes that have been made and we are grateful for the very many positive comments we have received. We would ask for continued patience and understanding as we continue these works so everyone across the city will be able to benefit from more efficient, flexible and greener transport options for generations to come.

"As people do now start returning to their workplaces, we would encourage people and organisations to look at being flexible in their time and choices of transport, staggering journeys to avoid peak times wherever possible and using public transport, cycling or walking."
Earlier this summer, Leeds City Council and partners launched a new campaign encouraging greater use of active travel options. For more information visit www.walkitrideit.com
For more information on Connecting Leeds go to Connecting Leeds and transforming travel
This post is based on a press release issued by Leeds City Council