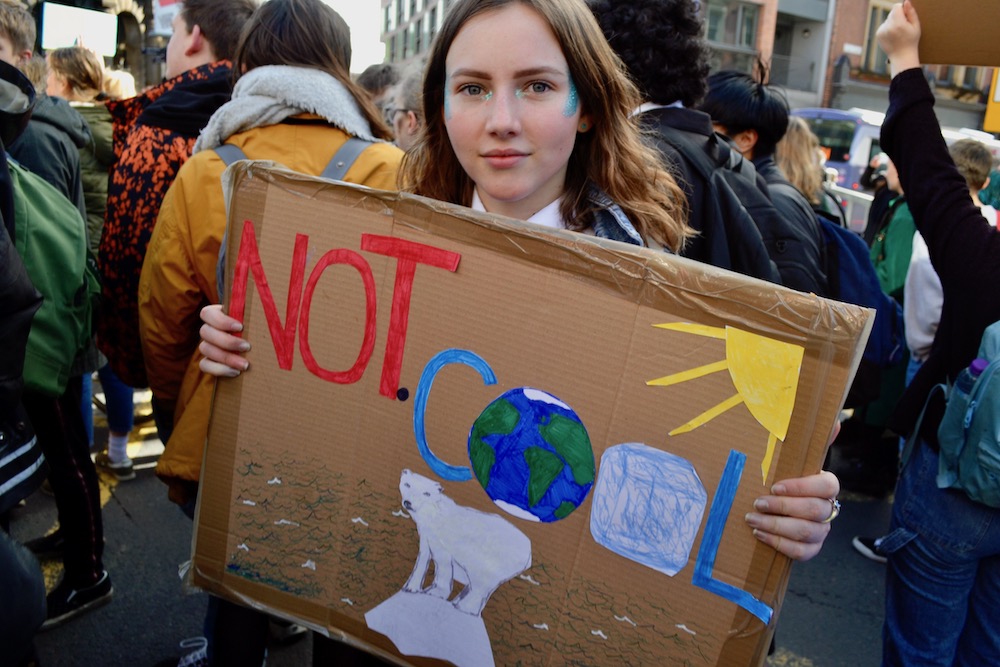 Yesterday (27 March 2019) Leeds City Council declared a 'Climate Emergency' and called for a city wide 'conversation'.
This recognition of the grave threat of climate change comes against the backdrop of international school strikes (see below) and reports of species extinctions. Cllr Judith Blake (Middleton councillor and leader of the Council) has said:"The climate emergency is real" and called for "radical action."
The past 6 months have seen a considerable surge in environmental campaigning globally, with figures including Swedish teenager Greta Thunberg calling upon global and government bodies to take serious action to curb runaway climate change. Groups including Extinction Rebellion have taken direct action in London and other cities, and the Schools Strike – originated by Greta Thunberg – has grown to see 100,000s of school pupils and students leaving their studies to protest around the globe.
15 March saw the second organised School Strike in Leeds, with thousands of young people joining the 5,000-strong demonstration outside the Town Hall.
Greta Thunberg

18 of the world's 19 hottest years have occurred since 2001. The last five years have been the hottest five in the last 140 years.

Thousands of species of plant, animal, invertebrate and insect are becoming extinct each year.
Extreme weather events such as Cyclone Idai which hit Mozambique and Malawi this month, are becoming more frequent.
Polar ice is melting at an accelerating speed and glaciers are retreating across the globe
In a statement, Cllr Judith Blake, Leader of Leeds City Council, told South Leeds Life ahead of the meeting:
"The climate emergency is real. If we don't take radical action much sooner than previously thought it will be too late to avert climate disaster and all the extreme consequences that will bring. Many young people including from South Leeds have expressed their understandable concern about this and its right they are listened to.

"Leeds is one of the leading councils in the country with work in this area, as shown by the level of resources we have invested in innovative schemes such as Leeds Pipes District Heating which will be extended into South Leeds. Investment in insulation and energy efficiency improvements in council housing also helps reduce tenant's energy bills and has an impact on health by reducing illnesses such as asthma associated with damp. Improving walking and cycling links from the South of the city into the city centre can also make a big difference.

"We need businesses to increase their investment in energy efficiency and low carbon measures. It is worth their while as we know that in Leeds by 2030 they can save over £277m annually if they invest in all available profitable measures available in this area.

"However, we recognise more action is needed so we are bringing the motion to Full Council and calling for all political parties on the council to support it.

"If the motion is agreed we will bring forward proposals for a conversation with everyone in the city on what practical measures are needed as part of an emergency plan to an Executive Board meeting in April. However, it is absolutely key that the Government then gives us the funding and powers to implement many of the radical actions needed. We remain concerned that the current Government isn't taking this seriously enough and we will do everything we can with partners across the country to lobby for the powers and funding needed to make the difference."
But Ed Carlisle, lead Green Party candidate for south and central Leeds, says it doesn't go far enough:
"It's great that the Council are at last waking up to climate change. I hope this makes an impact, but I've serious concerns. Nice words, but little commitment to real action, and it mainly passes the buck to national government. We can and should act now: stop the airport expansion, curb major road building, block all local fracking activity (like waste fluids coming to Knostrop), as a start. We can make a better greener city – but we need to be bold."
What do you think? Are you or young people you know striking? Join the debate by commenting below or on social media.
Main photo: Brannoc Stevenson