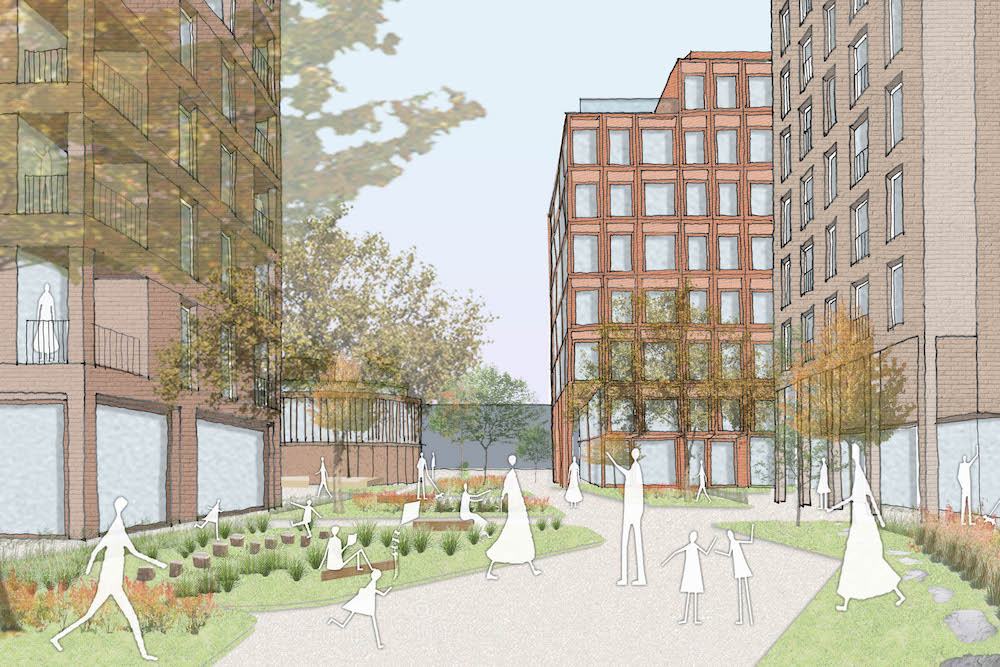 As previously reported, plans are being developed for the vacant former Kays site in Holbeck, bounded by Sweet Street, Marshall Street, Nineveh Road and the rail depot
The development will include a range of homes, offices, commercial spaces and extensive new public realm:
Approx. 1,200 new high-quality Build-to-Rent and market sale residential apartments, spread across six new buildings ranging in height from 10-27 storeys.
Two new purpose-built commercial office blocks of five to seven storeys.
Over 1.5 acres of high-quality public open space.
The retention and refurbishment of the historic Commercial pub.
New commercial ground floor spaces for cafés, shops, restaurants and other community amenities.
Developers Westrock / Platform_ are asking for community feedback on their emerging plans to transform the former Kays Catalogue warehouse site in Holbeck, which has been vacant for over a decade.
Platform_ purchased the eight-acre site fronting Sweet Street West from Burberry in 2021. Since then, it has been working closely with a highly experienced Leeds-based team to develop a masterplan which features a combination of Build-to-Rent and private sale residential, alongside new purpose-built office buildings, commercial spaces and amenities and extensive new public realm.
As well as providing much-needed new homes and employment opportunities, the site has the potential to help knit together the established residential areas of Holbeck with the rapidly changing South Bank area and to play a key role in the social, economic and environmental regeneration of the area.
At the heart of the design is a network of attractive new public squares and spaces that help to provide a fitting setting to historic buildings such as the Commercial pub and the former Holbeck public library.
The Commercial pub has a long connection with Leeds United and the legendary Peter Lorimer and Platform_ plans to retain and refurbish this historic venue and to return it to active use through a new food and drink offering.
Platform_ is now launching a public consultation to share these proposals with members of the local community, both to seek their feedback on the emerging scheme and to ask for ideas to help steer some of the key aspects of the plans.
Platform_ Development Director, Matt Willcock, said:
"We're delighted to be sharing our plans for this prominent site with members of the local community. Holbeck is an area with huge potential and we think this is exactly the right location for a sustainable new community of homes and businesses, with great connectivity to the city centre.

"We have designed an environmentally-conscious scheme which we think will deliver considerable benefits to the local area and the city as a whole, but we're still deciding how some of the spaces should be used. As part of our consultation, we want local people to tell us what they want to see."
Further information about the proposals is now available on a consultation website – www.sweetstreetwest.co.uk – and local people are invited to view the plans and talk to members of the Platform_ team at the following consultation sessions:
Community Drop-in Event for Holbeck Residents, hosted by Leeds City Council's Communities Team
Tuesday 1 March 2022; 3:30-7:30pm; at The Holbeck, Jenkinson Lawn, Leeds, LS11 9QX
Dedicated Sweet Street West Consultation Event, hosted by Platform_
Thursday 3 March 2022; 3:45-7:30pm; St Matthew's Community Centre, St Matthew's Street, Leeds, LS11 9NR
Holbeck Neighbourhood Forum
Thursday 10 March 2022; 6:30pm (refreshments from 6pm); St Matthew's Community Centre, St Matthew's Street, Leeds, LS11 9NR
Following the consultation, Platform_ will look to finalise the proposals and submit a planning application in late spring. Subject to securing planning permission, construction could get underway in early 2023 and take around five years to complete.
The project team includes DLG Architects (Masterplanners) LDA Design (Landscape Architecture) and Zerum (Planning Consultant).
This post is based on a press release issued on behalf of Platform_