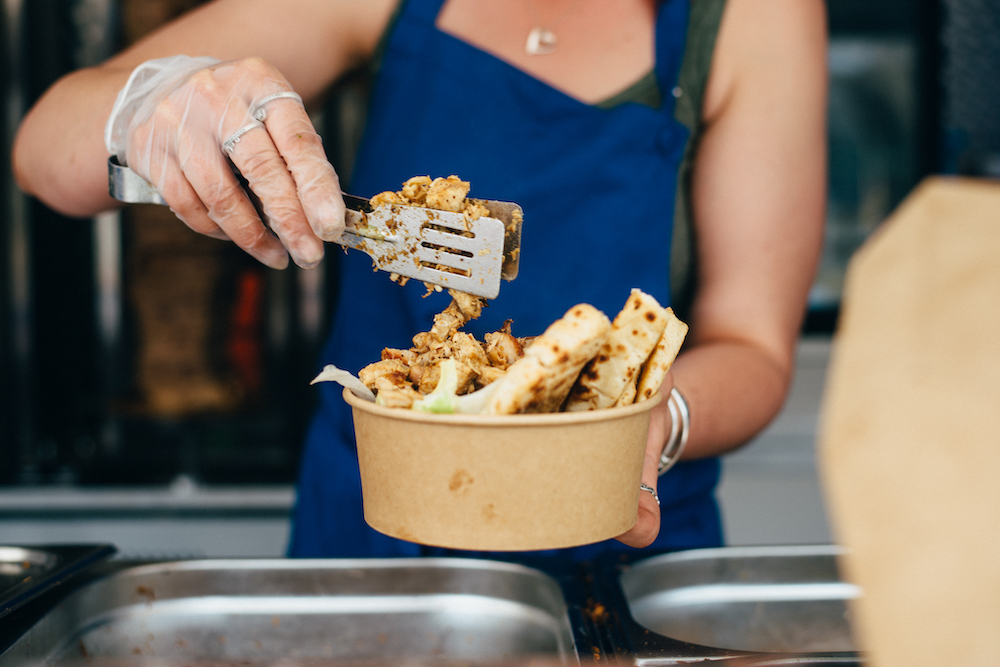 For ten weekends from Thursday 30 July 2020, Chow Down @ Temple Arches will open a huge, welcoming space full of food vendors, and Leeds' biggest beer garden.
This summer, Chow Down brings their renowned foodie festival to Holbeck. Having brought hundreds of thousands of foodie punters and dozens of the North's best indies to both Halifax's Piece Hall and Lincoln's historic Castle, the team are delighted to work their magic on Globe Road's amazing open air venue, Temple Arches.
Entering their third year of operation, Chow Down is a collaborative festival event between New Citizens, Leeds Indie Food and Chapter 81. Between them, they have successfully brought many of the North's best culture-led food and beverage offerings to heritage sites across the North.
In 2018 they started off with four weekends at The Piece Hall in Halifax, scoring record visitor numbers for the award-winning 18th-century cloth hall. In 2019, Chow Down expanded, throwing events at both The Piece Hall and Lincoln's incredible Norman Castle.
2020 was set to be a bumper year, with 12 huge Chow Downs planned. All had to be cancelled due to the ongoing pandemic.
As restrictions started to ease a new idea was born, allowing the team to create a socially-distanced table service dining concept.
Nestled within CEG's exciting new Temple development, Chow Down invites Leeds' foodies, families, and everyone in-between down to the special new Temple Arches site in the heart of Leeds.
Teaming up with CEG, a property and development company, Chow Down @ Temple Arches is all set to feature Leeds city centre's biggest beer garden. The huge 22,000 square foot outdoor venue will allow everybody to enjoy the best food and drink, accompanied by entertainment, music and street art, as this exciting blank canvas is transformed to increase the footfall south of the river. The up-and-coming area already features award-winning food and drink venues, such as Northern Monk Refectory, Matt Healy's The Foundry and the newly relaunched Cross Keys, amongst others.
Matt Long, Director of New Citizens and Chow Down, said:
"We're delighted to be able to bring Chow Down to Leeds for the rest of the summer and work with CEG once again. With businesses, restaurants, and pubs around the UK reopening, it's amazing to see the city coming back to life.

"Unfortunately we saw all of our events cancelled during the pandemic, and with the majority of people having been stuck at home over the last four months, we brainstormed some ideas to create a permanent space for Chow Down.

"The team has designed an amazing and unique venue at Temple Arches, using shipping containers and pergola roofs to create an alfresco setting that's both socially distanced and safe but also fun. It'll be a great environment in which to enjoy all the great street food, drink, music and live art we have to offer."
Emma Clarkson, Placemaking Manager at CEG, said:
"It's great to be working with New Citizens again, in order to bring activity to Temple Arches. This outdoor event space will host a series of creative, cultural and social activities in a safe way. It is part of CEG's placemaking ambition to breathe renewed life into the Temple area, engaging residents, local businesses, and neighbouring communities."
Food & Drink: the best of Leeds and Yorkshire
Chow Down @ Temple Arches will allow foodies to visit their favourite traders once more, bringing dozens of the North's favourite independents to Leeds. Leeds legends Laynes will be serving up their wonderful coffee each weekend, and a roster of amazing traders from across Leeds, Yorkshire and the North is set to be fully revealed over the coming weeks, all set to impress and get taste buds tingling.
Trader Line-up:
The four traders featuring at the first weekend (30th-2nd August) are Middle Feast, Nyama Choma (Kenyan-inspired grill), impeccable sourdough pizza from Pizza Loco and Sela Bar's tasty burgers from Little Red Food Truck.
Over the ten weekends of Chow Down @ Temple Arches, there will be vendors serving up culinary delights from around the world.
ONaRoll sushi and Manchester's Seitan's Kebab will be serving up the vegan hits, whilst Little Bao Boy's stuffed Bao buns, What's Your Beef's awesome burgers, MorMor's Middle Eastern flavours, Holy Mountain Kitchen's proper junk food and sliders, What The Cluck!'s delicious fried chicken, Vaso Kitchen's Indian street food, Soul Shack's incredible Jamaican Yard cookery and The Little Korean's award-winning kimchi and Korean street food are just some of the awesome traders that will grace Chow Down @ Temple Arches.
Local brewers will be on hand to keep thirsts slaked, too. Northern Monk and North Brewing Co. will represent, and rotating lines from Anthology, Nomadic, Kirkstall Brewery, Meanwood Brewery, and brand new brewery Amity will all feature, showcasing some super-local talent.
There will be a range of wines and sparkling wines available too, with Cansecco, HUN canned wines (the UK's first fairtrade, fully recyclable and vegan wine in a can) and a range of Healy & Gray wines on offer. Cocktails fans can also rejoice, as Ace & Freak canned cocktails join the Chow Down line-up, alongside a range of cocktail specials and gin varieties available from the main bar.
Music:
Chow Down's music programme of amazing DJs will feature a mix of stellar local talent and internationally-renowned names.
Underground disco and shimmering pop will grace the opening weekend courtesy of Crazy P, PBR Streetgang, Tristan da Cunha alongside DJs from We Are Fierce, BBC Introducing's Emily Pilbeam, Soul Boutique, Ed Vector, Ninety Nine and Gip Dammone. All will be spinning relaxed tunes to set the vibe for an amazing weekend of fun and food.
As guidance relaxes over the coming weeks, Chow Down @ Temple Arches hopes to feature Hyde Park Brass Band and more exciting musical performers!
Food, Fun: and Socially-Distanced Safety
Chow Down is conscious of creating a completely safe and comfortable environment for everybody concerned, from staff and vendors to foodies and families. For this reason, the site will be cashless, and visitors must book their tables in advance.
Ordering of food and drinks will be streamlined. Customers will simply scan the code on their pre-booked table. This will take them directly to a special ordering platform. Food is then brought out to them directly from their vendor of choice, eliminating queues and prioritising everybody's safety. Enjoy the best independent food and drink with friends and family, leaving all the hard work in the hands of the Chow Down team.
Getting There:
Temple Arches is located on Globe Road within the new Temple development in Leeds' South Bank. Reduce use of public transport by walking down from the city centre via the canal path, or take advantage of the Bike Park available onsite to arrive on two wheels. Temple Arches is a comfortable five to ten minutes' walk from the southern entrance of Leeds Train Station.
How to Book:
Tickets for the first few Chow Down weekenders will go on sale Wednesday 22 July 2020.
Tables are booked in 2s. A table for 2 costs £10 (so £20 for a table for 4, £30 for a table for 6).
The cost (equating to £5 per head) includes entry, a complimentary drink (pint of house lager, Chow Down cocktail or soft drink), amazing DJs, reserved table, table service, and access to the amazing food traders.
Book from Wednesday 22 July at: chowdownevents.co.uk
Chow Down @ Temple Arches times, starting Thursday 30 July:
Thursday:   4-10pm
Friday:    11am-10pm
Saturday:   11am-10pm
Sunday:  11am-9pm
Families are welcome throughout, but from Thursday 6 August, Family Day sessions (featuring special, kid-friendly activities) will run on Thursdays, 11am-3pm.
This post is based on a press release on behalf of Chow Down