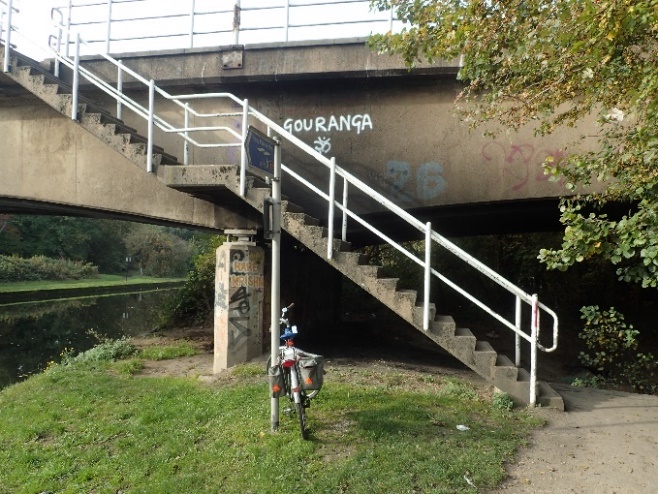 Leeds Cycling Campaign is championing a campaign to make the path along the Aire & Calder Navigation easier to negotiate by replacing the footbridge crossing at Skelton Grange Road. You can help by signing their petition.
The path between Hunslet and Woodlesford is popular with walkers, runners and cyclists. But when it reaches Skelton Grange Road the path crosses over the navigation via a road bridge … and 39 steps to get from the river level to the road. The south side isn't much better with uneven wooden steps and it is often muddy in wet weather.
The problem isn't new and a detailed feasibility study was carried out in 2006 by consultants Mouchel Parkman. Of four options considered it recommended a new foot/cycle bridge with a price tag of over £500,000. Since then planning permission has been granted to an industrial development with a condition to improve the crossing, however the proposal does not remove the need for steps, so does not deal with the crux of the problem.
A lot of work has been done lately to improve the footpath along this stretch as part of the flood alleviation works and this work is only going to increase traffic along the path. But that good work is being let down by the Skleton Grange Road bridge.
Leeds Cycling Campaign commented:
"The steep steps giving access to the bridge are a long standing barrier to many users including those with wheelchairs or buggies, heavily loaded bikes, tandems, electric bikes or trailers. An obstacle like this simply has no place on the National Cycle Network (NCN) or the Trans Pennine Trail (TPT)."
You can sign the petition by clicking here