Please see slideshow at the top of the page.
Gerry, Stephanie and me were invited to the Civic Hall by the Lord and Lady Mayoress for afternoon tea.
This was after they came along to the Cuppa for Dementia day at BITMO's GATE.
The Civic Hall was built and opened in 1933 and took over from Leeds Town Hall for various Council meetings.
The Town Hall was built in 1858, so meetings were held there until the Civic Hall was opened.
Arriving by taxi we were a bit early, so we had a drink at another very old building the Victoria Tavern, near to the Civic and Town Hall.
We made our way across the road to the Civic Hall where after booking ourselves in and receiving our visitors badge, was greeted by Gerry and Lynne, Lord and Lady Mayoress of Leeds.
We made our way to the East wing (Lynne's room) along side of the Reception Hall. The west wing is room is the Lord Mayor room, which we visited later.
We all sat down to Tea, coffee, sandwiches and cake. Saw Mark the driver for Gerry and Lynne, seen him many times with other Mayors.
Gerry tells me that they have only 2 to 3 weeks left, after 1 year in office before a new Mayor is appointed. So we got the invite just in time.
After our tea, Gerry and Lynne showed me Gerry and Steph around all the rooms in the Civic Hall.
First was the Banqueting Hall. Impressive room measuring 30 by 12 metres.
Various panels show regiments who have been given the freedom of entry into the city. The Royal Navy and the Royal Air force are also featured.
Made our way to the Ark Royal Room. Again another impressive room panelled in Limed Oak.
Originally was the blue room, but was renamed the Ark Royal Room in May 2011 to honour the close association between the aircraft carrier HMS Ark Royal. There is a model of the Ark Royal in the room.
Next on our list was the Council chamber where of course, council meetings are held. If it's like Prime Ministers Question Time, plenty of shouting too.
There is a visitors gallery so you can listen to meetings, but can't take part. I can imagine the meeting re the Ice Pak site.
I sat in the Lord Mayor's chair with Gerry and Steph either side of me. I picked up what I thought was a bell, getting everyone to order, turned out it was a gavel.
There is a traffic light system where gives people an indication of how long they can speak, green OK, amber your time is nearly up and red, sit down.
We were later shown the Great Mace which was made in 1694. It's fashioned in Silver-Gilt.
I think when council is sitting the mace would be in the Council Chamber, up to then is locked away in a cabinet for all to see.
Had a look at other rooms and after visiting the West wing (Lord Mayor's) room, went back to the East wing for more Tea and cakes.
The Lord Mayor had to leave us after an hour to show another party around the Civic Hall, but left us in the capable hands of the Lady Mayoress (Lynne). Lynne then showed us around more rooms, taking hold of my Camera to take some photos for me.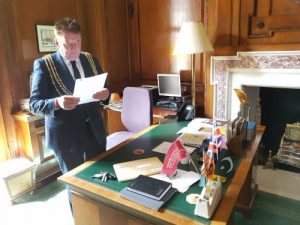 I think they liked us, as an hour tour turned out to be a fantastic two and a quarter hour visit.
As we left where given a Lord Mayor and Mayoress badge, which in different to every Lord Mayer in office and given a brochure of the Civic Hall.
Will hopefully see the Lord and Lady Mayoress at the opening of the Dementia Friendly Garden in Rothwell next Wednesday, when I believe my Psychiatrist Dr Lance Middleton has also been invited. Oh dear.
Well that was it. Steph, Gerry and me waited in the sunshine for our taxi to take us all home. We all agreed what a lovely day, and how lovely the Lord and Lady Mayoress were.
Pity they are leaving office as I can't invite them to our next Tea for Dementia cuppa day at BITMOs GATE. No more (Is This The Way To) Amarillo then.
See photos in hi-definition at Ken's Website click on gallery
All photos are my (c) You can use these for various publications, please acknowledge me. Thank you.