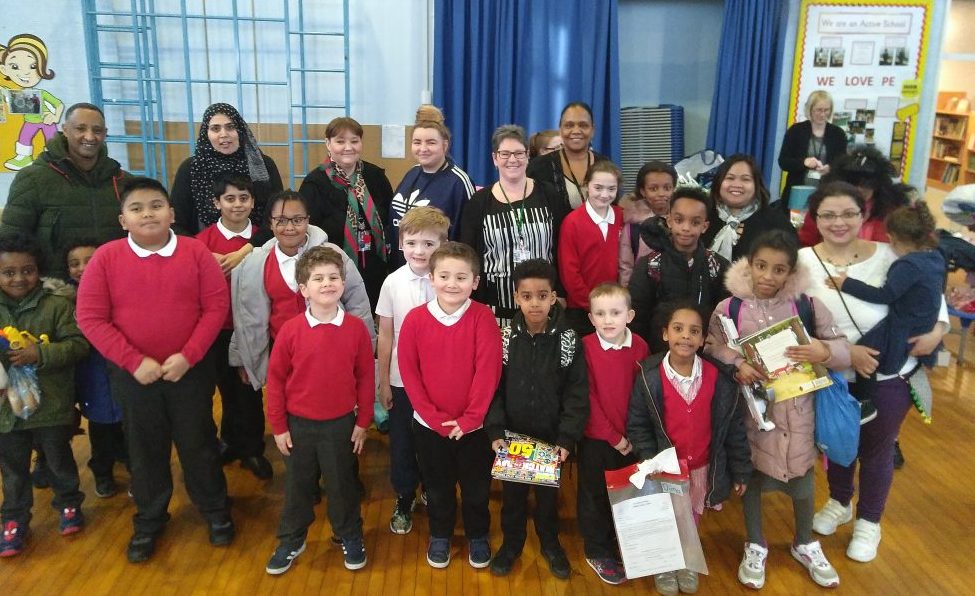 The parents, kids and staff at St Francis of Assisi Primary School in Beeston Hill are valiantly battling away to get a new playground by the end of the year, and are making great progress – but they need your help!
This week saw their latest after-school table-top sale (pictured), they have been holding discos and movie nights, and bucket collections in the local area – and next week sees local staff member Donna Daniels shaving her head. Furthermore, they are in the running for up to £5,000 extra if they win Radio Aire's 'Cash for Kids' schools competition next week (see below).
As previously reported, the school community – led by the Parent Teacher Association (PTA) – has set its sights on a much-needed refurbishment for their playground and outdoor space. To achieve it, they are aiming to raise £10,000 by the end of the school year.
Donna Daniels, who lives locally and has worked at the school for 9 years, is having her hair totally shaved off next Monday (18 March) in front of the whole school, for the cause. She told us:
"It's going to be well worth it. It's only hair, after all – it'll grow back! We need that playground sorted."
Amanda Cawthorne is joint chair of the Friends of St Francis PTA, and added:
"It's been really hard work, but you have to put yourself out to make good things happen, and many thanks to all the many people supporting us. Our kids deserve and need an exciting and engaging new playground. We've raised a lot – but we've still got a fair way to go, so if we win the Cash for Kids competition next week, or even one of the runners-up prizes, that would be a huge boost. Please everyone, chip in, and help us realise our dream!"
To find out more, and to help them win the Cash for Kids competition, click here and donate by midnight on Friday 22 March 2019. The school that's raised the most by then wins a further £5,000, and five runners up receive £2,000; more info here. The school has raised nearly £4,500 so far – although only £1,300 of them has come within the Cash for Kids competition time schedule.
The PTA are also appealing for more prizes for raffles and events, and for any in-kind support local people can offer for their playground; for example, they are keen to hear from local tree surgeons who would be willing to volunteer a few hours work. To find out more, contact them via their FB page here, or contact the school direct here. Their next event is a series of after-school Mothers Day gift sales, from 3.15pm in school, between Monday 25 and Thursday 28 March.