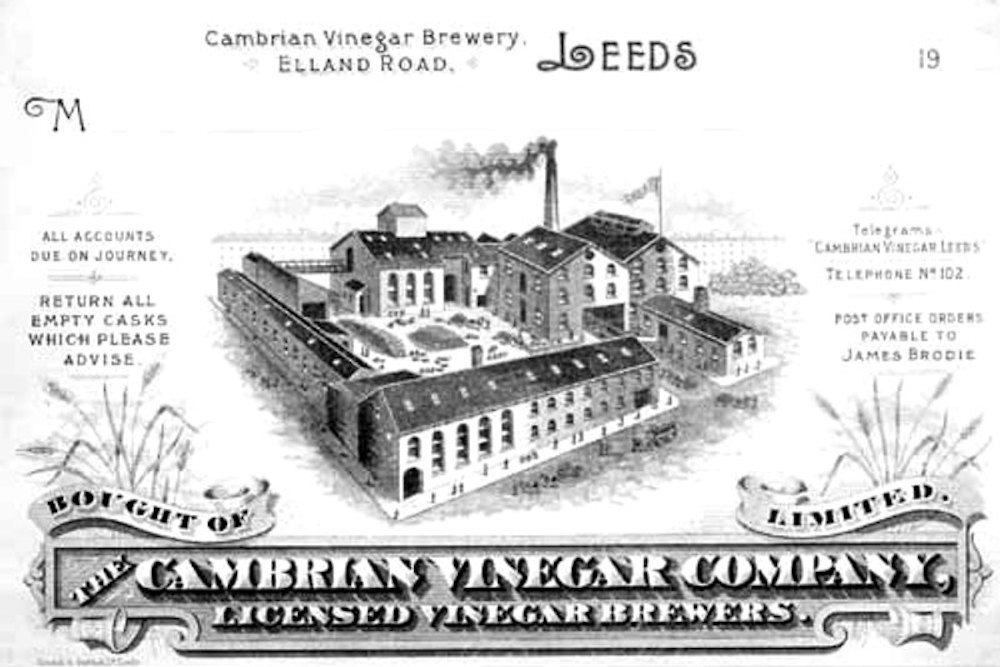 After beer was brewed it was packed into casks to mature, but in warm weather this led to problems with the beer frequently turning sour and the vinegar maker depended on this for his supply of malt vinegar.
In Leeds the major producer was the Cambrian Vinegar Company. This was established in 1864 by Joliam Chivers at Pontypridd, Glamorgan. A branch of the Welsh company was opened in Leeds in 1865 and another in Cardiff in 1866, the Cardiff business being sold to S. Chivers & Company.
In Leeds it began life in a cellar in New Briggate before moving in 1868 to a former wool warehouse in Water Lane, Holbeck. The lease of these premises expired and the business was transferred to a newly-built vinegar brewery on Elland Road in 1877. The site was near the junction with Cemetery Road.
This was described in great detail by the Manager James Brodie on page 16 of his book 'Tis Thirty Years Since' in 1884 and again in 1892. This new brewery covered about an acre and was equipped with the most up-to-date equipment and employed some 50 staff who produced some 35,000 to 40,000 gallons a week. Basically it was a tower brewery with two steam engines and vats of 4,000 gallons capacity.
James Brodie was appointed manager in 1869 to succeed Taylor, who had come from the parent company at Pontypridd, and he became a partner and Managing Director in 1875. It was about this time that a branch was opened in Birmingham, and after a time this was sold to Edward Samson Moore. Moore renamed it the Midland Vinegar Company and went on to make a fortune from HP Sauce after paying a sauce maker FG Garton £150 for the recipe to clear a debt.
In 1833 the original Welsh site was sold and James Brodie was joined by his brother John following the move to Elland Road. The firm was incorporated as a Private Limited Company in 1898 with the brothers holding nearly half the shares.
James Brodie commented on the state of the trade in 1894:
"To begin with, prices of the common qualities of vinegar are little better than half of what they were a quarter of a century ago, whilst an expensive plant has to be kept in working order."
The problems of the trade derived from the competition from the chemical manufacturers and wholesalers who added caramel colouring to dilute acetic acid and sold this as malt vinegar.
Malt vinegar was made by brewing a malt liquor and fermenting it like beer, the brew was then allowed to percolate through casks of beechwood shavings. The action of Mycoderma Aceti oxidised the dilute Ethanol into Acetic Acid (about 4%) but retained essential Malt Esthers which produced the distinctive flavour. Certificates from Somerset House and Public Analysis attest to it being vinegar from malt and grain.
Vinegar breweries were comparatively rare. The economies of scale were such that an efficient brewery like the Cambrian could supply the needs of a large area. With the Penistone Company at Barnsley, they could supply all of Yorkshire, North and South Midlands as well as Southern Scotland and beyond.
All this lasted until the 1960s when the brewery closed and was then demolished.
The letter head in the photo is dated around the turn of the 19/20th century and was printed by Goodall & Suddick, colour printers and manufacturing stationers of Cookridge Street, Leeds.
This post was written by Ken Burton

We encourage anyone living or working in South Leeds to use this website to tell their news. You can either use the Create an article for South Leeds Life page, or email us at: info@southleedslife.com