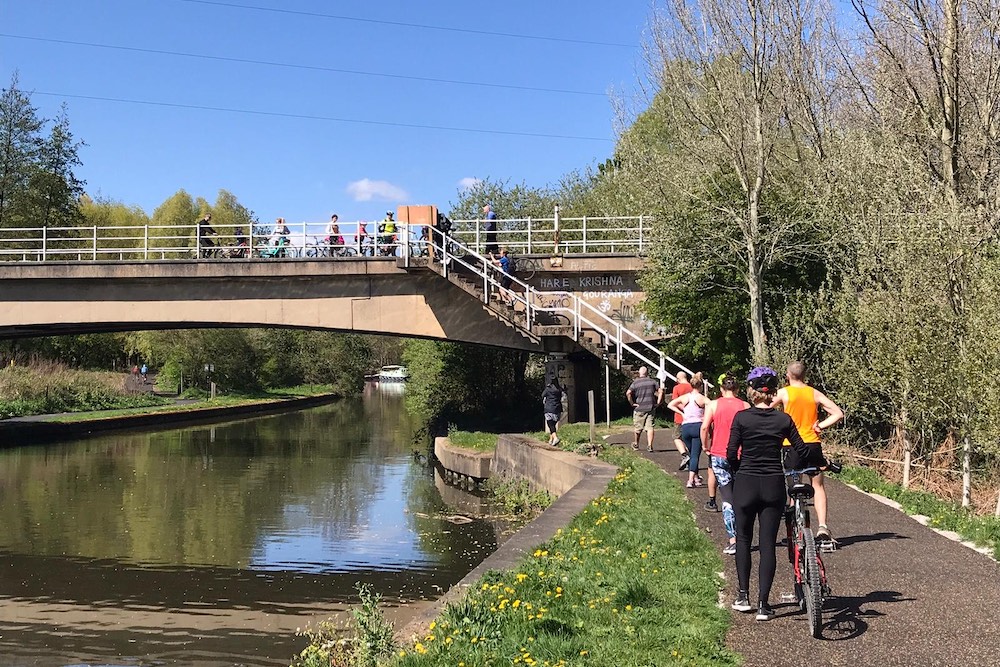 The latest meeting to discuss the previously accessibility concerns surrounding Skelton Grange Road bridge was held virtually last Friday (12 March 2021) to explore the preferred options previously identified by stakeholders.
As previously reported here and here access along the Trans Pennine cycling Trail is blocked at Skelton Grange Road by a set of steep narrow steps. This crossing is difficult or impossible for cyclists, wheelchair users, families with buggies, etc and causes long queues at busy times.
Currently the preferred option by all remains seeking a route through the Thwaite Mills site that can be safely developed, with the alternative solution of a new pedestrian and cycling bridge.
The feasibility and financial viability of these options were discussed in great detail, with everybody in agreement that the preferred option seemed possible in principle, but further in-depth conversations with a variety of stakeholders and departments are needed to look at specific constraints.
The bridge, which is privately owned, has long been a barrier to what is otherwise a welcoming and accessible walking and cycle route.
With the route forming part of Leeds City Council's ambition to see 800km of cycle routes across the city, it would be a positive and welcome continuation of the ongoing work to promote active travel in response to the pandemic.
All stakeholders remain committed to finding a solution and another meeting will be held in the coming months to continue these positive discussions.
Councillor Peter Carlill (Calverley and Farsley) said:
"This is an important and longstanding issue which has seen heightened interest throughout the increased use of the route throughout the Covid-19 pandemic in particular.

"We all want the same outcome; to ensure that this route is accessible for all and I am grateful to all parties involved so far. The difficulty of this being a privately owned bridge means that we have to find a solution by working together with a number of stakeholders to make this change happen.

"Leeds has a strong partnership way of working, therefore I am confident we will be able to make to make the positive change we all want to see.

"Following the meeting partners are optimistic that a solution appears to be within reach, and that there is a strong case to put forward when seeking the necessary funding.

"I hope that in the coming months we can progress this further and reach the solution that everybody is looking for – I'd like to thank everybody who has raised this concern with us and continue to do so."
This post is based on a press release issued on behalf of Cllr Peter Carlill