A magical Winter Wonderland came to Belle Isle on Monday (21 December 2020) as Manorfield Hall was transformed to give local children a Christmas treat.
Families came along to visit the set up whilst Santa Claus drove past waving at the children, then made a stop off at the hall. The families, within the current Covid guidelines and social distancing rules, walked along the path to absorb and take in the Christmas Wonderland.
A beautiful sleigh had been handbuilt for the occasion and was glowing with twinkling lights to bring it all to life. Santa was stood alongside the sleigh and décor with his jolly Elf handing out a present for each child and posed for a photograph. All this was achieved whilst putting safety first.
The amazing experience was set up by Emma Pogson-Golden the events co-ordinator at Manorfield Hall, Rose Keebles the caretaker of the Hall and Carole Kindon, in collaboration with Belle Isle TMO.
This year has seen so many changes and one of those has been the usual visit to see Santa for so many children. Due to current situation this had to be done and enjoyed in a very different way to previous years.
Emma the organiser said:
"There's no better feeling than a seeing any child visiting Santa and the magic in their eyes. Not many can enjoy that this year. Knowing that BITMO had arranged for Santa to drive around locally to wave at children as he passed, his last stop was at Manorfield Hall. I wanted to make it a little bit more joyous and a thing for the children to look forward to and remember. I couldn't have children without a Christmas, without a photo with Santa."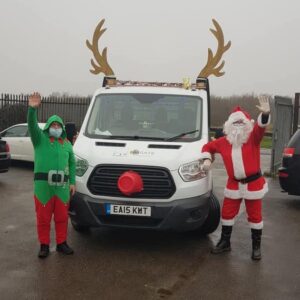 Darren Brown of BITMO Gate said
"This year has been absolute upset, confusion, a strain on our national health and just as much on people's mental health and so much more. People have needed smiles and good spirit. When I was asked to step into the boots of the man himself, Santa … I didn't even give them chance to finish the sentence. To see the smiles on the kids faces, the parents and grandparents brought tears to my eyes. What better feeling than to restore a smile. I have loved every second … it was definitely worth it."
This post was written by Kay-Lee Asquith
We encourage anyone living or working in South Leeds to use this website to tell their news. You can either use the Create an article for South Leeds Life page, or email us at: info@southleedslife.com