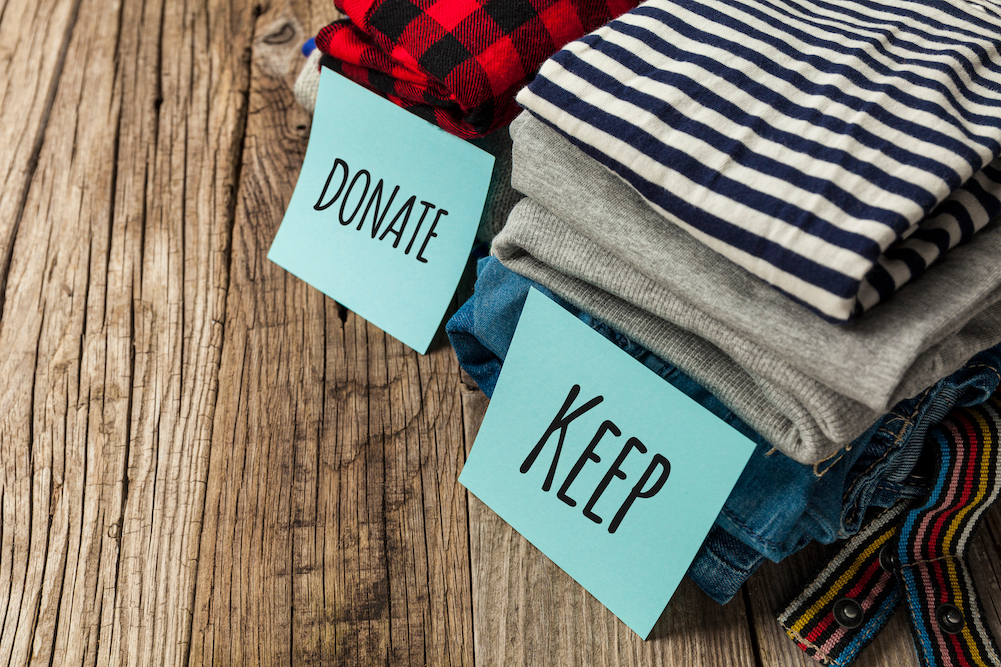 Last night I finally bit the bullet and tackled my wardrobe. It was heaving with loads of clothes that I haven't worn for years and am unlikely to ever wear again, too big, too small, falling to bits, new with tags on, unworn random items bought that I now ask myself what on earth was I thinking? All just sitting there taking up room.
When I want to find something, I can't face rummaging around trying to find it, so I basically end up wearing mostly the same things day in day out. Apparently, the average person wears 20% of their clothing 80% of the time- I identify with that completely. Do you wear the same outfit most days too?
Anytime I treated myself to something new, I crammed it in the wardrobe and quickly closed the door in hopes that nothing fell out on me, yes it really was that bad! The drawers aren't much better either, but that's a job for another day. I'd had enough of not being able to find anything in the wardrobe and taking out clothing that had been squashed and needed another good ironing!
I took all the clothes out of my wardrobe, it looked like an explosion in a clothes factory, laid them on the bed and sorted through the items one at a time. I placed them into piles, keepable, 'binable', charity shop and storage for next season.
It took ages and I'm nowhere near finished. But to say I didn't relish the thought of having a clear out, once I began, I really enjoyed it. There's something very relaxing about doing a mundane, even slightly boring task. You must focus on it, but not so much it makes your brain hurt, but enough to distract you from whatever else you have going on.
This is a perfect example of everyday mindfulness, a lot of people think that mindfulness is sitting in silence meditating, and yes it can be that. But mindfulness can also be at its most effective when used to focus fully on one job at one time. Completing it without interruption or distraction.
Going through my clothes from years ago, I was surprised by the number of memories I have associated with my clothes. When I bought them, where I wore them, special occasions- how much has changed since I thought a bright pink neon skirt would look good on me!
I know when all the decluttering is finished how much easier it will be to go to the wardrobe, take out an item that doesn't need re-ironing because it became so squashed, find what I'm looking for easily and not have the worry that I'll be flattened under a pile of clothes. Making the whole process quicker, easier, and less stressful.
If you don't have a full afternoon (or 3 weeks in my case) aim for 20-minute intervals of decluttering to make it feel less challenging and time consuming. Start with a section of your wardrobe or drawers and work it out from there. My guess is once you get going you won't want to stop. It's very satisfying when you've decided to do something and you're getting on with it.
If unlike me, you are the proud owner of a neat and tidy wardrobe you might have a cupboard or a kitchen drawer that might benefit from a declutter- again just working through the process of keeping, binning, storing, or taking to the charity shop will give you something to focus your mind and you might even find something you thought you'd lost!
There's a ton of research that says decluttering is good for us physically and mentally. We feel less stressed, anxious, and freer when we aren't surrounded by mess and clutter. Also living in a neat and tidy environment is healthier because there are less dust particles in the air that cause irritation, allergies, and dirt.
It's normal to become attached to physical items that remind us of someone or a special time in our lives and letting go of them can feel painful. Especially photographs and sentimental items. Could they be enjoyed in another way rather than having them stashed in a drawer or cupboard?
Don't place any pressure on yourself to discard items that you want to keep, this isn't about getting rid of items that are precious to you, it's about clearing space mentally and physically to enjoy cherished items fully and completely. Sometimes we store things so well that we forget we even had them.
Here are a few ideas of ways to repurpose your surplus items
I know most people have their photographs on their phones. But for those of you who have a sack-full, of physical photographs spend an afternoon taking a trip down memory lane. There is likely to be a lot of laughter, and maybe a few tears as you remember years gone by. Let go of the pictures that don't mean anything to you. Then either put the photographs that you are saving in an album to keep them clean and tidy or display a couple of your favourites where you can appreciate them
If you have clothing that you have kept for sentimental reasons there are businesses who make teddies, cuddle cushions and other items using your clothes so you can still feel your loved ones near
If you have a lot of old newspapers- save any special editions or memorable articles- and recycle the rest. Paper recycling reduces greenhouse gas emissions and the recycled fiber is a sustainable, cost-saving resource for making new paper products. Your old newspaper could become anything from a cup to a shopping bag!
If you're like me and have far too many clothes, I encourage you to go through them like I did and section them into piles, keepable, binable, storage and charity shop. The charity shops welcome clean, tidy items to sell and any surplus items are placed in 'rags' and recycled which saves them going into landfill
If you have children who have grown out of their toys, but the house is still filled with them, perhaps you could pass them onto a friend, make some money by selling them online or take them to the local charity shop so another child can have some fun with something your child has outgrown
If you've got lots of books that you know you'll never read again, can you pass them onto a friend, charity shop or even leave them in one of the community pop up libraries that encourage people to swap books
Clearing out and decluttering doesn't just apply to physical items it also applies to friendships and relationships that no longer serve you. If you have friends or acquaintances on social media that in real life, you'd cross the road to avoid, hit the unfriend button. It's OK to move on and accept that you've outgrown the friendship as life takes you on different paths
If you work from home, or even have a hobby that requires desk space, make sure to give it a quick tidy once week it will increase your productivity. You'll spend less time searching for things, meaning that you can spend your time focused on your work without the stress of a paperwork, mugs and other clutter piling up around you
Have you got a pile of old CD's, DVD's, albums gathering dust that you know you'll never play again? Dig them out, dust them off and make some quick cash. There are collectors, particularly of vinyl, who will pay good money for limited edition or clean and tidy records
Finally, if you'd like to de-clutter your mind you are welcome to join and Reverend Lindsey Pearson and I, as we collaborate on a series of free community wellbeing events starting in June. We'll cover everything from anxiety to mindfulness in a safe peaceful way
For more information about the sessions please contact Rev Lindsey Pearson at 07961 016052 or email revlcp@btinternet.com
This post was written by Shannon Humphrey who is a First Aid for Mental Health Instructor and EFT/CBT Practitioner. For more information about her work visit www.pathwaysforpositivity.com
Photo: Shutterstock