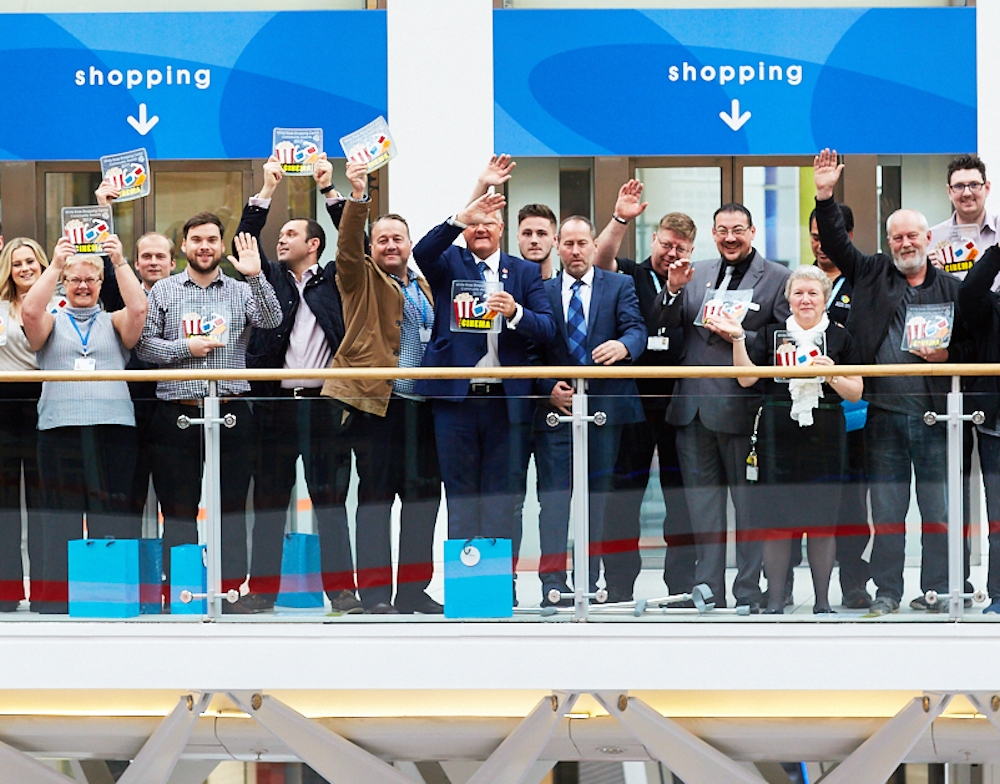 The winners of the sixth annual White Rose Shopping Centre Community Awards, celebrating local Leeds heroes, were announced in a ceremony last week (Thursday 19 October 2017).
Winners included:
·         Jackson Turner from St Luke's Cares which runs a network of charity shops to support its work with young people across South Leeds
·         Julian Cooke of Leeds City Council who, during his 33 years of service to the council, has provided an outlet for businesses to work with their local communities on improving their surroundings through initiatives such as Leeds In Bloom and Leeds Community Bonfires
·         Rich Williams, radio DJ and the 'voice of Leeds' at Heart Yorkshire, who supported White Rose in gifting more than 5,000 gifts to local children in need during Christmas 2016
·         Karl Wilson who work at Specialist Autism Services has done so much to raise about the condition, including persuading buildings around the city to light up in blue to show their support
·         White Rose's former Travel Planning Manager Stephanie Hunter, who recently began a new career with West Yorkshire Police. During her time at White Rose, Stephanie worked with First West Yorkshire to achieve extension of the number 12 bus route to include White Rose, benefitting both the local community and White Rose staff
·         Child Friendly Leeds (accepted by Cllr Lisa Mulherin, Lead Member for Children and Families), in celebration of the organisation's fifth birthday this year and the recent success of Baby Week Leeds which promotes the best start in life for Leeds infants
Each winner has been gifted with a one-of-a-kind glass trophy, handmade by the Glassroom at Cockburn School, featuring a design created by student Nikola Plago. Nikola's design has been inspired by the recent leisure extension at White Rose.
Steven Foster, General Manager of White Rose Shopping Centre, said:
"What a worthy list of winners in our 2017 Community Awards – this event really highlights how exceptional South Leeds is, and we're excited to focus on the amazing work being done in the area.

"We're so proud and pleased by the efforts of the winners within our White Rose family and throughout Leeds as well."
The White Rose Shopping Centre Community Awards are held annually and celebrate those who do outstanding work to benefit the local community, or who have shown courage in adverse circumstances.
Jackson Turner and Karl Wilson spoke to South Leeds Life about their awards:
"It's brilliant to get an award!" said Jackson. "It is great for the valuable work of all the staff and volunteers at St Luke's Cares to be recognised by the White Rose Shopping Centre. Thank you!

"We have been working closely with the White Rose as their community partner, and we are looking forward to selling Christmas cards (2 winning designs by local Primary school children), chocolate coins and candy canes at the shopping centre in the run up to Christmas."

Karl added: "I felt privileged to receive the White Rose Community Award, it was such a shock when I received the letter. It's nice to feel recognition for the work I do which I don't see as a job, as it's all about raising autism awareness and helping to provide new opportunities for adults at Specialist Autism Services."
The full list of winners was as follows:
Simon Beeson – Landsec
Limeyard
Karl Wilson – Specialist Autism Services
Cllr Dowson – Lord Mayor
Ashley Grove – Pizza Express
Morley Exotic Animals
Dave Bradley – Landsec
Asquith Primary School
Stephanie Hunter – White Rose (former)
Joe Moncaser – AWM Waste Management
Richard Mappin & Wayne Robinson – FORMM
Ed Dean – Landsec
Julian Cooke Leeds City Council Parks & Countryside
NGB – Alzheimer's
Jackson Tuner – St Luke's Cares
The Hunslet Club – Kami Wokcik & Lukas Tottie
Sally Fillingham – M&S
Heart Radio – Rich Williams
Exceptional Contribution Award – Child Friendly Leeds
Steve Walker – CFL
Cllr Mulherin – CFL
Nigel Richardson – CFL