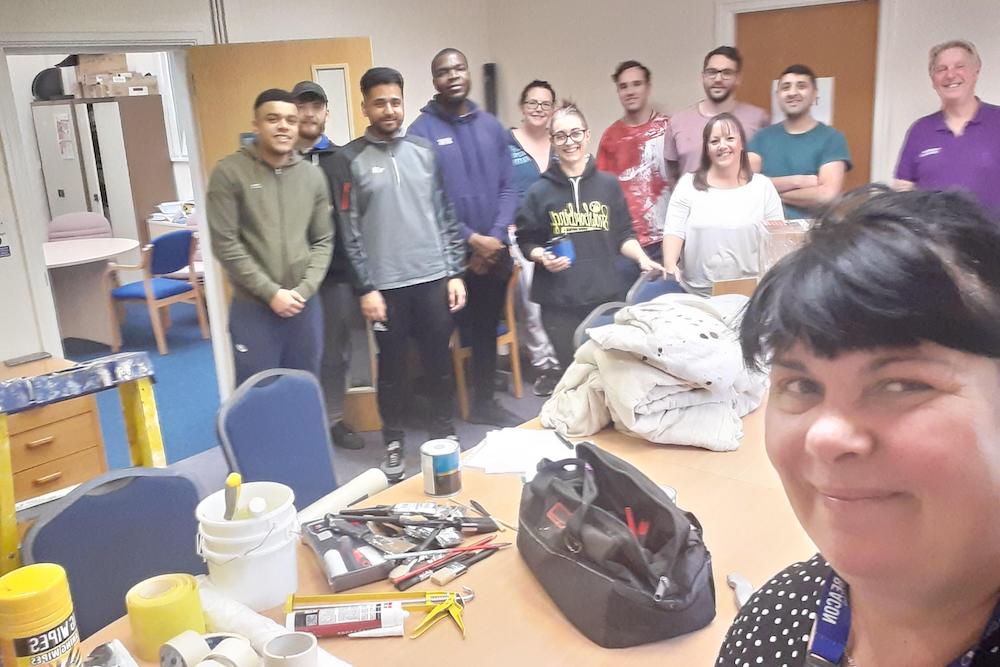 Yorkshire homelessness charity Turning Lives Around has received a facelift to their central offices in Beeston courtesy of volunteers from financial specialists Evelyn Partners.
Some 12 volunteers from the UK's leading integrated wealth management and professional services group which has offices in Leeds, spent a day painting Turning Lives Around's (TLA) meeting room, kitchen and toilets calming colours of lemon and green with a corkboard wall plus gold framed chalk and projector walls as valued added features.
TLA Senior Manager Mia Cameron said she was overjoyed with what the volunteers had achieved.
"They were incredible and worked so hard on our vision with passion and energy," she praised.
TLA works mainly in Leeds and Wakefield to prevent homelessness amongst some of the most vulnerable people in society, empowering them to live full and independent lives within sustainable communities.
A key focus for the charity is being a trauma informed service, recognising and appreciating the impact that past trauma can have on those who've experienced it, and working in a way to avoid retriggering it.
"It is fantastic to now have a psychological informed environment in our head office. When our teams come into the meeting room to train, learn, network, team build or reflect, they will feel instant calm and joy. It's a wonderful therapeutic space that is multi-functional and fun and will allow our teams to grow," said Mia.

"When we have a happy refreshed and reinvigorated team who feel valued, the results will be seen in our clients in terms of new skills and ways of working."

"As soon as it went up the corkboard wall was put into use with a display of black heroes to celebrate Black History Month. It sparked instant debate as people added to it."
The facelift was brought about through community interest company (CIC) Employee Volunteering, a not-for-profit organisation that links major corporations keen to progress their Corporate Social Responsibility (CRS) with charities and community trusts.
"We bring hands to a site enabling the charity to get something done which otherwise they would not have the manpower, time or money to achieve. We make all the arrangements and bring all the materials and resources," explained Employee Volunteering's Lead Facilitator Penny Netherwood.

"The volunteers are from companies that are keen to support and do good things in the community, but these occasions also make great team building events. The team from Evelyn Partners all said they had a great day and loved the chance to make a difference."
This post is based on a press release issued on behalf of Turning Lives Around
Whilst you're here, can we ask a favour?
South Leeds Life is published by a not-for-profit social enterprise. We keep our costs as low as possible but we've been hit by increases in the print costs for our monthly newspaper – up 50% so far this year.
Could you help support local community news by making a one off donation, or even better taking out a supporters subscription?
Donate here, or sign up for a subscription at bit.ly/SLLsubscribe