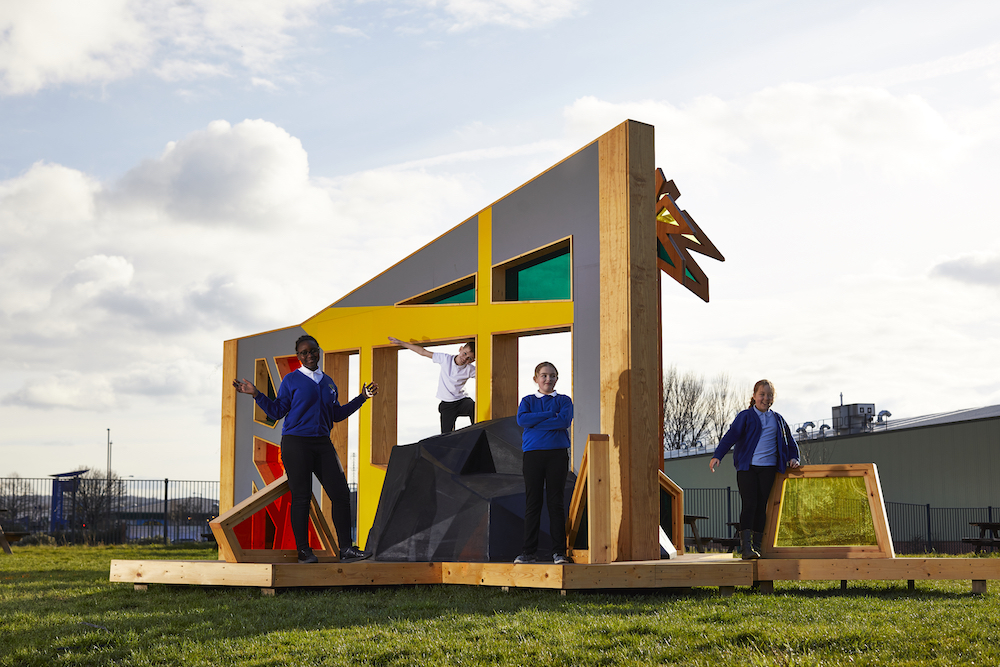 The Sun Shines Every Day Forever is a newly commissioned sculpture by Todmorden-based artist Matthew Houlding that visitors to Hunslet's Tetley art gallery are encouraged not only to touch, but to walk through, to picnic upon and to play hide-and-seek within!
Photos: David Lindsay
Supported by ASDA Foundation, Leeds Inspired and Leeds City Council The Sun Shines Every Day Forever is a new landmark in the South Bank redevelopment. The sculpture will stay in place outside The Tetley until building work begins on the new City Centre Park, and has the potential to move elsewhere within the development. This sculpture marks a creative approach to public sculpture and spaces that will be the hallmark of the new cultural South Bank.
Matthew Houlding was selected as the artist to make this new sculpture from an exhibition of proposals held at The Tetley in 2015. Over 4,000 visitors and school children saw the exhibition and voted Matthew's proposal as the most appealing design.
The Sun Shines Every Day Forever takes its inspiration from the desert architecture of California where the interior and the exterior, the manmade and the natural environment merge. Houlding's sculpture is a constructed section of architecture that is landscaped with boulders, platforms, a palm tree and coloured Perspex panels. A half-built ruin, the sculpture connects the past and future and invites visitors to imagine what might have been and might yet be.
Set within the urban context of re-development in Leeds' South Bank, The Sun Shines Every Day Forever is a fragment of a separate time, an oasis of calm and colour where generations, young and old can interact and explore.
Councillor Lisa Mulherin, Executive Member for Children and Families, said:
"I am very pleased to be supporting this new sculpture outside The Tetley, we know from our consultations that people want cultural attractions and public spaces to be part of the South Bank regeneration. What is exciting is that this sculpture is not just to be admired but also interacted with, people are encouraged to touch it and children to play on it and have fun, so it also helps reinforce our Child Friendly Leeds ideals. It is sure to attract lots of interest and attention and I'm looking forward to seeing it finished for everyone to enjoy."
The Tetley will also show a number of Houlding's drawings and collages in the Bar & Kitchen and a limited edition print will be available to buy in the shop.