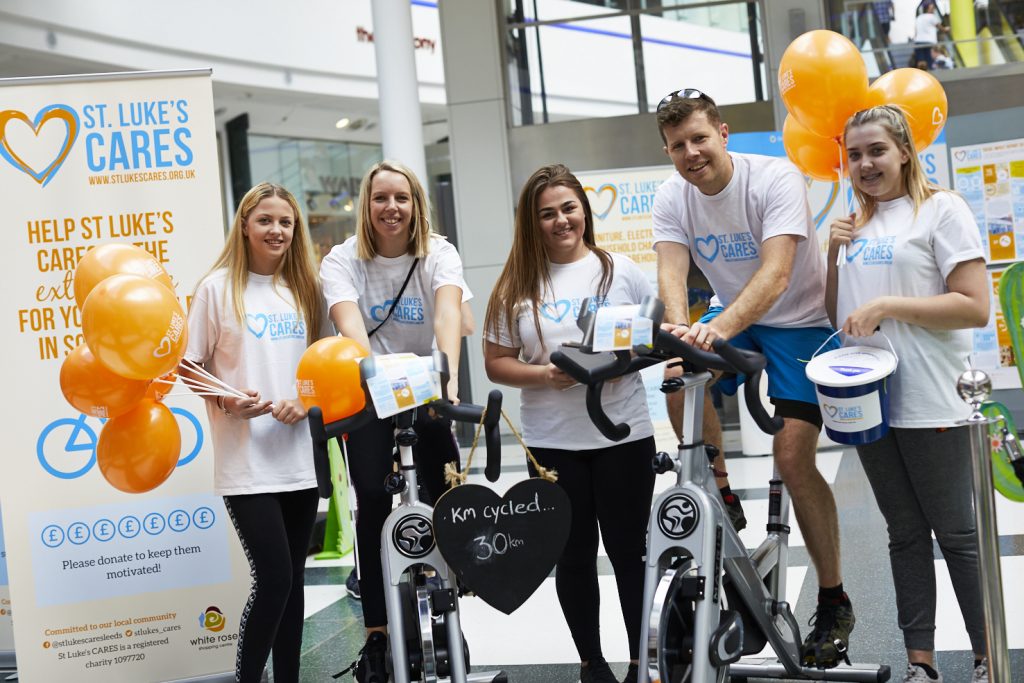 On Saturday (3 June 2017) St Luke's CARES charity coordinated a range of interactive activity at White Rose Shopping Centre to celebrate their new charity partnership together, and promote the different work they do in the south Leeds community.
As a volunteer from St Luke's CARES I was pleased to be a part of the day which included meeting the lovely White Rose shoppers with fellow volunteers and helping raise awareness and donations for the charity.
Leeds' busker Jonny Walker entertained families in songs from Frozen and Oasis on his live streaming acoustic set. An exercise bike challenge in association with Pure Gym was in full motion pedal by our 'Shine' project group leader Kate Alty and the new boys group 'Rise' Matt Lewis. The social enterprise group The Shine Nail Bar set up their 'pay as you feel' nail bar giving manicures for up to £10!
Volunteers and girls from the Shine Project engaged families with a 'name the giraffe' competition with a giraffe teddy, £25 White Rose gift card, and a Giraffe Adoption Pack for Yorkshire Wildlife Park (RRP £40). To promote the current accredited 15 week TRY retail course, volunteer Angela talked to shoppers about her own experience at the charity shop on Dewsbury Road.
After hours of dancing, our General Manager Jackson Turner was exhausted underneath layers of the lion mascot outfit he was sporting to attract families to donate money and have a dance. One of the main aims of this fundraising event was to support Kate and the girls from Shine project to embark on their Zambia trip. There the girls will help out a school for a truly international life changing experience.
We would like to say thank you to the generous shoppers at White Rose Shopping Centre, we raised a fantastic £1,100 and Kate and the gang cycled 450 km. Thank you also to all the volunteers and workers from St Luke's who made this event so memorable and fun.
Watch this space for more mini events during the year!
To find out more about how you can involved with St Luke's CARES visit stlukescares.org.uk