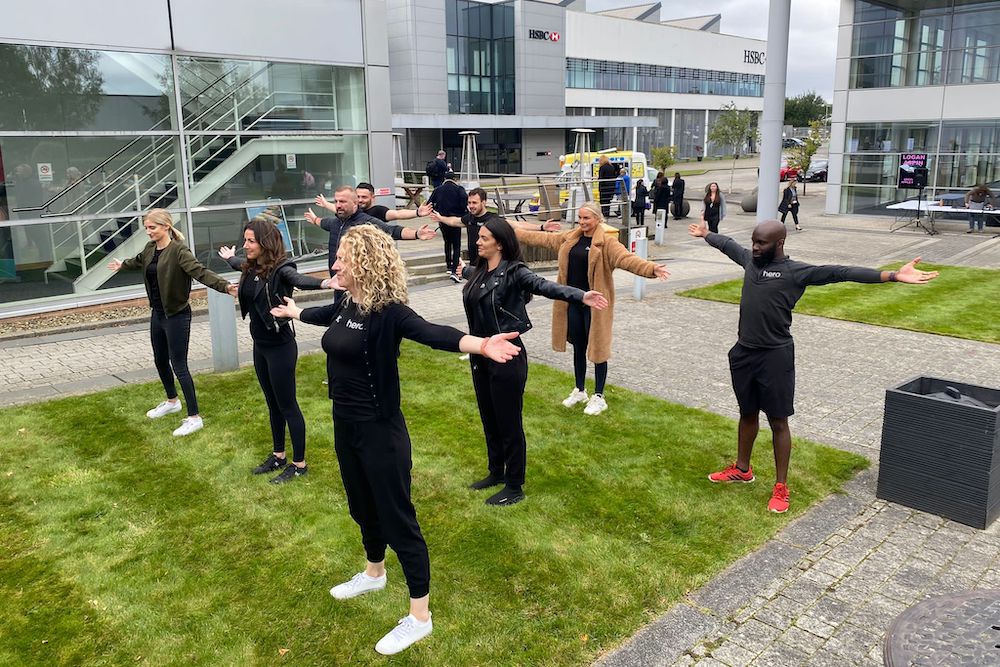 Major property management company Munroe K has agreed to a long-term partnership with health tech and wellbeing specialist, hero, to improve the health and wellbeing of employees of businesses on site at Munroe K's White Rose Park.
The White Rose Park – which is owned and managed by Munroe K – is firmly established as one of Leeds' foremost office locations home to many global names such as HSBC, Capita and DAZN, with over 5,000 employees based at the site.
The partnership will see Munroe K's impressive list of tenants gain access to hero's Navigator app, providing employees with a technology-led solution for whole person health which supports all aspects of health; physical, social, financial and mental.
As part of their long-term partnership, hero's Navigator app will allow Munroe K and the Park users to change their daily habits through tracking their movement, sleep, active minutes, nutrition and much more, as well as access to an extensive wellness and nutritional library from the palm of their hand.
Real-time data gives users peace of mind and can allow businesses to access organisational reporting tools to view engagement, trends in data and usage analysis across employees in order to maximise benefits and ROI.
Joe Gaunt, CEO of hero said,
"We're really pleased to be working with Munroe K and the diverse brands they work with at White Rose Park. It's an impressive facility with big aspirations, and we're delighted they are making the most of what hero, and our Navigator app, can offer.

"hero was formed to have a positive impact on individuals, companies and communities by supporting all types of health behaviour. We believe in helping individuals and companies focus on being the best version of themselves by creating tailored wellbeing plans to support people with their physical, mental, social and financial wellbeing. Our partnership with Munroe K will help to optimise the health of the community at White Rose Park."
The launch of the positive and hands-on partnership came earlier this month with hero staff on site as Munroe K welcomed staff back to it's offices with a BBQ, live music, entertainment and networking amongst businesses.
David Aspin, Founder and CEO of Munroe K, owners and operators of the White Rose Park commented:
"What a terrific day for all involved. It was fantastic to have so many Park colleagues join us for our 'Welcome Back to Work BBQ', and thanks to everyone that supported us on the day. It was particularly refreshing to see colleagues enjoying lunch together and catching up after such a long time spent apart working from home.

"Having our wellness partners, hero, on site throughout the day helped bring some real energy to proceedings and we're excited to roll out our new wellbeing programme together, for the mental and physical benefit of everyone at White Rose Park. As we emerge from the pandemic we're delighted to be able to take positive action in helping everyone lead a happy and healthy lifestyle."
With a range of businesses utilising the same space, Munroe K is looking forward to developing initiatives, fun challenges and competitions between organisations to increase participation and engagement with the wellbeing app.
White Rose Park strives to provide the whole work-life package with on-site nursery, dedicated on-site dining facility which includes a 200-seat restaurant, Starbucks coffee shop and magazine & newspaper sales. It also offers multilevel security, managed on-site 24 hours a day, 7 days a week and 365 days a year, using a combination of a bespoke online visitor portal and intelligent security systems, making White Rose Park one of the safest places to work and visit in the UK.
hero offers personalised wellbeing solutions for a variety of clients. For further information or to see how hero could benefit your organisation visit: www.herowellbeing.com.
This post is based on a press release issued on behalf of White Rose Park