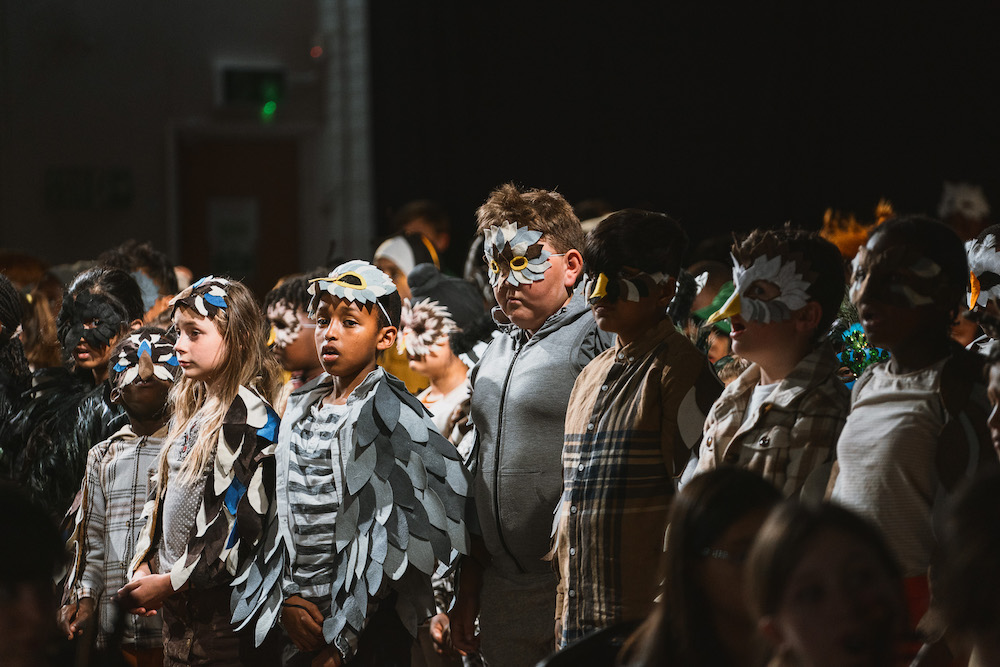 What a privilege it was to be present at Slung Low's Warehouse in Holbeck on Friday evening (7 July 2023) and be a (small) part of their joint production with Manchester Collective and Ingram Road Primary School, of the opera Noah's Flood.
The show was a triumph, blending professionalism with community in a perfect mix as everyone joined forces to tell the story of Noah and the flood.
The children of Ingram Road were the stars of the show, wearing superb costumes as the animals that came two by two onto the Ark. They also sang beautifully, from memory, some quite difficult lyrics. The children playing the ravens and doves, who were sent to look for dry land performed their dance impeccably.
The children were complemented by The Manchester Collective, professional classical musicians who are making quite a name for themselves. They were augmented by young musicians drawn from across the north of England.
The logistics of working with 180 children, the whole Ingram Road's Key Stage 2, were nicely managed with adults in 'Two By Two Ltd' vests with clipboards and light wands to help the children find their places on stage. Another moving touch was the lanterns held aloft by the community choir members during the hymn 'Eternal Father, strong to save' also known as 'For those in peril on the sea' during the storm.
The story of the flood and Noah's Ark is ancient and lies at the roots of three of the world's major religions, but it has a contemporary resonance. As Lemn Sissay, who played the Voice of God told me:
"This is a play about environmental disaster, the displacement of people, boats taking the survivors into a new world. This is a very contemporary piece."
All photos: Tom Arber
Benjamin Britten wrote his opera Noye's Fludde in 1958, based on the medieval mystery plays that told biblical stories in communities up and down the land – hence the old English spelling. The first instruction on the sheet music is that the work is not to be performed in concert halls. This work was written for communities to perform in the church hall or whatever space came to hand, in this case a warehouse.
The work is written for professional musicians and singers, but also for amateurs. Britten's intention was that the whole community would be part of the performance. That makes it a very powerful work.
As we reported in April, there were opportunities for anyone in the community to get involved with mask and costume workshops, video and make up workshops, or to be part of the community choir helping the audience join in with three hymns during the show.
Declan Kennedy from Manchester Collective explained:
"What we've got here with Noah's Flood is a professional cast, professional orchestra, professional production team – really best in class people coming together.

"The big thing we wanted to do was build a relationship with the children and the community and I think we've done that by really involving them in the show, they are the stars of the show. That will be unforgettable for them and have such a big impact."
Alan Lane from Slung Low who directed the performance, was not sure about staging an opera when first approached by Manchester Collective
"I talked to the kids at Ingram Road and said 'do you want to do an opera?' and one of the kids said 'what's an opera?' I thought, well that can't stand, we have to do this."
Lemn Sissay agreed:
"The beauty of opera is that all of the arts come together to make it. So, there is poetry, there is song, there is visual art, costume and music. That's why it's good and that's why it's important that it's here in Holbeck, because often places like Holbeck would not get to see opera."
The production was commissioned by Leeds 2023 and Manchester International Festival and supported by Arts Council England, D'Oyly Carte Charitable Trust, The Earl & Countess of Harewood's Charitable Trust, Granada Foundation, Lauriston Trust, Lord and Lady Lurgan Trust, Leeds City Council, and the Shears Foundation.
At the end of such an evening of superb music, singing, costumes, visuals and audience participation, it was no wonder it ended in a standing ovation for everyone involved.
While you're here, can we ask a favour?
South Leeds Life is published by a not-for-profit social enterprise. We keep our costs as low as possible but we've been hit by increases in the print costs for our monthly newspaper – up 83% in the last 12 months.
Could you help support local community news by making a one off donation, or even better taking out a supporters subscription?
Donate here, or sign up for a subscription at bit.ly/SLLsubscribe