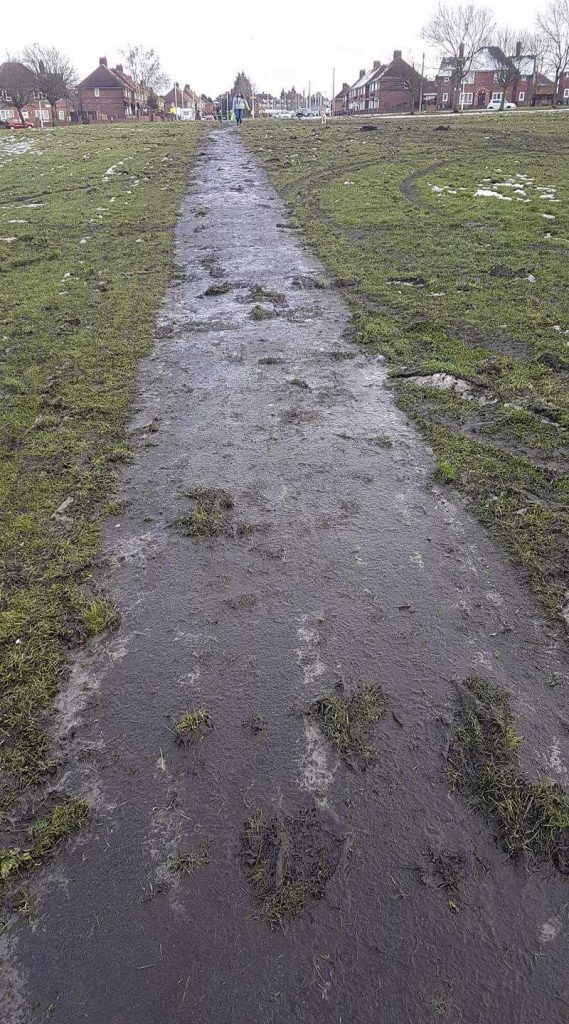 On Saturday 24 March 2018 a number of motorbikes and quad bikes caused mayhem on the streets and green spaces of Middleton and Belle Isle.
Reports on social media described 8 or 9 bikes on the Sissons, the Bodmins, South Leeds Golf Course, Middleton Circus as well as on Belle Isle Road where they tore up the Circus (see photo).
After the latest incident Cllr Kim Groves spoke to South Leeds Life:
"After many many months of working with the public of Belle Isle and Middleton to provide information on those few people who consistently destroy our environment and safety, I have contacted Councillor Deborah Coupar who is Executive Member for Communities. I will also be asking Chief Superintendent Paul Money and Mark Burns-Williamson (the West Yorkshire Police & Crime Commissioner) to confirm what other resources and measures can be put in place to combat this unacceptable behaviour.

"There needs to be a review of how this behaviour is dealt with as the police no-pursue policy has given these irresponsible individuals an open door to crime. We need firmer measures so maybe South Leeds residents can lead this movement of change as it's not just our community that is experiencing this problem.

"I want to publicly thank the community for names and locations provided and encourage them to continue. Intelligence is currently being worked on by the Leeds South Policing Team with hopefully planned action to follow.

"The police have actually seized bikes and quads but unfortunately they seem to be replaced immediately followed by these very very expensive heavy bikes that risk the lives of many! These reckless individuals who planned an illegal ride out in Belle Isle and Middleton have no place in our community.

"This illegal ride out and general single riders put all residents including our most vulnerable elderly and young children at risk of injury or fatality."
If you witness people riding motorbikes or quad bikes acting in an anti-social manner, or you have information about who is riding them or where they are being stored please contact the Leeds South Policing Team. You can report online here, or call 101, or report anonymously by ringing Crimestoppers on 0800 555 111.
Kim Groves is standing as a candidate for the Labour Party in the forthcoming local elections. South Leeds Life will publish a full list of candidates once nominations close on Friday 6 April.