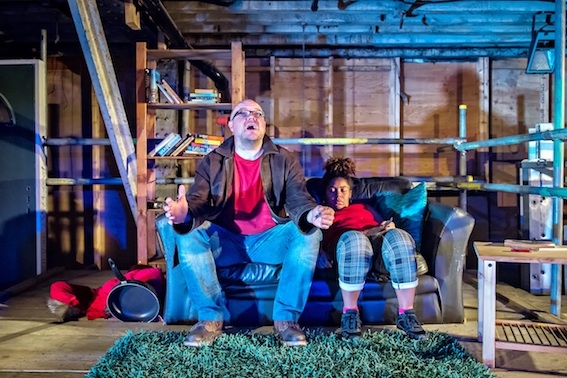 Acclaimed national theatre company Red Ladder are this week (21 September – 1 October 2017) bringing their latest hard-hitting show to south Leeds.
'Shed Crew' – based on the autobiographical 'Urban Grimshaw and the Shed Crew' book – takes you on a trip back to 1990s Leeds, into a teenage underworld of raves, drugs and glue-sniffing, joyriding, laughs, belonging, and survival. The play is being performed at Albion Electric in Hunslet, a working warehouse that's been specially converted for the show. Members of the Beeston Space youth project attended the preview performance, and here's their collective review.
All photos: Anthony Robling
The play grips you right from the beginning, as you're led into the venue, with shutters banging open and closed. Once you're in, you're sat all around a small main stage – then the action also switches around between other smaller stages, all around you. The use of space and lighting is great, and the characters weave in and out of the audience – which makes it feel really interactive and intimate. The cast were amazing: really engaging, real, and believable. It was very dynamic and physical.
The story itself centres around the unlikely friendship that 'Chop' – a middle-aged, disillusioned social worker – strikes up with young tearaway teen 'Urban' and his gang of mates; he shares what he knows with the youngsters, but learns as much from them as they do from him. It's raw, emotional, and 'relatable' – showing the inside of life of people with problems, at the edge of society.
It was really unusual – and amazing and awesome! We'd all recommend it, completely. It's especially likely to engage older teens and young people.
The show is on at 8pm every night until Sunday 1 October, at Albion Electric warehouse, South Accommodation Road, Hunslet LS10 1PR – but tickets (£15-20) are selling out fast. They can be booked via the West Yorkshire Playhouse, on (0113) 213 7700 or www.wyp.org.uk. The show has an age guidance of 16+.
Beeston Space is a youth project running in Beeston Hill for 12+ years, by the Church Together in LS11, with special support by the Salvation Army. The 'Shed Crew' reviewers were: Lewis Bilcliffe, Chloe Manders, Devin Nichols, Angel Thompson, Becky Walker, Lauren Wardle, and Kiesha Wright.