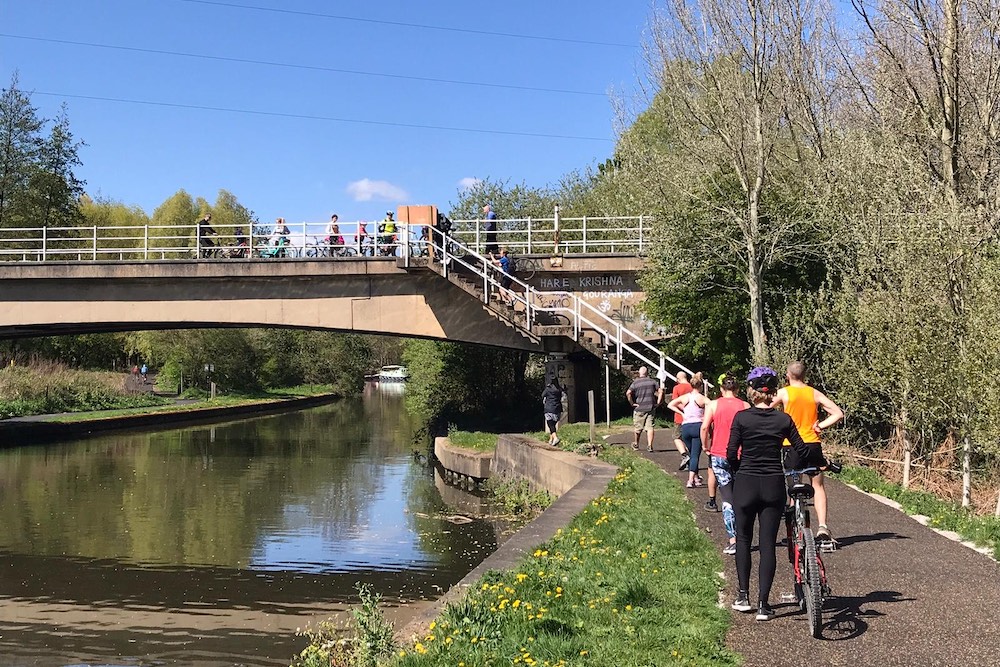 Cllr Peter Carlill (Lead Member for Active Travel) has welcomed news that Sustrans have successful secured funding to achieve a solution to the Skelton Grange Road Bridge issue. The location, which has been a problem in creating an accessible cycle route along the Aire and Calder canal, is being prioritised as one of the projects to be funded from new government grants to improve the National Cycle Network.
The funding will allow an updated feasibility study to be completed on possible options to create a permeant accessible route, the selection of a preferred option, and then taking that through the planning process to an approved planning consent. It is a requirement of the funding that the planning consent is obtained by March 2022. The scheme will then need further funding for implementation.
This work comes on the back of positive meetings between all parties to find a solution that will allow everyone to enjoy what is otherwise a welcoming and accessible walking and cycle route forming part of the Trans-Pennine Trail and National Cycle Network route 67 in South Leeds. Currently the preferred option by all remains seeking a route through the Thwaite Mills site that can be safely developed, with the alternative solution of a new pedestrian and cycling bridge. These positive meetings will continue as work is undertaken to ensure everyone has an opportunity to be involved.
The route forms part of Leeds City Council's ambition to see 800km of cycle routes across the city, which is currently seeing continued implementation across the city.
All stakeholders remain committed to finding a solution and another meeting will be held in the coming months to continue these positive discussions.
Councillor Peter Carlill (Calverley and Farsley) said:
"This is really fantastic news and a real demonstration of everyone coming together to fix a problem that none could solve alone. It's been a problem for so many reasons and the commitment by everybody involved is a testament to the support we have here for active travel.

"This has been a real team effort and I would like to thank everyone involved as well as everyone who has raised this concern with us and continue to do so.

"Understandably given its surroundings this is a popular route, even more so during the pandemic, and we want it to be as easy to travel for anyone that chooses to use it. This funding and the work being undertaken by Sustrans is such a positive step to getting this route to the state we all want it to be.

"I look forward to seeing the outcome of this work and then working together on the next steps to deliver something the people of Leeds can be proud of."
Mike Babbitt from Sustrans said
"Our 2018 Paths for Everyone report review of the National Cycle Network highlighted Skelton Grange Road bridge as a significant barrier for people using route 67 and the Trans Pennine Trail to and from Leeds. We will work to develop a solution for an accessible route over the bridge which will allow people of all abilities, including wheelchairs, mobility scooters, adapted bicycle and double buggies, to use the path for leisure and commuting to work and study. We are grateful for the ongoing efforts of partners and stakeholders in this project and we are very much look forward to working with them now on developing a solution."
Martin Stanley from Leeds Cycling Campaign said:
"We are delighted that our campaign to highlight the difficulties faced by large numbers of people in accessing this fantastic cycling and walking route is taking a major step forward towards delivering real change.

"We will continue to actively work alongside all partners to ensure that we deliver a safe, accessible and sustainable route that will encourage more people to cycle and walk for pleasure, to improve their health, engage in daily activities and for commuting.

"We would like to thank Cllr Peter Carlill, other local ward members, Mike Babbitt from Sustrans, local residents and campaigners, the 3,000 plus people who have signed our online petition and the many members of Leeds Cycling Campaign who have all helped us to achieve this major milestone."
This post is based on a press release issued by Councillor Peter Carlill