I would firstly like to take a moment to mention the passing of Her Majesty, Queen Elizabeth II. The death of Her Majesty was a significant and sombre moment in British Policing considering the length of her reign. When I joined the Police I took an oath to uphold the Queen's Peace, as did every other officer. The Queen was embedded into so many parts of our lives, often in ways that we take for granted.
Some of my staff deployed to London to support the state funeral, and locally, marks of respect came from silences and flags at half-mast. Policing Operations were in place to support national coverage of the state funeral, and I am pleased to say that these were safe and inclusive events.
---
As we move away from the summer months, we are starting to experience the beginning of darker nights. South Leeds is currently performing very well in terms of theft related offences in comparison to other parts of Leeds. My teams continue to proactively patrol areas suffering from these offences, and we target those offenders who cause the most harm. Burglary and other theft offences are some of the most invasive crime types. There are however some relatively easy things that residents can do to make your home safer:
Ensure that your windows and doors are left secure
Check that your external doors meet the minimum security rating: PAS24
Use internal and external lights to give the impression that people are at home
Use bushes and shrubs to create natural barriers that make access harder
Keep valuables out of sight
My main advice is to be vigilant for you and your neighbours, particularly at times when it is expected that people will be away from home, such as office working hours or prayer times. Please report anything suspicious to us, as no matter how insignificant it may seem, it could end up being crucial to investigations.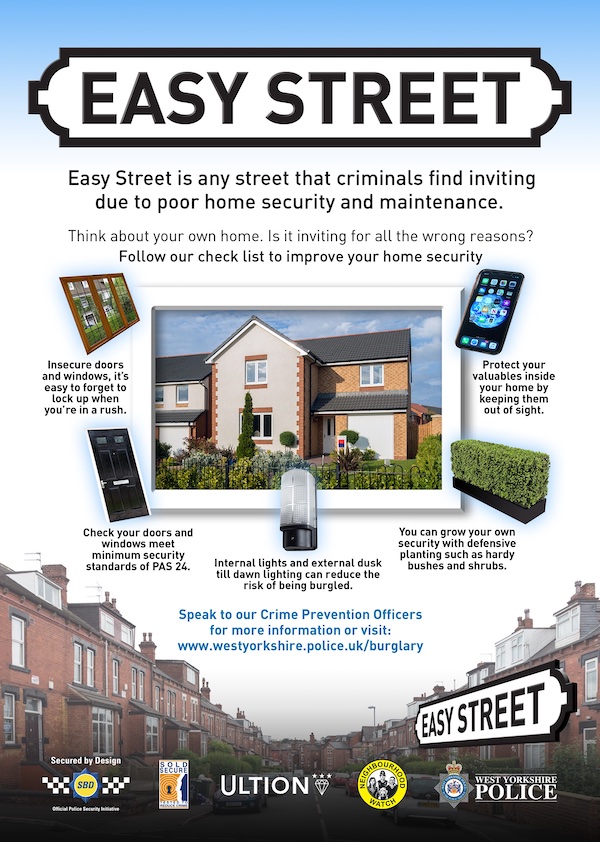 Your local teams run bicycle security events, which are regularly advertised on the WYP Leeds South NPT Twitter and Facebook pages. These sessions provide advice and assistance in identifying and marking, as well as recording details of your bike on BikeRegister. All of these actions can help to protect your bike, as well as recovery it in the event of a theft. Please check our social media sites for more information on these sessions.
If you have any queries around general crime prevention, my teams are available for help and support. Please get in touch with us and we will be happy to offer appropriate advice and guidance materials.
---
A final thought from me this month relates to the sad news of a school stabbing elsewhere in the force area. Please be assured that my teams and I are engaged with significant work around the scourge of knives and gang related culture. You will hopefully hear more on this within your communities in the near future. There are a number of ongoing initiatives to educate, divert and support young people in avoiding this lifestyle.
If you are concerned for a young person, or are a young person with concerns of your own, please make contact with us for support. Together we will continue to make South Leeds to vibrant, inclusive and safe pace that it deserves to be.
This post was written by Inspector Tom Perry, Leeds South Community Policing Team