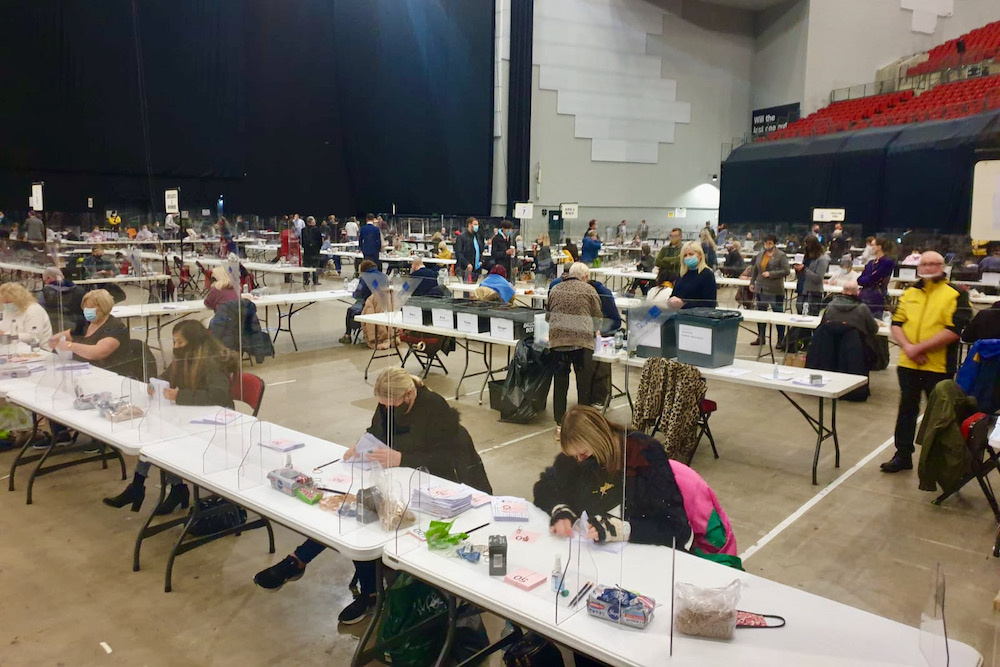 Labour candidates have held all three south Leeds wards in the Leeds City Council election with Gohar Almass winning in Beeston & Holbeck; Mohammed Iqbal winning in Hunslet & Riverside and Sharon Burke winning in Middleton Park.
Both Hunslet & Riverside and Middleton Park wards were being tipped in the city for upsets, but neither Ed Carlisle (Green Party) or Wayne Dixon (SDP) were able to make the breakthrough. This followed the voting pattern across the city where very few seats changed hands. Labour remain in control of the city council with 54 of the 99 seats.
In Hunslet & Riverside ward Mohammed Iqbal held onto his seat by just 232 votes from Ed Carlisle who has been fighting the seat since 2015.
Mohammed Iqbal told South Leeds Life:
"I am grateful to the people of Hunslet and Riverside Ward who have placed their trust in me once again to be their councillor for next four years. We are an excellent team, Cllr Elizabeth Nash, Councillor Paul Wray and myself.

"We have reached out to every section of our ward, Leeds city centre, East Hunslet, West Hunslet and Beeston Hill to listen to people's concerns, support all the projects and improve services. I am glad that people have recognised our hard work and commitment over the years. Party Politics ends after the Election Day, we will continue to work hard for the people of Hunslet and Riverside Ward."
Ed Carlisle commented:
"Huge thanks to all those who supported us. Democracy is hard graft (!) – but we remain utterly committed to our communities here in south Leeds, and it's great to see the Greens surging nationally. Get in touch anytime to work with us locally, to make good things happen."
In Middleton Park ward Sharon Burke was elected to replace Judith Blake who stood down from the council to take up her seat in the House of Lords. Wayne Dixon increased his share of the vote from 23% to 35%. Speaking to South Leeds Life, Wayne Dixon said:
"I'm pleased to have received an extra 900 votes, but disappointed that Labour chose to campaign against me personally rather than on policies."
The results in full:
Beeston & Holbeck ward
Labour and Co-operative Party GAIN
Elected: ALMASS Gohar
| Candidate | Description | Votes |
| --- | --- | --- |
| ALMASS Gohar | Labour and Co-operative Party | 2,777 |
| JACQUES Robert Hugh | Liberal Democrats | 117 |
| KELLETT Becky | Green Party | 748 |
| MARTIN Andrew Stuart | The Conservative Party Candidate | 996 |
| PALFREMAN Bill | Freedom Alliance. No Lockdowns. No Curfews. | 82 |
| ROBINSON Francesca Leann | Save Our Beeston and Holbeck Independents | 468 |
| SLAYTON-JOSLIN Jay | Trade Unionist and Socialist Coalition | 34 |
| | |
| --- | --- |
| Electorate: | 17,887 |
| Turnout: | 29.4% |
| Spoilt ballots: | 38 |
Hunslet & Riverside ward
Labour Party HOLDElected: IQBAL Mohammed
| Candidate | Description | Votes |
| --- | --- | --- |
| BROWN Nina Charlotte | Trade Unionist and Socialist Coalition | 52 |
| CARLISLE Ed | Green Party | 2,303 |
| IQBAL Mohammed | Labour Party | 2,535 |
| LYNAN Cordelia Frances | Social Democratic Party | 43 |
| ROWDEN Paul Richard | The Conservative Party Candidate | 456 |
| TURNER-CHASTNEY Benedict Luke | Liberal Democrats | 90 |
| | |
| --- | --- |
| Electorate: | 17,537 |
| Turnout: | 31.5% |
| Spoilt ballots: | 50 |
Middleton Park ward
Labour Party HOLD
Elected: BURKE Sharon
| Candidate | Description | Votes |
| --- | --- | --- |
| ASQUITH Kay-Lee Anne | Green Party | 306 |
| BENNETT Samantha Jane | The Conservative Party Candidate | 913 |
| BURKE Sharon | Labour Party | 2,313 |
| DIXON Wayne Alan | Social Democratic Party | 1,963 |
| SPENCER James Michael | Liberal Democrats | 119 |
| | |
| --- | --- |
| Electorate: | 20,301 |
| Turnout: | 27.8% |
| Spoilt ballots: | 39 |
Photo: the count taking place at Leeds FD Arena