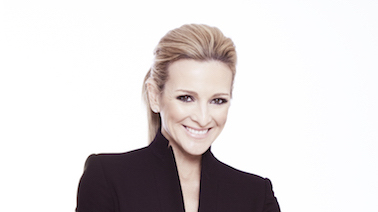 The Leeds Fund: to create a city of opportunity for all
Community groups across South Leeds are set to benefit from a new fund set up to create opportunities for all communities across the city.
A new charitable fund to help community groups across the city has received support from Leeds-born TV presenter, Gabby Logan, who will be the Fund's Charity Patron, and John Lewis, which is set to open one of its biggest shops outside of London later this year.
The Leeds Fund will be launched by Leeds Community Foundation (LCF). The charity supports communities across the city and distributed £4.1m in the last year.
The Leeds Fund will allow long term investment in the city's communities. Each year it will have a different strategic focus. In its first year the focus will be on mental health, an issue which affects one in four people across the UK and costs employers £4bn per year.
The Leeds Fund aims to raise and distribute a minimum of £500,000 each year from 2020. This will support the strategic focus with large financial grants, as well as providing smaller community #GiveLoveLeeds Grants of up to £2,500 that will support a wide range of local community activity. In 2016, the fund launches with £300,000 to give away.
Sponsored by NatWest, DLA Piper and Rathbones, today's (Friday 10 June 2016) official launch welcomed over two hundred business and community leaders to the Yorkshire Post headquarters to hear how they can benefit from and get involved with The Leeds Fund.
LCF chief executive, Sally-Anne Greenfield said:
"We are delighted to welcome Gabby Logan as our Fund Patron and are truly grateful to our anchor partner, John Lewis Leeds, for their support. We firmly believe that to build a strong and successful city we need to look after our local communities and help tackle the issues which they face.  The Leeds Fund provides a long term vehicle for individuals and businesses to give something back to their city, creating positive change in the Leeds communities that need it most."
James Prince, head of branch, John Lewis Leeds, said:
"John Lewis is a strong believer in contributing to the wellbeing of the communities it operates in, like the people on our doorstep right here in Leeds. The Leeds Fund offers organisations a strategic way to give back to the local communities they serve. We are excited to work with Leeds Community Foundation to gain a real understanding of the nature of need across the city, helping to contribute to long-term solutions."
Gabby Logan, Patron of The Leeds Fund, said:
"As someone who is proud of my Leeds heritage and who has family that live here, I want to give something back to a city that has been good to me. This is why I am delighted to become a Patron of The Leeds Fund and support Leeds Community Foundation in their mission to create a city of opportunity for all."
The Fund will open its first small community grants scheme – #GiveLoveLeeds Grants – on Friday 1 July in partnership with John Lewis Leeds and the Yorkshire Evening Post, which will enable community and voluntary groups to access much needed funding. For more details on how to apply and how to support The Leeds Fund, visit: www.theleedsfund.org.uk