Middleton Elderly Gardening Club.
Samantha says:
"We are pleased to confirm that we have been successful in securing a grant from the Big Lottery Fund for a new Garden Club! We would like to say a massive thank you to the lottery for this funding, with which we intend to get outdoors and do some marvellous things in the garden.

Our Gardening Group have been up and running for over 2 years now.  The progression is amazing.  If you would like to join this group just come anytime we are open and potter about in our garden and poly tunnel."
Pat, Member of Middleton Elderly Aid and MEA Gardening Group.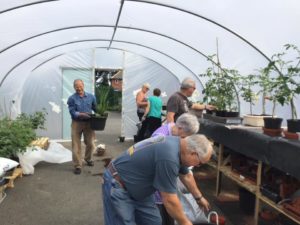 Having been a member of Middleton Elderly Aid for several years I decided that I would like to have a go helping in the Middleton Elderly Aid Garden along with Eileen, Carol and Ada.
I found i really enjoyed myself, not only is it good exercise , but also healthy being out in the fresh air, and the end product is very rewarding. We also have new member Peter who is very helpful and willing to help and is also willing to help with anything we ask him to do.
John one of our members started the weeding along the fence and did a rally good job. Walter also was busy the other day clearing the Paths of weeds.
Walter who works in the centre for many years, who does odd jobs and anything he is asked to do, made the new fencing and Linda, volunteer painted the new fence along with the Benches, they both did a excellent job.
Also we have started a Vegetable Patch, in which have grown Runner Beans and Cabbages, which are used in making our Members Lunches, also are now ready to plant Sprouts and Carrots. This is our 1st attempt with Vegetables, so its a case of trial and error.
The rest of the Garden is lovely and so colourful, we are always getting praised about it. Also now have Artificial Grass in the Garden which has made a vast improvement.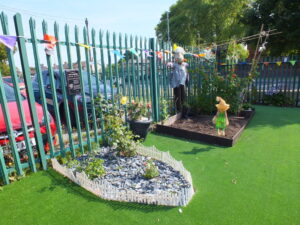 At the Centre now have new tables and Chairs for our Members to sit have a cuppa and chat.
The Centre, tended by the Gardening Group have a Memorial Garden, with Roses in Memory of Middleton Elderly Aid Members who have passed away.
Please call in and have a cuppa and enjoy our lovely Garden for yourself and hopefully we will be able to carry on with the rewarding work in the future.
Eileen says:
"I was asked if I would like to join the Middleton Elderly Aid Gardening Club, and glad I did,
I really enjoy it. I get pleasure in planting the seeds and watching them grow and re-potting them in the MEA Garden.
Also may I mention we are always needing help to keep up with the Garden.
Middleton Aid Members turn up at your convenience any day and time when the centre is open.
Please speak to Sam or Adele if you would like to joint the Gardening Group."
Ken Says:
Kenneth Ingram . Member and Blogger for Middleton Elderly Aid.

" The Middleton Elderly Aid have my deepest respect the work they do in the Centre Garden.

Not a day goes by that I don't see someone in the Garden working away as i pass the Centre or work at the Centre. I don't forget they are all pensioners.

I was myself a Member and Treasurer of Middleton and Belle Isle in Bloom. Which I gave up couple of years ago ,as my knee had other ideas. So I know what hard work, but very rewarding Gardening is.

I also had an Allotment and my Family had Small holding when younger, wow that did need some looking after.

Anyway back to the Centre. Around the back of the Centre there is a Polly Tunnel, which allows the Gardening Group to sow seeds and plants which later can be transplanted into the Garden. It is a fantastic Size, and in use all year" .