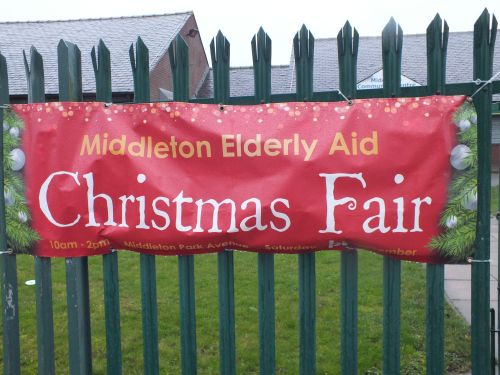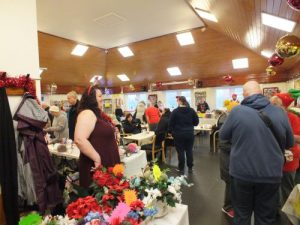 The Middleton Elderly Aid Christmas Fayre, was in full swing when I arrived just after 10am on Saturday (1 December 2018).
I guess about 100 people were out to enjoy the bargains on offer, as well as tombola, plants for sale and goods made by the craft club.
Also for sale Mavis, selling her buns and Christmas cake. I bought some Christmas cake from Mavis, to feed with whisky, hic.
Please take the time to view slideshow above, as all pictures could not be fitted onto blog.
Sam says
"Thank you to everyone who attended the fair, volunteers and staff. Also everyone who kindly donated prizes.

"We made an amazing £1,130 today towards our charity. Middleton elderly aid are lucky to have all your support."
I met up with Sarah who was an MEA volunteer a few month ago, now a dinner lady at a nearby school. The staff and volunteers looked smart in their Christmas t-Shirts.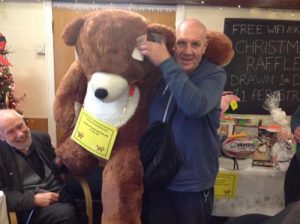 There were some brilliant raffle prizes to be drawn later. Walter with guess the name of Teddy Bear, donated by me. Going by the picture it looks like Tony won the name a bear contest. It looks bigger than Jack.
I made use of the offer of a bacon sandwich and coffee and then had a word with Cllr Paul Truswell (Middleton Park Ward).
Later I met up with the ladies behind the scenes making refreshments, Leanne, Terry, Tracey and a new girl (sorry, I don't know your name).  Thank you Ladies.
Sam says
"We have had a special donation for our Xmas raffle. For all you Hunslet Hawk fans. Our very own Jimmy Watson as donated a signed rugby ball. We will be drawing the Raffle at our Fayre at 1pm. "
Last I paid a visit to Santa Grotto. Very dark in there, Robin.
I left after about 90 minuets as I had two more Fayres to visit. I understand I've won a prize in the raffle.
Ken says,
"I want to thank all the staff and volunteers at Middleton Aid for another year  of helping me through some difficult health at times. Thank you, Samantha, Mavis, Leanne, Terry, Tracey and Walter. Sorry if I've missed anyone.Thank you Guys."
Here's to next time, Kenneth Ingram (Volunteer reporter) for South Leeds Life blog and Newspaper.