Festive bin collection dates in Leeds are set to change over the Christmas and New Year period.
Bin collections will continue as usual up until and including Saturday 21 December 2019. For the two weeks after that, Sunday 22 December 2019 and Sunday 5 January 2020, bins will be emptied either a day earlier or later than expected, with the exception of Monday 30 and Tuesday 31 December – when bins will be emptied on the usual scheduled day. The service will return to the normal schedule from Monday 6 January.
Leeds residents are reminded to put their bin out in time for the correct collection day and bring it in again as soon as possible after it has been emptied. From today (9 December) Leeds City Council will send leaflets to all Leeds households to highlight the changes to bin collection over Christmas and the New Year. The leaflet will also provide a timely reminder of what can be put in the green recycling bin.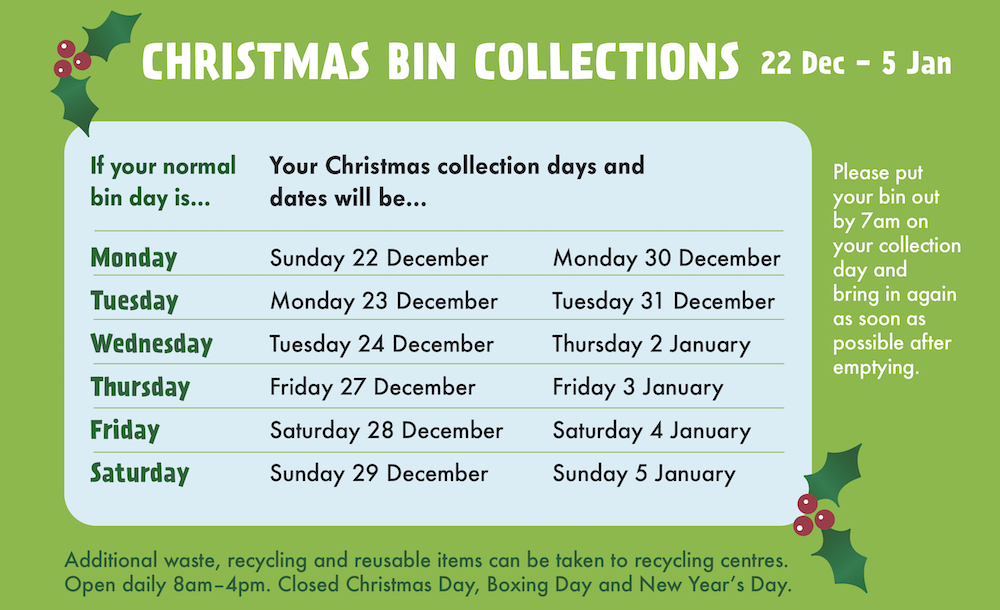 Any additional waste, recycling or reusable items can also be taken to recycling centres across Leeds, including Holme Well Road, Middleton LS10 4TQ, which are open seven days a week throughout the festive period from 8am to 4pm. They will only close on Christmas Day, Boxing Day and New Year's Day.
Leeds City Council collected an extra 330 tonnes of waste and recycling from black and green bins combined during the festive period last year, which is the equivalent weight of over 25 double decker buses.
Councillor Mohammed Rafique, Leeds City Council's Executive Member for Environment and Active Lifestyles, said:
"Christmas is a really busy period and we want to make sure people in Leeds are aware of their bin collection dates and what they can put in their green recycling bin. We are very excited that Leeds residents can recycle even more plastics over this festive period, such as pots, trays, tubs, cartons and tetra packs."
During the festive period, people in Leeds can find more useful information and tips about recycling at www.leeds.gov.uk/xmasbins and by following "Leeds Recycles" on Facebook and Twitter. You can also take any packaging you can't fit in your green bin to one of the eight recycling centres across the city, all of which are open Sundays too.
To check bin collection dates at any time of year, visit www.leeds.gov.uk/mybinday or download the Leeds Bins app from Google Play or Apple Store to receive handy reminders direct to your mobile phone.
This post is based on a press release issued by Leeds City Council