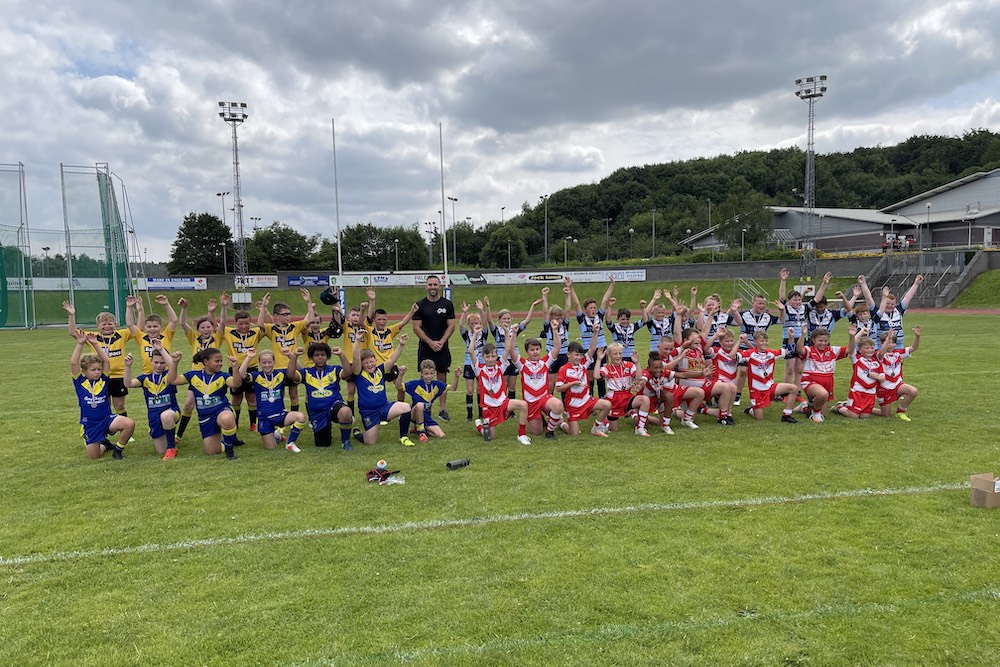 The perfect partnership, that's the only way to describe the link-up between the Hunslet Foundation's energetic and highly professional development team and the Luke Gale 'Kicking for Grassroots' initiative which, in addition to providing physical activity, also focuses on such as healthy eating.
Mikey Nuttall, who was then Hunslet's sole development officer, helped Gale deliver a session in Doncaster over two years ago, only for the coronavirus pandemic to immediately halt further progress.
The relationship, however, is now back in full swing, with many folk in south Leeds and beyond benefiting immensely from several 'Kicking for Grassroots' projects, with Nuttall – plus recently appointed Tyler Finister – offering their dynamic expertise in terms of delivery; Gale, plus his colleagues Jon Schofield, Mark Turner and Shaun Ireland, provide an invaluable and enjoyable focal point and, crucially, knowledge on sourcing essential funding.
Touch and pass sessions are being held each week at Hunslet Warriors, a high schools competition was contested in mid-May and a new project – 'RL Takeover' – is being launched involving four local primary schools.
In addition the recent Easter camp, which successfully focused on giving children the chance to enjoy Rugby League during the school holidays (with those wanting to play more regularly being directed to Beeston Broncos, as their nearest club) will be repeated during the summer and at Christmas, with other local amateur clubs to be designated for recruitment.
Nuttall, who is now the Hunslet Foundation's Development team's general manager and oversees the work of Finister and Hunslet Warriors' Lee Robinson, said:
"The partnership, funnily enough, started on a night out when Jonathon Schofield and I had a chat and exchanged numbers to look at ways we could work together.

"A couple of weeks later Schoey invited me to a camp in Doncaster which Luke attended, which was the first time I got to chat to Luke.

"The pandemic put a stop to it all but, after coming out of that, we've strengthened our partnership and we now run several programmes, all of which offer beneficial support to our community."

He added: "Luke's been great – as has been everyone else at the Luke Gale Academy, including Shaun Ireland, who was instrumental in launching the partnership.

"Luke and his colleagues have a genuine care for the community and that fits with what we do at the Hunslet Rugby Foundation. It was therefore a `no-brainer' to work alongside them."
Gale said:
"It's great to be working with the Hunslet Rugby Foundation. The pandemic slowed down our progress but we're very much driving forward what is now a great partnership. We have many exciting programmes coming up and we're looking forward to developing our relationship with Hunslet and offering lots of opportunities to the wider community."
This post is based on a press release issued by Hunslet RLFC
Photo: Luke Gale and young players from East Leeds, Beeston Broncos, Hunslet Warriors and Bentley enjoyed a summer camp at the South Leeds Stadium last year.