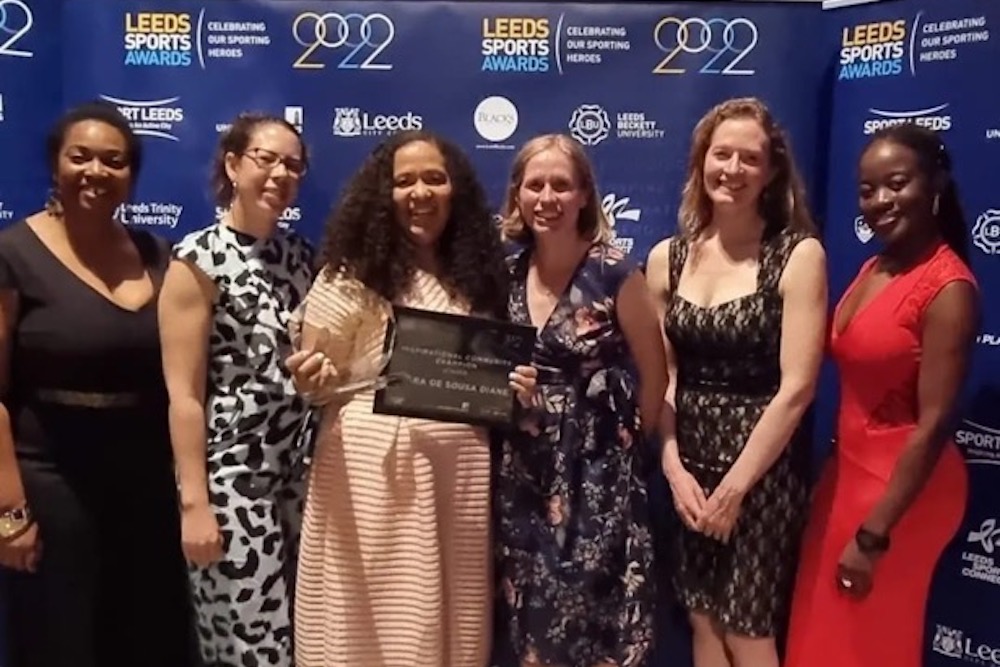 Get Set Leeds Local has been supporting more Inner South amazing projects recently, as well as seeing some of the community ideas developed in 2021 celebrating their one year anniversaries.
Get Set Leeds Local is led by Active Leeds (Leeds City Council) with a focus on Holbeck and Beeston Hill, receiving Sport England funding to support community ideas, and co-produce things that help local people move more.
Huge congratulations to Clara from South Leeds Valkyries on winning the Inspirational Community Champion award at the recent Leeds Sports Awards which took place at Leeds Dock Hall. Clara came to us with the idea last year, and with the support of Let's Do More and many other community champions the weekly session has flourished. Clara took to the stage on 12 May to receive her award from BBC's Tanya Arnold.
The South Leeds Valkyries women's basketball session is welcoming to anyone wanting to join, inspiring women from across the South Leeds community to have a go at basketball, but also giving a safe social space to develop confidence and friendships. The South Leeds Valkries has moved for the summer to Lane End Primary every Thursday 6–7pm. Email southleeds valkyries@gmail.com for more information
Community Chest Pot
Any resident with a community good idea which supports others to move more in our GSLL communities can apply to our Get Set Leeds Local Community Chest Pot (up to £300). We'd love to see a wide range of activities supported through this fund. Through GSLL Community Chest we've been pleased to fund litter pickers; table tennis tables, sports equipment hubs; bootcamps; balance bikes for Dewsbury Road hub; contributions to new clubs such as Holbeck Moor JFC; women's martial arts self defence and many many more. Contact getsetleedslocal@leeds.gov.uk for our simple application form and share your idea with us.
Building Capacity
Within the GSLL funding, we can help upskill local people to support others to be active. We're recently joint funded three activator courses for Good Deeds volunteers in Beeston, working with Streetgames; currently developing two Ping Activator courses for Inner South community groups, recruit for a BAME women's only swim teacher course, as well as training up ride leaders. Whether you'd like to deliver community Zumba, share your love of Tai Chi with others, or set up a walking group get in touch.
Co-produced projects
Some of the community ideas we've supported over the past year to grow have been captured by Leeds Digital Plus and can be found as "social shorts" on our You Tube page. Get Set Leeds Local – YouTube Do take a watch – you may see some familiar faces. We have funding to support co-produced projects. If you have an idea of something which may support Holbeck and Beeston Hill to move more then get in touch.
Xplorer
Keep an eye out for Xplorer fun in community parks this summer. Get Set Leeds Local has had Cross Flatts Park, Holbeck Moor, Hunslet Moor and Brickfield Park mapped out for Xplorer and purchased the equipment packs which are hosted in community locations and available for free for groups.
Xplorer is a British Orienteering product that aims to engage the whole family through fun navigation challenges that can be easily set up and taken down in local green spaces. This involves a blend of both physical activity and decision making, which gives children and their family a sense of adventure and an added reason to access their local park.
Short training sessions are available for any new groups wanting to use the equipment and put on Xplorer activity for community fun. Get in touch if you'd like to find out more about Xplorer and put on a community session.
Cross Flatts Bike Hub
The Cross Flatts Cycle Festival will return this summer on Wednesday 17 August 1–4pm at Cross Flatts Park. Save the date and pop along for a wide range of cycling activities for all ages, along with bike fixing and bike register.
The Cross Flatts bike hub activities continue weekly with led learn to ride activities delivered by Cycle North – available for anyone to book onto and attend (no bike needed). Visit Adult cycle training – CityConnect (cyclecityconnect.co.uk) for information and booking link.
From learning to ride for the first time or building confidence after a break from cycling to one-to-one advanced training on a route of your choice, there's something for everyone
We've recently supported 9 new people to train as ride leaders, with the British Cycling course delivered at Leeds Urban Bike Park. If you'd like to lead a short led ride, and utilise our bikes for a group to use then get in touch. We're keen to build on this community resource.
To get in touch e-mail getsetleedslocal@leeds.gov.uk Follow us on Instagram @getsetleedslocal and Twitter @getleeds
This post was written by Karen Peck

We encourage anyone living or working in South Leeds to use this website to tell their news. You can either use the Create an article for South Leeds Life page, or email us at: info@southleedslife.com