Wednesday 21 November 2018 marked 100 years since the Qualification of Women Act enabled women to stand for parliament. As part of the #50:50 Ask Her To Stand campaign I was nominated by a friend to attend and stand for elected office along with 200 other women.
I've not been political in the past, but my passion for issues on early years, accomplishments within the community and favouring the left leaves me wondering what is the next step career-wise?
Starting with registration at Church House in the leafy Dean's Yard behind Westminster Abbey, I collected my 50:50 cloth bag and circled the political party stalls. Buying some badges and signing up to join women equality mailing lists I make my way over to the first venue of the day at the modern Portcullis House.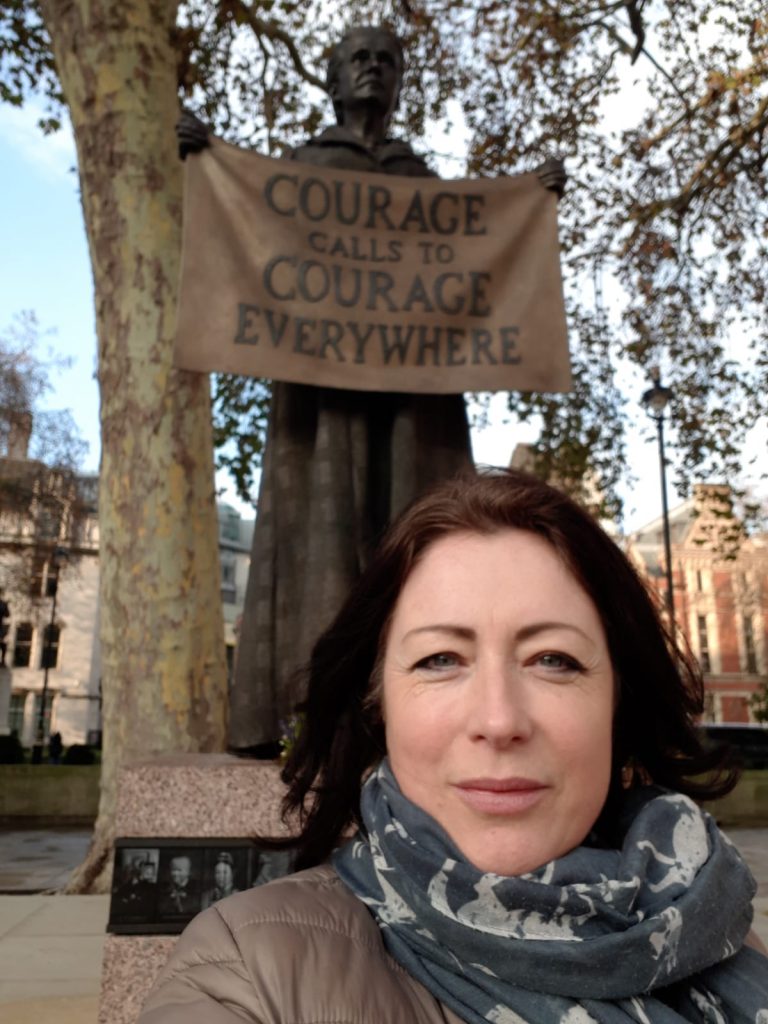 Taking a quick selfie in front of the Millicent Fawcett statue I take a deep breath. I look into the bright autumnal sun and mentally prepare for the day. The idea is that women will get collected by their MP mine being Hilary Benn and shadow them for a day in Westminster. We also have a choice of an event and a workshop. I choose Prime Minister's Questions (PMQs) at 11.30am, a photo call at 12.30pm and a workshop at 3.30pm on 'How to get Elected'. Hilary Benn is already busy in his duties chairing a committee meeting on Exiting The European Union.
I experienced my first Westminster queue and waited for a good 20 minutes, slowly inching forward with everyone else, eventually getting to the revolving door and meeting airport style security. The meeting, the Exiting The European Union Select Committee, saw MPs and lawyers asking questions to three European experts (An Academic, a former judge and a researcher). I push the giant wooden panel door into the Boothroyd Room meeting room to sit in at the back with other members of the public.
The experts were asked questions about Brexit, backstops on Northern Ireland and fish. I didn't really have a clue what they were saying but it seemed an important meeting on the practically of definitions and I realised the big decisions that would be need to being formalised.
I look at the time it's 11.15 and I had to get to PMQs for 11.30 over at the Palace of Westminster and this meant accounting for the queues.
I spent most of the day in queues, but this was were I had most of my conversations. I met a young Cheshire Councillor, a lady who had just cycled around the world from the Scottish Conservative Party and a lady from Suffolk. Each woman was at their own stage of their political journey. Some were already councillors some were just trying to making up their minds if it was for them.
We spent 40 minutes in the queue and missed PMQs, we couldn't even get into any of the committee rooms which stem off from the central lobby. Meeting more women I got more advice on 'Just do it – stand for elected office it's the best thing ever!' Entering the great hall was like walking into a huge cathedral so I decided to stay for the photo call – at least I made that.
I only got to the first half hour of the booked workshop as there was a room change – which meant yes, more queues. My toes had just warmed up and I didn't want to stand around anymore, so I went for a pint with a lady from Hartlepool to reflect on the day before catching the train back up north.
I am not sure whether I got a clear understanding of politics from my experience from my day, but I did get a good idea on the atmosphere and the drama. We only get to see a small bit of the happenings on TV and in the newspapers. I certainly did get the feeling of solidarity among women from all parties, just by being there on the day illustrated that sense of importance that there need to be more women in Parliament. Just by the fact if we can change that representation could start to turn the tide on issues.
As I left that evening on the train I inspected my phone and googled 'How to get Elected' …