The Beecroft girls, Ada aged 6 years and Annie aged 4 years, were the illegitimate daughters of Thomas Mellor. Their mother Ada Beecroft, had been committed to the Menston Asylum at Guiseley where she died in November 1899.
Some time before Ada's death Mellor had moved in with another woman named Priscilla Redshaw, but the entire family were evicted from their lodgings at No.6 Fourth Court (this Court was off Bridge Road near the rear of the Holbeck Engine Sheds in the Czar Street area, a working class area at this time) on 4 May 1900.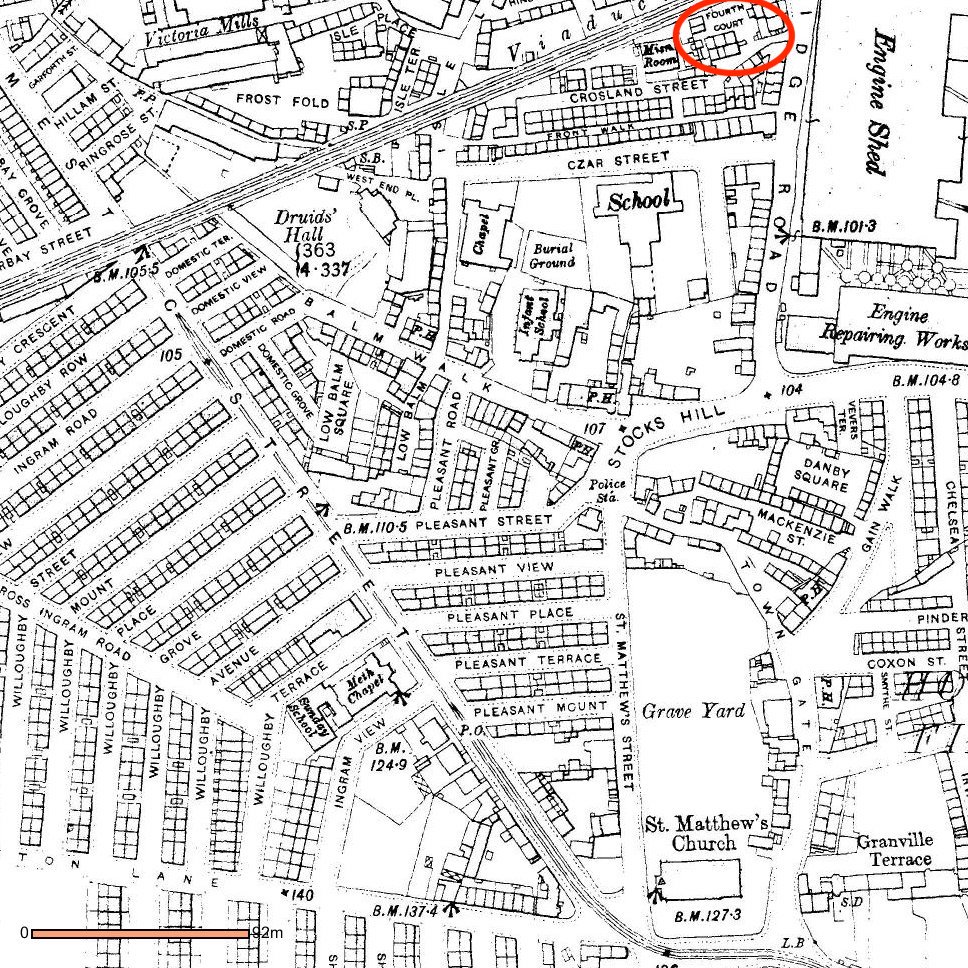 On 5 May Mellor went to visit his brother, Arthur. Thomas, Priscilla and the two girls were by now living in very squalid conditions and he wanted to ask Arthur if he would allow him and the others to move into his home, but Arthur replied that there was simply not enough room for the two families.
Arthur's wife was concerned about what would happen now and asked Thomas what he would do with the children, especially as he had been unsuccessful in getting them admitted to the workhouse. Thomas was heard to reply,
"The water is big enough to hold them and me and all."
At about 9:30pm on the evening of 11 May 1900, Thomas Mellor took his daughters out, telling Priscilla that they would be back at about 10am the following morning. The three were later seen by two women who spoke briefly to Mellor, and would later report that he didn't know what he was going to do with his children.
That same night, a man was seen around 11pm walking along the pathway of the Leeds & Liverpool Canal near Globe Road, and he had with him two small children, both girls. Later still, at about 11:30pm, the same man was seen in a local restaurant where he spent the night. He no longer had the children with him, and he would later be identified as Thomas Mellor.
The bodies of the two girls were found early on the morning of 12 May, by a man named William Wilson. Mellor was soon arrested and confessed to putting the girls in the canal, and he went on to claim that he had no intention of drowning them. His defence was that he was about to get onto the canal towpath, when he passed two men and thought that if he put the girls into a shallow part of the canal, this was probably the ramp at the side of the path used to get horses out of the canal (see photo), their cries would attract the attention of these two men who would be forced to offer assistance and thereby the girls would be taken into care.
But the Judge, quite rightly, pointed out that if indeed this was Mellor's intention to do this, it would surely have made more sense for him to simply have abandoned the girls in the street where they would have eventually been found by a constable where they would have been taken into care.
The jury returned a verdict of guilty, but with a strong recommendation to mercy on the rather astonishing grounds of the prisoner's kindness to his children. Mercy was not shown and he was part of the first double hanging of the century along with Charles Backhouse of Rotherham who had shot Police Constable John William Kew at Swinton. Mellor who was 29 years old at the time and Charles Backhouse were hanged by James Billington at Armley Jail, Leeds, on 16 August 1900.
Although Thomas Mellor did indeed kill both his daughters, he was found not guilty of the murder of Annie Beecroft, but only because no evidence was offered on that charge after he had been found guilty of the murder of Ada. The circumstances of the case were such that the person who murdered Ada, must have also killed Annie.
Photo: Leeds & Liverpool canal. Shallow for bringing horse from the water
While you're here, can we ask a favour?
South Leeds Life is published by a not-for-profit social enterprise. We keep our costs as low as possible but we've been hit by increases in the print costs for our monthly newspaper – up 83% in the last 12 months.
Could you help support local community news by making a one off donation, or even better taking out a supporters subscription?
Donate here, or sign up for a subscription at bit.ly/SLLsubscribe