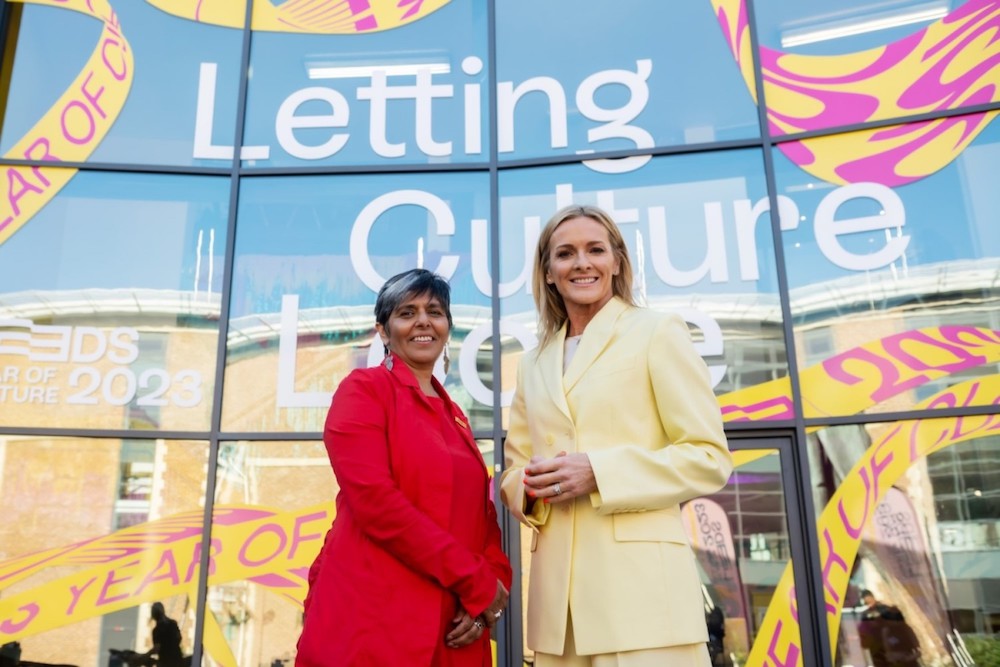 Leeds is set to be the beating heart of UK culture in 2023, as highlights from Part One of LEEDS 2023's epic programme are revealed, inviting us all to experience the city like never before.
Leeds will be a furnace of creativity next year, as the whole city lets culture loose and shows off its artistic strength in a programme that features major new commissions with world-renowned artists alongside celebrations of everyday creativity.
From dance to design, art to architecture, poetry to pop, sculpture to sport, grassroots community theatre to performances in the city's varied venues, Leeds is set to be centre stage of the UK's cultural scene.
'Awakening' is the programme theme for Part One of Leeds' Year of Culture, running from January to April 2023. Inspired by the artist in all of us and the hidden stories of the city, Leeds itself will be both muse and backdrop to an original and surprising programme that invites the world to experience the city afresh. Through commissions and exciting national and international partnerships, residents and visitors alike will have the opportunity to discover the wealth and diversity of the city's culture.
'The Awakening' is the Year of Culture's opening event at Headingley Stadium on Saturday 7 January. Co-directed by LEEDS 2023 Creative Director Kully Thiarai and Alan Lane (Slung Low), 'The Awakening' will celebrate Leeds' past, present and future in a collision of Leeds' best and brightest talent including Corinne Bailey-Rae, Simon Armitage, Kadeena Cox OBE Inder Goldfinger and Graft. Thousands of people have received free tickets in exchange for creating a piece of art and submitting it to a ticket ballot.
Please get in touch if you've got tickets for the show, we would love hear your feedback. Email us at: info@southleedslife.com
Those artworks will be displayed all over the city in a pop-up citizen art exhibition, 'Waking the Artist', that shines a light and celebrates the artistic talents and creativity of the people of Leeds from January to April.
Two more original commissions are 'Making A Stand', March 2023 to January 2024. A bold new public artwork in central Leeds by world renowned artist Michael Pinsky and environmental architects Studio Bark; and 'WOW – The Barn', from 30 April. 300 women and non-binary people will raise a new temporary structure as part of the first WOW – Women of the World Festival in Leeds.
Other highlights this spring include the premiere of 'The Magician' a film made by James Phillips, Slung Low and Leeds People's Theatre.
"Set in a near-future Britain where riots threaten to overturn an authoritarian government, a young man embarks on an epic odyssey through the Yorkshire countryside to hunt down the only person who could save the day – a magician who just might have the power to heal the nation."
The film includes South Leeds locations and features a cast including local people and pupils from Ingram Road Primary School. The film will premiere at Slung Low's new venue, The Warehouse In Holbeck on 3 & 4 March. Book tickets: slunglow.org/shows
Another highlight will be '1,001 stories' when the lives and creativity of Leeds' over 60s are celebrated in a two-week takeover of Leeds Playhouse, includes a new production, 'Sinfonia'.
Throughout the year, artists and organisations will be collaborating with communities to shine a light on the creativity found across Leeds and produce new events with the people who live across the city. 'My World, My City, My Neighbourhood' will feature co-productions as varied as the areas they are inspired by. Part One will include weekly workshops produced by Stand and Be Counted for people seeking sanctuary, and the co-creation of events that will take place later in the year.
The 'Hidden Stories' of Leeds – a city dating back hundreds of years and with a population of around 800,000 – are being uncovered in collaboration with heritage organisations. Harewood House, Royal Armouries and Thackray Museum of Medicine are among those collaborating with artists, researchers and communities to uncover and share hidden stories which will feature during the year.
Part One will see the introduction of a new creative learning programme for schools, including resources, workshops and a city-wide inter-school slam poetry competition, to encourage and inspire pupils to write, perform, analyse, create and challenge different arts forms including film, poetry and visual arts.
The full Part One programme of more than 100 events and participatory activities, many of them free, can be found at www.leeds2023.co.uk.
Part Two (May to August) is focused on the theme of 'Playing', and 'Dreaming' will be a forward-looking end to the year (September to December).
Kully Thiarai, LEEDS 2023's Creative Director and CEO said:
"With the kind support and the true Yorkshire grit of the whole city, along with the help of partners, colleagues and peers, from the very local to the global, we have together dreamed up a year of creativity that we hope will provide much needed joy, delight and extraordinary experiences for everyone.

"Our Year of Culture is designed to wake up our senses and reveal our city in brand new and surprising ways; in ways perhaps that you never expected or noticed previously. We know that when this city speaks it has a proper story to tell. And it is our ambition to be the spotlight and foghorn for all the glorious creativity that is behind every door, in every home: broadcasting the brilliance of Leeds beyond the region and to all of us who live and work in the city.

"The year will be a three-part epic act of storytelling for, in and with the city and Part One – Awakening – starts now. Come experience Leeds like never before and together let's make it a year to remember!"
This post is based on a press release issued on behalf of LEEDS 2023
Photo: Kully Thiarai and Gabby Logan © JMA Photography
Whilst you're here, can we ask a favour?
South Leeds Life is published by a not-for-profit social enterprise. We keep our costs as low as possible but we've been hit by increases in the print costs for our monthly newspaper – up 83% this year.
Could you help support local community news by making a one off donation, or even better taking out a supporters subscription?
Donate here, or sign up for a subscription at bit.ly/SLLsubscribe