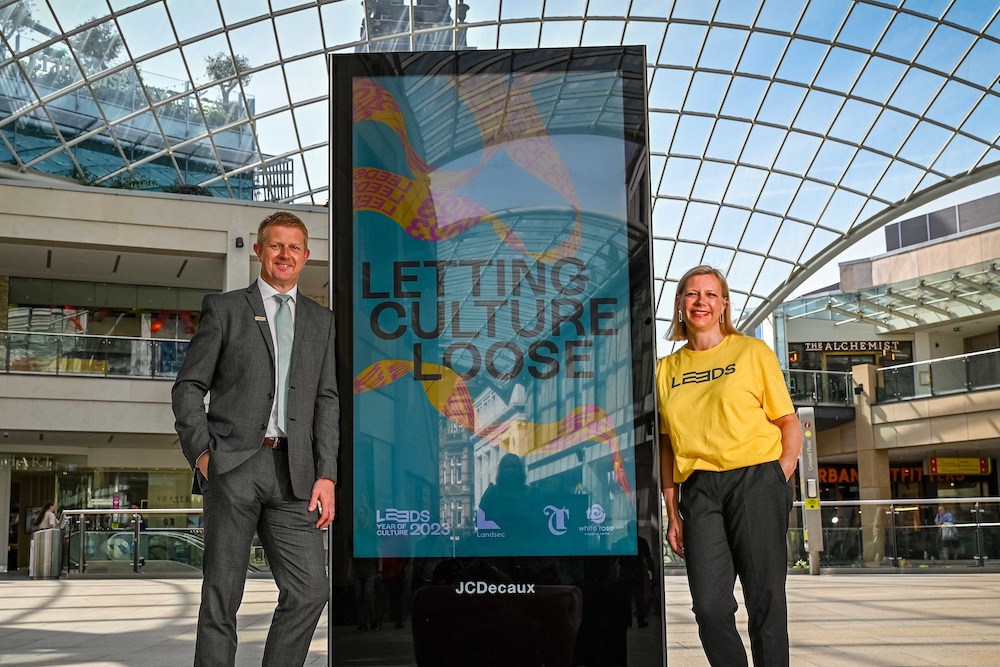 With momentum building as Leeds gets ready to Let Culture Loose across the city next year, LEEDS 2023 has announced Landsec as a headline partner for its landmark year of culture. Landsec is one of the leading real estate companies in the UK whose portfolio includes local landmarks the White Rose Shopping Centre and Trinity Leeds.
The partnership includes a significant financial investment and in-kind support which will see LEEDS 2023 create a pop-up temporary hub in a unit at Trinity Leeds shopping centre throughout 2023. The hub will be open to the public and accessible for a wide range of local people, offering a source of information, activities and more throughout the year.
For at least 12-months, Landsec will work alongside LEEDS 2023 and promote the celebration across a multi-platform campaign to reach the tens of millions of people who visit White Rose and Trinity Leeds annually. This will help to spread awareness and build momentum around what is set to be a transformational year for the city.
Abigail Scott Paul, Director of External Relations and Strategic Partnerships at LEEDS 2023 said:
"Leeds already has a brilliant reputation as superb shopping destination and this collaboration with Landsec will allow us to enhance the retail experience with a celebration of our vibrant cultural offering as well. We will be delivering an exciting programme of events and activities for people of all ages and backgrounds, and by partnering with both Trinity and White Rose in South Leeds, this is a brilliant opportunity for us to reach audiences from communities outside the city centre, the region and beyond. We know that Landsec understands the positive impact of enabling people to encounter creativity in their day-to-day lives, and by investing in LEEDS 2023 they are not only supporting the city, but also the communities they serve. We're thrilled, and very grateful, to have them on board for what promises to be an amazing explosion of colour, noise and live entertainment in 2023."
The collaboration is also part of Landsec's wider ambition to focus on growing relationships with the cities in which in invests, its connection with the communities in which it operates and improving the guest experience across its portfolio of retail destinations.
Steve Foster, Centre Director of White Rose said:
"At Landsec, we believe that bringing art and culture to public spaces enlivens destinations and creates a unique connection between the guests and the space. We've already worked on many cultural partnerships which have helped bring to life our spaces in unusual and creative ways – from the Leeds Jurassic Trail at Trinity to the Honeybee Maze at White Rose. LEEDS 2023 will enable us, alongside the rest of the city, to step this up to a whole new level. We'll be sharing more plans for 2023 later this year, including something quite special to mark the launch of LEEDS 2023."
The partnership is a major show of confidence for LEEDS 2023, which has already secured a number of major funders to help bring to life its programme including a significant boost of £2.1million from The National Lottery Heritage Fund, announced earlier this month. It also has the backing of public and private sector organisations across the city region from a wide range of sectors including finance, property, education and retail.
LEEDS 2023 will feature 12 signature projects and a multitude of creative experiences across the year. To make the celebrations as inclusive and accessible as possible, LEEDS 2023 is taking on the broadest definition of culture. Heritage and the arts, as well as sport and communities, food, and everyday creativity, have all been included in the programme, some of which will be unveiled to the public on Friday 23 September 2022.
This post is based on a press release issued on behalf of LEEDS 2023
Photo: Steve Foster, Centre Director, Landsec and Abigail Scott Paul, LEEDS 2023. Credit Andy Garbutt.