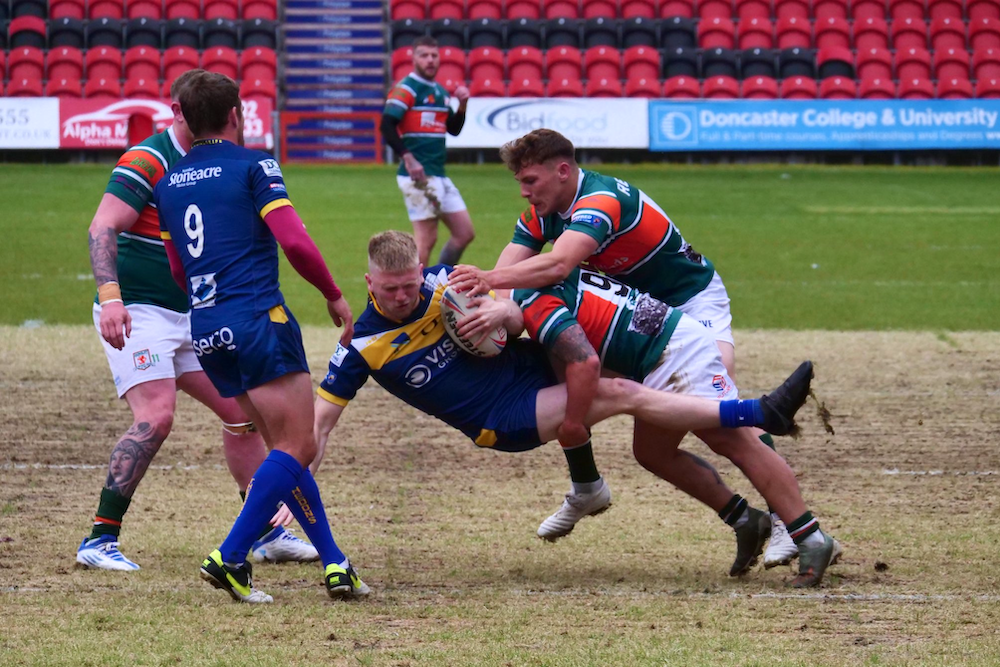 Doncaster RLFC 36-6 Hunslet RLFC

Hunslet missed a chance to jump above their Betfred League 1 rivals Doncaster today at the Keepmote Stadium ( 5 June 2022) turning in a lacklustre performance where they never really got out of first gear.
Still missing Captain Duane Straugheir and centre Jason Mossop, influential winger Wayne Reittie was also missing meaning Hunslet had to take loan players therefore losing some of the cohesiveness of recent weeks.
From the off Hunslet were under the cosh and after Jimmy Watson had knocked a dangerous kick dead some quick Doncaster passing and a bit of juggling sent Tom Halliday over in the corner for the hosts on 11 minutes. 6-0
The game then settled into a rhythm with both teams threatening from high kicks, but on 24 minutes a Doncaster bomb was left un-diffused and the bounce was kind for Tom Halliday who scored his second of the afternoon. 10-0
Although Hunslet spent some time in the Doncaster half unforced errors cost them and they never really got momentum near to the Dons' line.
An illegal tackle on the half time hooter gave Doncaster the chance to go 12-0 up before the curtain came down on an uninspiring half of Rugby.
The second half saw Doncaster miss an early penalty, before Dons scrum half Connor Robinson pushed off a Hunslet tackle attempt to score an easy try by the sticks. 18-0
Any half time team talk of a renewed second half effort evaporated when, on 51 minutes, Ben Howe went over after Hunslet had knocked on near their own line. 24-0
Next to score for the hosts was Travis Corrion who touched down after Hunslet couldn't hold onto a high kick, followed by Aaron York who punched through Hunslet's defence easily to score. 36-0 and still fifteen minutes to play.
At this point Hunslet started to find some momentum, both Jack Render and Jordan Paga came close to touching down. It was true the game was won for Doncaster and they took their foot off the gas but on 78 minutes a fine move involving Joe Sanderson and Jimmy Watson sent Ethan O'Hanlon over under the posts for a consolation try. 36-6
Jordan Paga went close for Hunslet on the hooter, but the score reflected the performance as Hunslet were never at the races.
Hallas and Oakley ran well for the Parksiders and Jordan Paga never takes a backwards step but coach Alan Kilshaw will have to restore some confidence in his team for next week's visit of high flying North Wales Crusaders.
Teams
Hunslet RLFC:  Jammy Watson, Mackenzie Turner, David Gibbons, Jack Render, Kiedan Hartley, Joe Sanderson, Jordan Paga, Harvey Hallas, Harvey Whiteley, Jackson Walker, Joshua Jordan-Roberts, Cole Oakley, Jordan Syme.  Subs: Oliver Burton, Ethan O'Hanlon, Jospeh Hird, Cameron Berry.
Doncaster RLFC:  Ben Howe, Tom Halliday, Sam Smeaton, Robbie Storey, Travis Corrion, Ben Johnston, Connor Robinson, Keelan Foster, Ben Cockayne, Ben Mathiou, Aaron Ollett-Hobson, Aaron York, Dave Petersen.  Subs: Loui McConnell, Dean Roberts, Leon Ruan, Ross Whitmore.
Referee: B Milligan
Photo: Render and Whiteley halt a Doncaster attack – Paul Johnson Phoenix Photgraphy