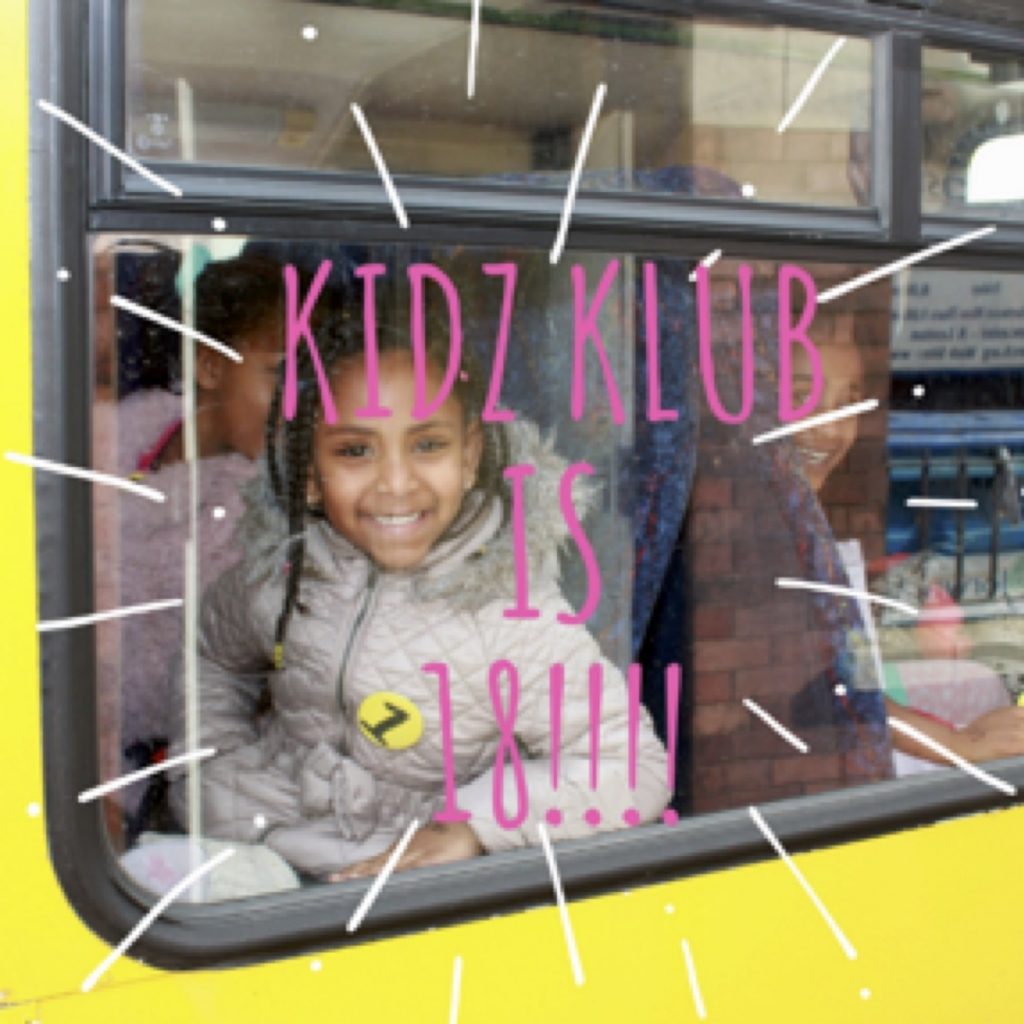 UPDATED: Due to the weather, the celebration events have been put back to Saturday 10 March 2018.
On Saturday (3 March 2018) 18 lucky children who attend Kidz Klub will be the winners of £10 hidden in Golden Tickets on their streets as part of a special children's competition to mark 18 years of the charity's work in inner city Leeds.
 "Our children are very special and we wanted to find a fun way of making our 18th anniversary a fun event for them. There will certainly be a lot of excited little people out searching for Golden Tickets before Kidz Klub on Saturday morning!  We work very hard to make the children feel treasured through our weekly clubs, community and schools work and home visiting rounds. This Saturday morning Kidz Klub for the 170 + children who attend will be a 18th Birthday Spectacular!" said Laura France Hodgkinson Charity Co Leader.
This year marks the 18th anniversary of Kidz Klub first opening their doors to children from the inner-city estates of Leeds.  Kidz Klub Leeds has grown over the years and now runs five clubs across the city with up to 400 children attending one of the Klub's each week. All the 1300 children who attend the clubs are also visited at home each week by an extremely committed team of volunteers. Home visiting is a crucial part of the work of Kidz Klub and it is where relationships are forged and trust is built.
Over the last 18 years Kidz Klub has carried out an incredible 640,000 home visits to children across Leeds. Kidz Klub is supported by a partnership of Churches as well as individuals from Leeds and further beyond and works to support children growing up in some of the cities most deprived communities. A young volunteer, who attended Kidz Klub as a child and is now doing an internship at Kidz Klub said:
"I wouldn't be who I am today if it weren't for Kidz Klub".
This is all thanks to the support of the amazing team of volunteers who give their time each week to help run the clubs for the children and to visit them at home and see them at School. Kidz Klub volunteers have invested an incredible 102,060 volunteer hours over the past 18 years.
Laura France Hodgkinson said: "Our volunteers are inspirational people, who have made a lasting difference for so many young people. We will be honouring all of our volunteers at the 18th Birthday event, including some who have been involved with Kidz Klub for an incredible 18 years and counting!"
To mark the anniversary Kidz Klub are launching a special Birthday appeal. To find out more and to give a birthday gift to support Kidz Klub's work with children growing up in inner city Leeds please visit their website www.kidzklubleeds.org.uk