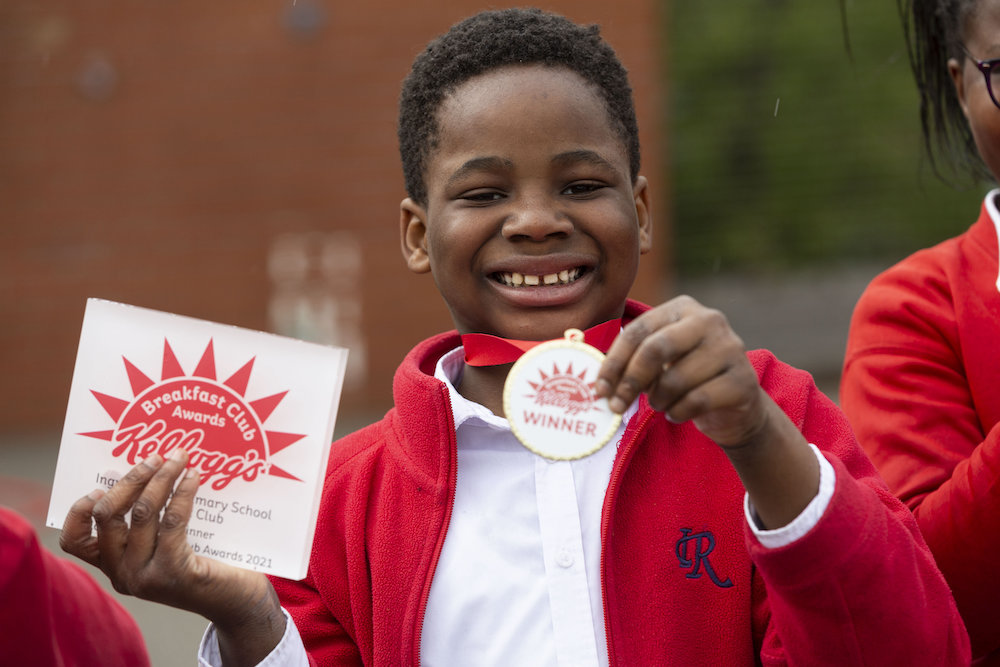 Ingram Road Primary School in Leeds has been crowned national winner in the Kellogg's Breakfast Club Awards after winning the regional award of Best Breakfast club in Yorkshire and Humber.
With over 450 amazing stories submitted, the competition was tough, but Ingram Road impressed the Kellogg's panel of judges with their commitment to ensure every child has breakfast despite lockdown restrictions.
The staff at Ingram Road Primary worked closely with the food bank at Slung Low to deliver breakfast parcels both during term time and school holidays, showcasing a community effort to ensure the children were getting the best start to their day.
This year, breakfast clubs have had to work harder than ever, with 51% of teachers saying they have had to put in more effort to provide breakfast compared to before the first lockdown. The breakfast club team at Ingram Road Primary noted how vital the club was to support working parents, vulnerable families and ensuring that every child has breakfast so they are ready to learn.
To celebrate their achievement, Ingram Road Primary School hosted a special breakfast club event with the help of a party pack delivered by Kellogg's containing resources and equipment for the club.
In addition to the party pack, Ingram Road Primary also received a £2,000 cash prize to spend on its breakfast club. The school will split the winnings between supporting the food bank at Slung Low to ensure that their families are food secure when school is closed and investing in the club's future sustainability.
Alan Lane, Artistic Director and Food Bank Manager at Slung Low commented:
"The work that Ingram Road Primary School has done in ensuring that their families were fed was an extraordinary effort. In this difficult time, they provided real practical and moral leadership and as such were the keystone in the collective community response from Holbeck. It was a real privilege to work with them and to be a part of their team, all brilliant people"
In a video message addressed to the school, Hilary Benn MP for Leeds Central said:
"Congratulations to Ingram Road Primary School, you know better than anyone else how much the breakfast you provide is appreciate by the pupils, keep up the great work and I hope the award will help you to do precisely that."
This year, Kellogg's is donating more money to support breakfast clubs than ever before. Along with their grants programmes which will provide funding for a minimum of 500 schools, Kellogg's is pledging more investment – in cereal and money – to help Magic Breakfast to support 167,000 children every morning.
This post is based on a press release issued by Kellogg's